Seth Rollins has finally opened up about his viral clip with a wrestling fan from before his time with WWE.
The Visionary is currently one of the biggest names in the pro wrestling world. He has completed more than a decade on WWE's main roster and has done more than enough to warrant a Hall of Fame induction down the line.
Back when Seth Rollins was yet to sign a contract with WWE, he was a popular name on the independent scene. At one point during this run, Rollins was involved in a hilarious spot that also featured a fan.
During a match with former WWE Superstar Matt Sydal (fka Evan Bourne), Rollins executed a moonsault off an overweight fan who was standing just beside the ring. The fan was clearly in on the move, and it made for quite a memorable moment.
On The Dan LeBatard Show, Rollins had the following to say about the viral clip:
"At this point, the video in question, the backflip off the fan's belly might be as viral as the WrestleMania moment. It's one of those [spots] that continues to pop up every six months to a year. I see it pop up and it reaches a new audience. So, that sort of has lived in infamy, much bigger than I expected at the time. When I did it I was 19 so social media didn't really exist at that time, so I didn't expect it to go past a couple of guys who traded it on DVD and talked about it on message boards." [4:23-4:56]
---
Seth Rollins has certainly come a long way over the years
When the spot in question took place, Rollins was a long time away from establishing himself as one of the all-time greats in pro wrestling.
Thanks to his WWE stint, Rollins has become one of the greatest pro wrestlers on the planet and boasts a long list of accolades.
His achievements include several top titles, a Royal Rumble win, a WrestleMania main event, and much more. At 36, Rollins still has a lot left in the tank and will continue to entertain fans for many more years to come.
Do you remember the amusing spot that Seth Rollins talked about above? What was your reaction when you first saw it? Tell us in the comments section below.
---
If you use Rollins' quotes, please credit The Dan LeBatard Show and give a H/T to Sportskeeda Wrestling for the transcription!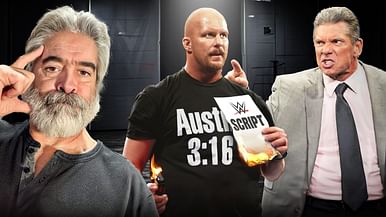 How Stone Cold was born in 2 minutes