| | |
| --- | --- |
| Full Name | Colby Daniel Lopez |
| Date of Birth | May 28, 1986 |
| Nationality | American |
| Birth Place | Davenport, Iowa |
| Height | 6 ft 1 in |
| Weight | 225 lbs |
| Current Team(s) | |
| Theme Song | Visionary |
| Debut | November 18, 2012 |
| Nickname | The Architect |
| Family | Becky Lynch (Spouse) |
Seth Rollins: A Brief Biography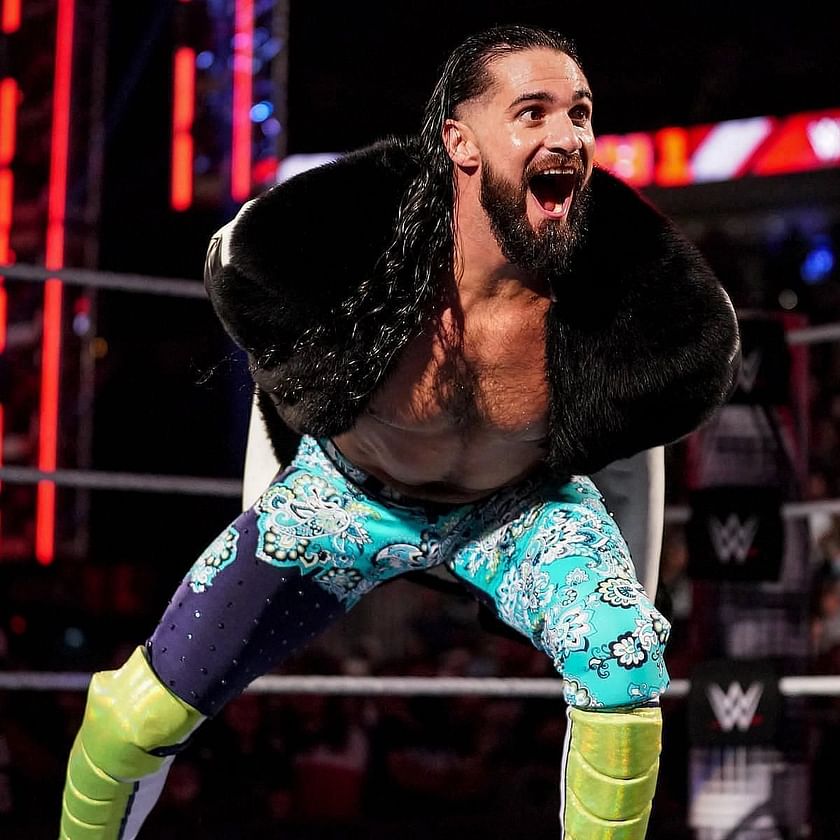 Seth 'Freakin' Rollins is an American professional wrestler currently signed with WWE. His real name is Colby Lopez, and is assigned to the Raw brand. Seth Rollins has accomplished various accolades and championships over his tenure with the company. He is the current and the inaugural World Heavyweight Champion in his first reign. Further, the superstar is a former Royal Rumble winner, Money in the Bank winner, and a grand slam champion.
| | |
| --- | --- |
| Name | Colby Daniel Lopez |
| Born | May 28, 1986 |
| Nationality | American |
| Height | 6' 1" |
| Weight | 225 lbs (102kg) |
| Family | Becky Lynch (Spouse) |
| Birth Place | Buffalo, Iowa, USA |
| Debut | August 21, 2004 |
Click here: Do Seth Rollins and Becky Lynch have a kid?
Early life
Colby Lopez, known by his ring name Seth Rollins, was born on May 28, 1986, in Davenport, Iowa. Growing up, he was a fan of professional wrestling and dreamed of becoming a wrestler himself one day. As a teenager, he trained under Danny Daniels and competed on the independent wrestling circuit. He is of German, Armenian, and Irish descent. His surname Lopez comes from the surname of his Mexican-American stepfather, whom he considers his real father.
Also Read: What suits does Seth Rollins wear?
Professional Wrestling Career
Independent Circuits (2005-2007)
Rollins started his career in 2005 at his hometown in Iowa. She slowly climbed the ladder in his wrestling career by working for TNA, NWA and PWG. After winning matches and championships, Seth made his way to ROH.
ROH (2007-2010)
Lopez went by the name Tyler Black during his time with the ROH. Black made an impact at ROH when he debuted and formed a stable alongside Jimmy Jacobs and Necro Butcher, The Age of The Fall. The stable battled with The Briscoe Brothers. They quickly conquered The Briscoe Brothers and won the ROH Tag Team Championships. After losing the tag titles, Black challenged Nigel McGuinness for the ROH World Championship and lost.
Tyler faced Nigel McGuinness in a series of matches for the ROH World Championship. At Final Battle in December 2008, Black's teammates turned on him and aligned themselves with Austin Aries. Tyler faced his friend-turned-foe, Jimmy Jacobs, in a steel cage match to end their rivalry.
World Champion & Departure (2009-2010)
After taking a hiatus for his neck injury, Tyler returned to ROH and won the Survival of the Fittest tournament to earn a world championship shot. At Final Battle 2009, Tyler faced Austin Aries to a 60-minute draw for the world championship. They booked a rematch between the two for the show's eighth anniversary, where Tyler successfully defeated Aries to become the new world champion.
Tyler turned heel after the news of his signing with the WWE was released. Tyler made a few title defences before threatening the fans to take the championship with him. On September 11 at Glory By Honor IX, Black lost the ROH World Championship to Roderick Strong in a no disqualification match, ending his reign at 210 days after seven successful title defences. It was his last appearance before signing with WWE.
Developmental Territory (2010-2012)
Lopez signed a developmental contract with the company, and they introduced him as Seth Rollins. Rollins faced various superstars, such as Damien Sandow, Titus O Neil, Big E and Adam Rose. Rollins started a rivalry with Dean Ambrose. They faced each other in a series of Iron man matches, and Rollins was victorious. Rollins took part in the gold rush tournament where he defeated Jinder Mahal in the finals and was crowned as the inaugural NXT Champion.
The Shield (2012-2014)
Seth Rollins made his debut at Survivor Series alongside, Roman Reigns and Dean Ambrose. The trio attacked John Cena and Ryback during their WWE Championship match. The trio declared themselves The Shield and started their rivalry with Team Hell No and Ryback. They faced Team Hell No and Ryback in a TLC match and won.
The trio picked up monumental victories by defeating several superstars such as Daniel Bryan, Kane, Ryback and John Cena in a six-man competition. They made their WrestleMania debut and defeated Sheamus, Randy Orton and Big Show.
At Extreme Rules 2013, the trio won the WWE Tag Team and the United States Championship. After a few successful defences, Rollins and Reigns faced the Rhodes Brothers, and they lost the titles to them on Raw. They took part in Survivor Series where they won and began their feud with CM Punk. They concluded it at TLC, where they lost to Punk in a 3-1 handicapped match.
The Shield began their legendary rivalry with The Wyatt Family when they cost them an opportunity inside Elimination Chamber. The trios faced each other at Elimination Chamber, which was won by the Wyatt Family. The trio faced Evolution at Extreme Rules and Payback and won. The Raw after Payback, Seth Rollins turned his back on his shield brothers and aligned himself with the Triple H and Randy Orton.
The Authority & WWE Championship (2014-2016)
After turning heel and joining the Authority, Seth Rollins entered the Money in the Bank ladder match, which he won. He spent the first few months fighting Dean Ambrose and emerged victoriously. He started his rivalry with John Cena and faced Team Cena at Survivor Series. Team Authority was lost due to help from Sting. However, Rollins and Cena faced each other twice before facing Brock Lesnar in a Triple Threat Match for the WWE Championship at the Royal Rumble.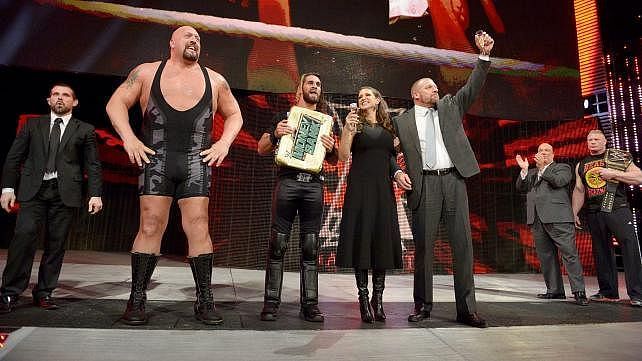 After Royal Rumble, Rollins started his rivalry with Randy Orton. The two faced each other at WrestleMania 31 and Orton won. On the same night, Rollins cashed in his Money in the Bank contract and won the WWE Championship from Brock Lesnar. Seth's reign lasted for 220 days before he relinquished his title due to his knee injury. During his reign, Seth defeated the likes of Kane, Randy Orton, Ryback, Dolph Ziggler, Neville, Sting, and John Cena.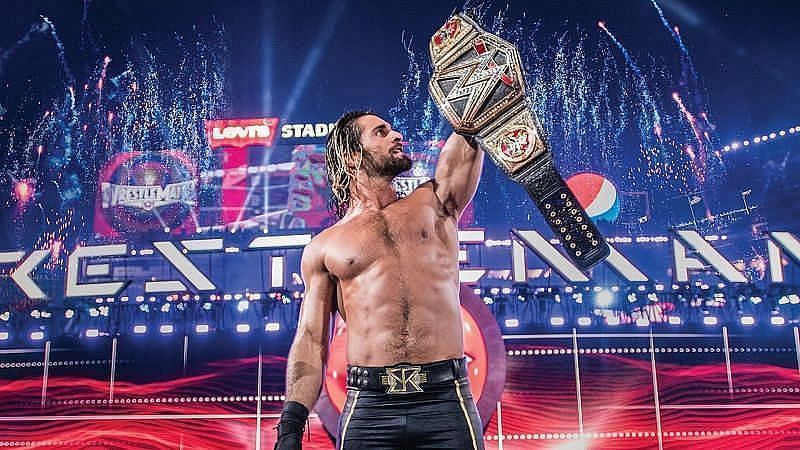 Return & Shield Reunion (2016-2018)
Rollins returned at Extreme Rules 2016 and attacked Roman Reigns. Rollins and Reigns faced each other at Money in the Bank 2016 for the WWE Championship, which he won. He lost the title to Dean Ambrose during cash in. Rollins faced Finn Balor for the Universal Championship at SummerSlam, which he lost. Rollins feuded with Kevin Owens and Chris Jericho until the end of the year.
Rollins invaded TakeOver San Antonio to call Triple H out for helping Kevin Owens in their Universal Championship match. Rollins was attacked by Samoa Joe and was taken out for a few months. Rollins faced Triple H in an unsanctioned match at WrestleMania 33, which he won.
Rollins began his rivalry with The Bar and teamed up with former shield brother, Dean Ambrose. The duo defeated The Bar at SummerSlam 2017. The Shield reunited and faced The New Day at Survivor Series, where they emerged victoriously. Rollins and Ambrose dropped the titles before Survivor Series and Dean got injured after TLC. Seth teamed up with Jason Jordan where they won the tag titles.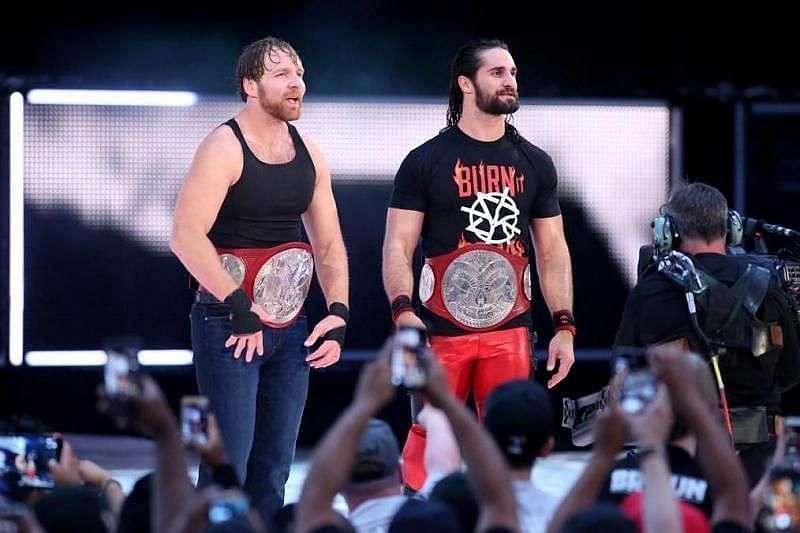 Rollins and Jordan dropped the titles to The Bar and Jason got injured. Rollins started his journey to becoming the Intercontinental Champion, where he defeated the Miz and Finn Balor at WrestleMania 34.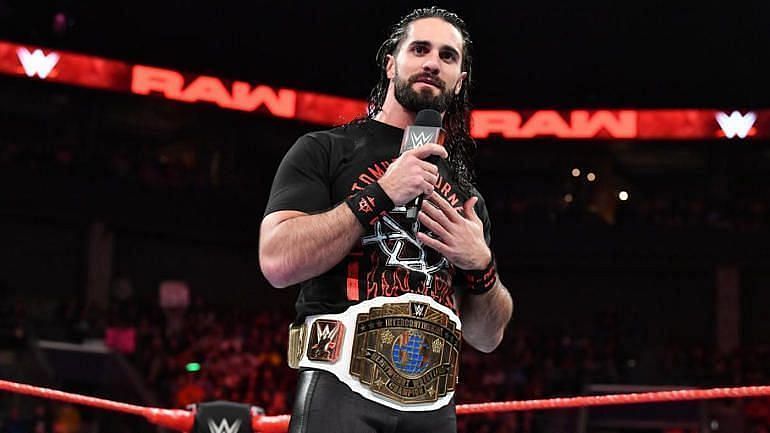 Rivalry with Dean & Universal Championship (2018-2020)
After losing the title to Dolph Ziggler, Rollins and Ziggler faced each other in a series of matches for the title. It concluded at SummerSlam where he beat Ziggler for the title and began his second reign. Ambrose and Rollins faced Dolph and McIntyre for the Tag Team Championships and won. However, Ambrose turned on Rollins and it started their rivalry. Rollins lost the tag title to AOP and lost the Intercontinental title to Ambrose at TLC 2018.
Rollins entered the Royal Rumble and won. He faced Brock Lesnar at WrestleMania 35, where he won the Universal Championship. He feuded with Braun Strowman and Baron Corbin for the title for a couple of months. Rollins lost the title to Brock after cashing in. Rollins reclaimed the title at SummerSlam. He faced the Fiend twice and lost the Universal Championship at Crown Jewel. He turned heel and aligned with the AOP to attack Kevin Owens.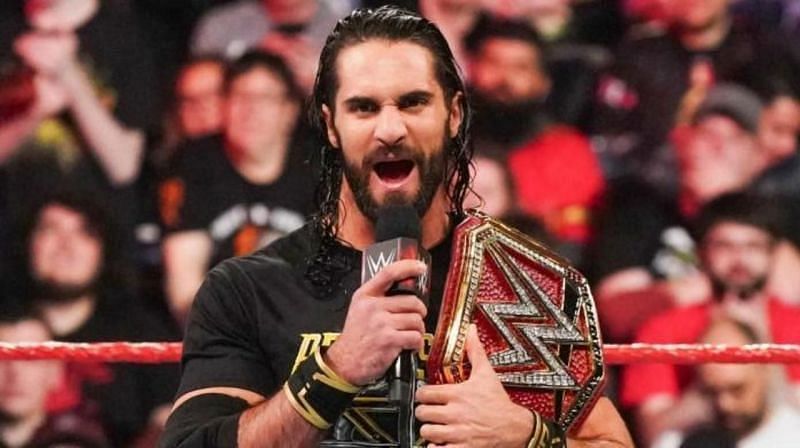 The Messiah (2020-2023)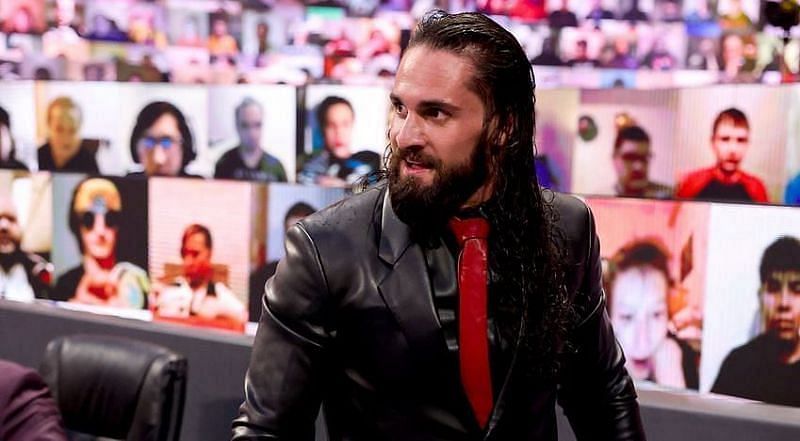 Seth Rollins and Kevin Owens faced each other at WrestleMania 36 where Kevin Owens won. He started his rivalry with Rey Mysterio, which went for over six months. He faced Rey in an eye vs eye match and Dominik in a street fight, which he won. Rollins was drafted to SmackDown, where he had a minor rivalry with Buddy Murphy. He took some time off and returned to the Royal Rumble and lost.
Rollins attacked Cesaro after a promo and it kicked off their rivalry. Rollins faced Cesaro at WrestleMania 37 and lost. However, Rollins picked up two more victories over Cesaro after Mania. After a series of promos and interactions, Rollins and Edge faced each other at SummerSlam 2021, where he lost.
They concluded their rivalry at Crown Jewel where he lost to Edge in a Hell in a Cell match. During the Draft, Rollins was drafted to RAW. In 2022, he spent the beginning of the year teaming up with Kevin Owens. At WrestleMania 38, Rollins lost to Cody Rhodes. He also challenged Cody Rhodes for WrestleMania Backlash and Hell In A Cell events but failed to secure victory both times.
Rollins also participated in the 2022 Money In The Bank ladder match where Austin Theory won the briefcase. The Architect was going to face Riddle at the 2022 SummerSlam event. But Seth's attack on Riddle prior to the event injured the original Bro and therefore the match was postponed.
The two would continue to brawl first at SummerSlam where Riddle made a surprising appearance and then on an episode of RAW when Riddle made his return fr.om injury. The two finally competed at Clash at the Castle in a hard-hitting contest that Rollins won.
At Extreme Rules, Riddle and Rollins faced each other in a Fight Pit match with Special Guest Referee Daniel Cormier. The match was won by Riddle. On 10th October 2022 edition of RAW, Rollins defeated Bobby Lashley to win the United States Championship.
On the 7th October edition of RAW, Seth issued an open challenge for the U.S Championship. The challenge was accepted by Lashley but he attacked Rollins before the match even started. Then Austin came out to the ring with his briefcase and cashed in his Money In The Back Contract. Rollins was able to kickout Austin's various moves. later in the match, Bobby Lashley attacked Theory. This helped Rollins retain his title.
On the 14th November edition of RAW, Rollins defended the United States Championship against Finn Balor. After Rollins defeated Balor, Theory attacked Rollins multiple times. At Survivor Series: WarGames, Rollins faced Theory for the belt and lost it. He entered the Royal Rumble match at #15 and was eliminated by Logan Paul after the latter sneaked inside the ring after being supposedly out of the match.
He then entered the Elimination Chamber match for the United States Championship and reached to the final two spots alongside the champion Austin Theory. However, interference from Logan Paul caused him the match. He then went on to face Paul at WrestleMania Hollywood and emerged victorious.
Thereafter, he was challenged by Omos for a match at WWE Backlash. At the event, it was The Visionary who stood tall after the battle. A few days earlier, Triple H had unveiled a new championship for RAW, the World Heavyweight Championship. Subsequently, Rollins was drafted to RAW and participated in the tournament for the title.
World Heavyweight Champion (2023-Present)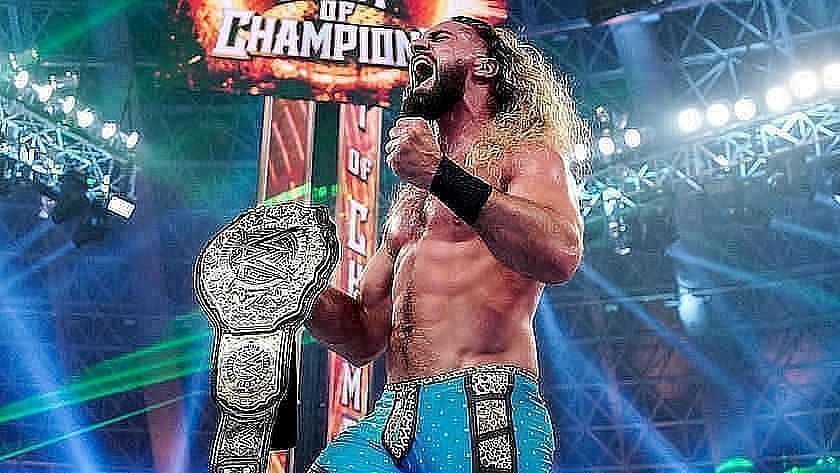 Rollins defeated Damian Priest and Shinsuke Nakamura in a triple-threat match on the May 8 episode of RAW to advance further in the World Heavyweight Championship tournament. Later that night, he defeated Finn Balor to qualify for the tournament final. At Night of Champions, Rollins faced SmackDown's tournament winner AJ Styles for the inaugural World Heavyweight Champion. At the event, Rollins emerged victorious in a hard-fought battle and was crowned the inaugural World Heavyweight Champion.
After the event, Rollins announced his intentions to work as a fighting champion and wanted to defend his title regularly. He defeated former NXT Champion Bron Breakker at NXT: Gold Rush to retain his title. At Money in the Bank, he defended his title against Finn Balor and managed to hold onto the belt. However, Balor continued his hunt for the gold and challenged Rollins again for the title, which Rollins retained once again at SummerSlam 2023. The Architect then began a feud against Shinsuke Nakamura, whom he defeated first at Payback and then at Fastlane in a Last Man Standing Match.
Following his feud with Nakamura, Rollins got face-to-face with Drew McIntyre. A match between Two Beast Slayers was then scheduled for Crown Jewel 2023, where Rollins retained the title. At Survivor Series: WarGames, Rollins, Cody Rhodes, Sami Zayn, Jey Uso and Randy Orton competed against The Judgment Day (Finn Balor, Damian Priest, JD McDonagh, Dominik Mysterio and Drew McIntyre) in a WarGames match.
Seth Rollins' Movies and TV Shows
| | | |
| --- | --- | --- |
| Year | Film | Role |
| 2016 | Sharknado: The 4th Awakens | AstroTech Lopez |
| 2017 | The Jetsons & WWE: Robo-WrestleMania! | Seth Rollins/Reactor Rollins |
| 2017 | Armed Response | Brett |
| 2019 | Trouble | Norm |
| 2020 | Like a Boss | Byron |
Seth Rollins' Championships and Accomplishments
| | |
| --- | --- |
| Championships | Number of Times |
| AIW Intense Championship | 1 |
| AAW Heavyweight Championship | 2 |
| AAW Tag Team Championship | 2 |
| FCW Florida Heavyweight Championship | 1 |
| FCW Florida Tag Team Championship | 1 |
| FCW Jack Brisco 15 Championship | 1 |
| ROH World Championship | 1 |
| ROH World Tag Team Championship | 2 |
| WWE Championship | 2 |
| WWE Universal Championship | 2 |
| WWE NXT Championship | 1 |
| WWE Intercontinental Championship | 2 |
| WWE United States Championship | 2 |
| WWE Tag Team Championship | 6 |
| World Heavyweight Championship | 1 (Present) |
| Royal Rumble | 1 |
| Money in the Bank | 1 |
Seth Rollins' Net Worth
As per multiple sources, Seth Rollins is worth around USD 12 Million as of 2023. He makes around $3 Million per year from his work in WWE. Click here to know about the net worth of The Monday Night Messiah in detail.
Click here to read about Seth Rollins' net worth in detail
Seth Rollins' wife
Rollins started dating Rebecca Quinn in January 2019. Fans know her better by her ring name, Becky Lynch. The same month, both superstars won their respective Royal Rumble matches and would go on to pin a former UFC Champion (Brock Lesnar and Ronda Rousey) at WrestleMania 34. The two made their relationship public in May that year and competed in various mixed tag team matches following the announcement.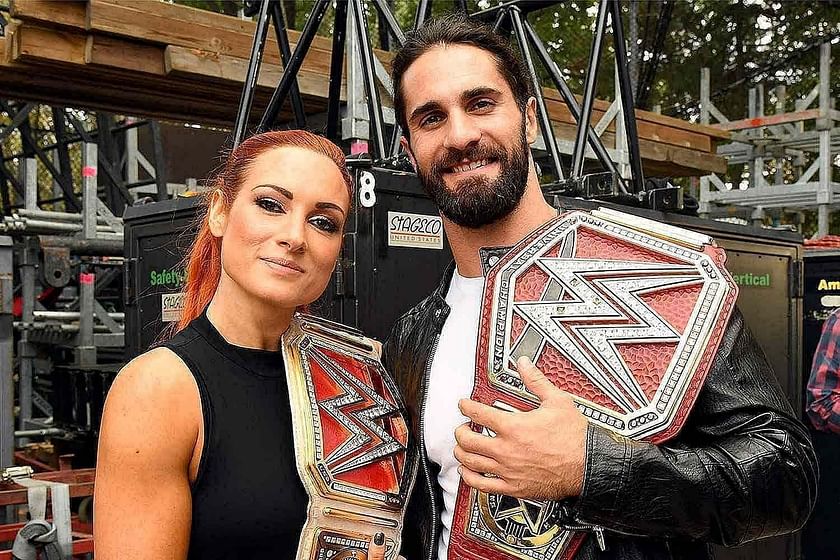 In 2019, Seth Rollins and Becky Lynch announced their engagement, and in 2020, revealed that they were expecting their first child. In December of that year, their daughter Roux was born. The couple resided in Moline, Illinois, as of 2019. On June 29, 2021, Rollins and Lynch got married, which Rollins announced on his Instagram account. The couple has been known for keeping their personal lives private, but their fans were thrilled to see them tie the knot
Seth Rollins' Family
Seth Rollins has not been very public with his personal life. Not much is known about Rollins' family. It is known that her mother's name is Holly Franklin but the name of his real father is unknown. He took the name Lopez from his stepfather. His stepfather is of Mexican-American heritage and Rollins respects him as his real father.
Rollins also has two siblings. He found his original brother and sister via a DNA test in 2019. His younger brother's name is Brandon Lopez and his younger sister's name is Diandra Demi Lopez. Not much is known of their personal and professional lives.
Click here to learn more about Seth Rollins' family
Seth Rollins' Height, Age, Finisher and more
| | |
| --- | --- |
| Height | 185 cm (6 ft 1 in) |
| Weight | 225 lbs (102 kg) |
| Date of Birth | May 28, 1986 |
| Real Name | Colby Daniel Lopez |
| Spouse | Becky Lynch |
| Finisher | Curb Stomp and Pedigree |
| Biceps | 19 inches |
| World Championships won | 2 times WWE Champion, 1 time World Heavyweight Champion and 2 times Universal Champion |
| Other major accomplishments in WWE | Royal Rumble (2019), Money in the Bank (2014), WrestleMania main event (2015), Double Grand Slam Champion, Inaugural NXT Champion |
Seth Rollins' biceps are around 19 inches.
Seth Rollins is billed at 6 ft 1 inch.
Seth Rollins is worth around USD 12 Million.
Yes. Rollins lost to Lesnar twice in 2015. Firstly, Lesnar defeated John Cena and Rollins at Royal Rumble 2015 and then beat Rollins via DQ at Battleground that year.
Seth Rollins is married to fellow WWE Superstar Becky Lynch. The two have appeared on WWE programming on multiple occasions including competing in a string of mixed tag team matches in 2019.