A major unification match was announced on the latest episode of SmackDown. WWE fans have seen the company unify a few titles over the years. The creative team now has its eyes on the two Women's Tag Team Championships, and fans are all up for a unification match for the same.
Ronda Rousey and Shayna Baszler recently won the vacant WWE Women's Tag Team Champions in a Fatal 4-Way match. Ronda and Shayna want to elevate the value of the titles and have a lengthy reign with the belts.
Meanwhile, WWE recently drafted the NXT Women's Tag Team Champions to the main roster. Isla Dawn and Alba Fyre want to make an immediate impact on fans and appeared in a segment with Rousey and Baszler on the latest edition of SmackDown.
Their exchange led to the confirmation of yet another title unification match in WWE. This time, the two women's tag teams will look to unify the titles on SmackDown in two weeks.
The move on SmackDown wasn't as well received by fans as the creative team may have thought. Many fans believe that it will flatten the women's tag team division and also take away the title from NXT.
Isla Dawn and Alba Fyre are well-loved by the WWE Universe. Many fans want to see them pull off an upset win over Ronda Rousey and Shayna Baszler and carry the titles to the UK for Money in the Bank. The two SmackDown stars deserve a push following their move.
---
WWE star Shayna Baszler recently said that her words were twisted before her appearance on SmackDown
Fans wanted to see Shayna Baszler and Ronda Rousey work as a tag team in WWE for some time. However, not many expected them to win the Women's Tag Team Titles so quickly after working together.
In an interview with Cheap Heat, Baszler revealed that The Baddest Woman on the Planet demanded WWE to put them together as a team.
"Ronda is Ronda, right. She's been main title, she main-evented WrestleMania. She still gets one of the loudest pops when we walk out. This was something she demanded. We'd been asking for it forever, but she finally put her foot down and went to the office and said, 'Listen, we've been asking for this forever. You keep telling us, 'After, after, after this [and] this.' I honestly don't know if she hadn't done that, if they ever would have got to it. I wasn't in a position yet to be elevated to a Ronda level, so the fact that Ronda said, 'No, stop. I've done this. I want to do this because this is why I started wrestling.' So I think that's huge," she said.
She later clarified on Twitter that her words were twisted and that Rousey did not demand to have a Women's Tag Team run.
"Twisting my words. The demand was to team together. That's it. Full stop," Baszler wrote.
RAW and SmackDown fans can hope to see the two dominating women have a good reign as champions. It would be great to see them show up every week to elevate the value of the Women's Tag Team Championships.
Which team do you want to see as the new unified women's tag team champions on SmackDown? Share your thoughts in the comments section below.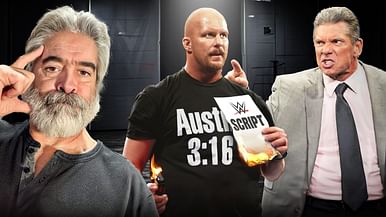 How Stone Cold was born in 2 minutes
Edited by Ashvinkumar Patil