WWE Women's Tag Team Champion Shayna Baszler refuted claims that Ronda Rousey demanded to have a Tag Team Title run.
A few weeks ago, Liv Morgan and Raquel Rodriguez relinquished their Women's Tag Team Championship after Morgan suffered an injury. Last Monday on RAW, Bazler & Rousey defeated Sonya Deville & Chelsea Green, Damage CTRL, and Rodriguez & Shotzi to become the new Women's Tag Team Champions.
In a recent interview with Cheap Heat, Baszler revealed that Rousey demanded that WWE put them together as a tag team.
"Ronda is Ronda, right. She's been main title, she main-evented WrestleMania. She still gets one of the loudest pops when we walk out. This was something she demanded. We'd been asking for it forever, but she finally put her foot down and went to the office and said, 'Listen, we've been asking for this forever. You keep telling us, 'After, after, after this [and] this.' I honestly don't know if she hadn't done that, if they ever would have got to it. I wasn't in a position yet to be elevated to a Ronda level, so the fact that Ronda said, 'No, stop. I've done this. I want to do this because this is why I started wrestling.' So I think that's huge," she said. [H/T: EWrestlingNews]
When some seemingly misunderstood Baszler's comments and believed that Rousey demanded to have a Women's Tag Team run, Baszler took to Twitter to refute these claims.
"Twisting my words. The demand was to team together. That's it. Full stop," Baszler wrote.
A 23-year veteran was instrumental in Ronda Rousey joining WWE, according to a former champion. Check out the details here.
---
Ronda Rousey criticized the WWE women's division
Over the past few years, Ronda Rousey has held the RAW Women's Championship and the SmackDown Women's Title. The Baddest Woman on the Planet is currently in her first reign as Women's Tag Team Champion.
However, the 36-year-old recently criticized the women's division in an interview with the New York Post.
"Well, the lack of competition is really the problem... I mean, we want to be the most active champions out there. I want to be able to defend this title every week and even twice a week on both 'SmackDown' and 'Raw'... But with how dismally shallow the women's division is right now, there's not enough women around here to keep us busy for a month. And so that's the biggest challenge that we have is to get this company to actually care and invest into this tag division," she said.
Check out five ways WWE can improve its women's division after Ronda Rousey's harsh comments here.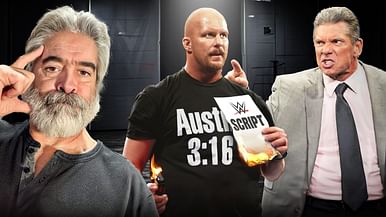 How Stone Cold was born in 2 minutes
Edited by Gurjyot Singh Dadial