Wrestling veteran Bill Apter believes that The Rock will never be too big for WWE and that he should return for a feud with his cousin Roman Reigns.
Rumors about backstage plans to bring back The Rock to challenge Roman Reigns have been doing rounds since the latter started calling himself "The Head of the Table." Many believe the two superstars will square off for the right to be hailed as the "Tribal Chief."
Veteran journalist Bill Apter was recently asked on Sportskeeda Wrestling's WrestleBinge if The Rock is now too big for WWE. Apter argued that it doesn't matter how big The Rock gets, he will always love the business and should engage in a feud with Roman Reigns. He even suggested that The Great One could buy WWE or enter into a partnership with the company because he has the right mentality to run the business.
"It doesn't matter how big he gets, The Rock is a billboard name, and I would love to see him against Roman Reigns. I know his heart would be in it. When they were talking a few weeks ago about people buying with the company, or partnering with someone. I think The Rock's company Seven Bucks Productions would have been perfect t be partners. Because he has got the mentality, he has got the love for it, that's where he should have gone," said Apter. [35:05 - 35:30]
You can watch the full video down below:
Details on WWE's backstage plans for The Rock vs. Roman Reigns
The company reportedly wanted to book a feud between The Rock and Roman Reigns for an epic match at WrestleMania Hollywood. However, those plans were seemingly put on hold after The Great One implied that he wouldn't be in shape for the match at the Grandest Stage of Them All.
Roman Reigns is now set to defend his titles against Cody Rhodes at WrestleMania 39 after the Royal Rumble winner challenged him earlier this week. But the Tribal Chief will also have to look out for the former Honorary Uce Sami Zayn, who attacked Reigns at Royal Rumble, ending his association with The Bloodline.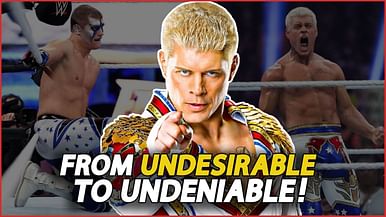 How Cody Rhodes returned to WWE and change pro wrestling forever!
Edited by Gurjyot Singh Dadial