WWE Championship is a world heavyweight championship in WWE, which is currently on the RAW brand. There have been a total of 51 official champions, with John Cena having the most reigns at thirteen. Eight men have held the championship for a continuous reign of one year or more: Bruno Sammartino (who achieved the feat on two separate occasions), Pedro Morales, Bob Backlund, Hulk Hogan, Randy Savage, John Cena, CM Punk and AJ Styles.
The title is one of the two male world titles in WWE alongside the Universal Championship. At present, both titles are held by Roman Reigns and are unified.
WWE Championship History
The WWE Championship was first introduced in the year 1963 as the World Wide Wrestling Federation (WWWF) Championship. The title got renamed the WWF Championship after ending their Alliance with NWA in 1979. In 2001, post the acquisition of WCW. the title was merged with the World Heavyweight Championship and name the WWE Undisputed Championship. In 2002, the company was renamed to World Wrestling Entertainment (WWE) and the company split its roster into two brands RAW and SmackDown. The WWE Championship was then exclusive to the SmackDown brand while RAW got the World Heavyweight Championship.
On December 15, 2013, Randy Orton united the WWE World Heavyweight Championship by defeating John Cena at the premium live event Tables, Ladders and Chairs. In the process of unification, the World Heavyweight Championship was retired and renamed the latter as the WWE World Heavyweight Championship. On June 27, 2016, the title was renamed the WWE Championship again when WWE decided to split their brands again. It was designated exclusively to Friday Night SmackDown and RAW got a Championship named the Universal Championship. After Crown Jewel 2019, both the main Championships shifted brands and the WWE Championship became the top prize of Monday Night RAW.
As of September 2022, there have been 146 recognized reigns between 54 Champions. The first WWE Champion was Buddy Rodgers. The Champion with the biggest single reign and combined reign is WWE Hall of Famer Bruno Sammartino with a reign of 2,083 and 4,040 days respectively. John Cena has the WWE Championship a record thirteen times. There have eight superstars who have held the Championship for one year or more: Bruno Sammartino (twice), Hulk Hogan, Pedro Morales, Bob Backlund, Randy Savage, John Cena, CM Punk and AJ Styles.
Various WWE Championship Designs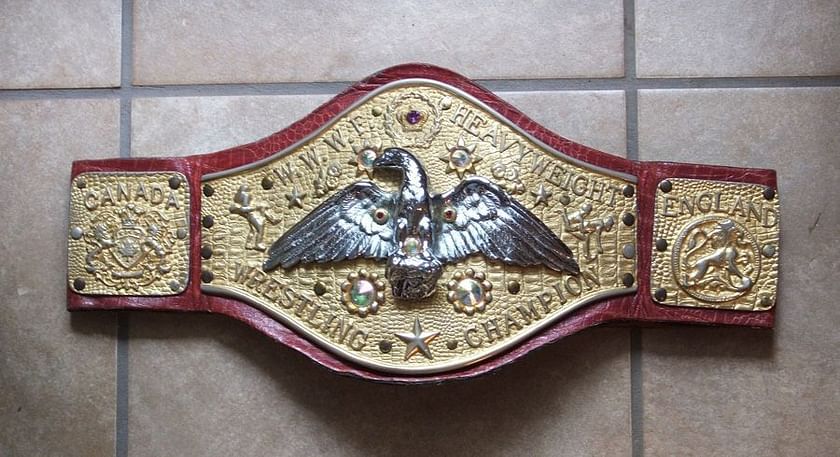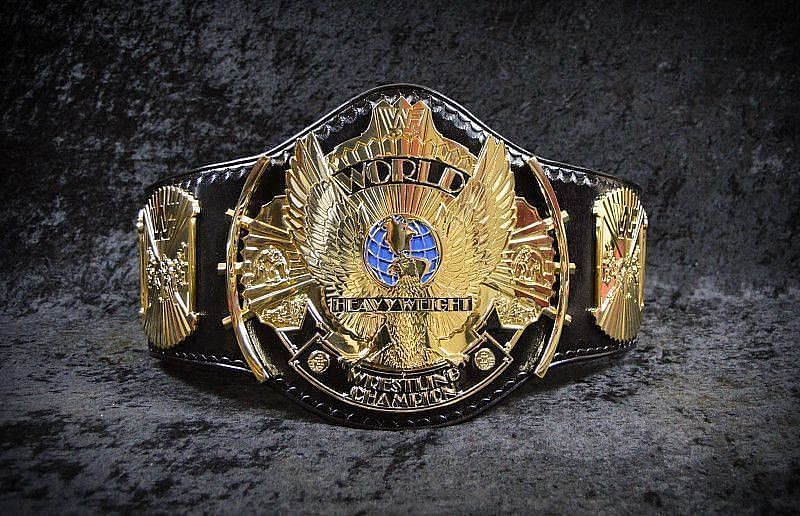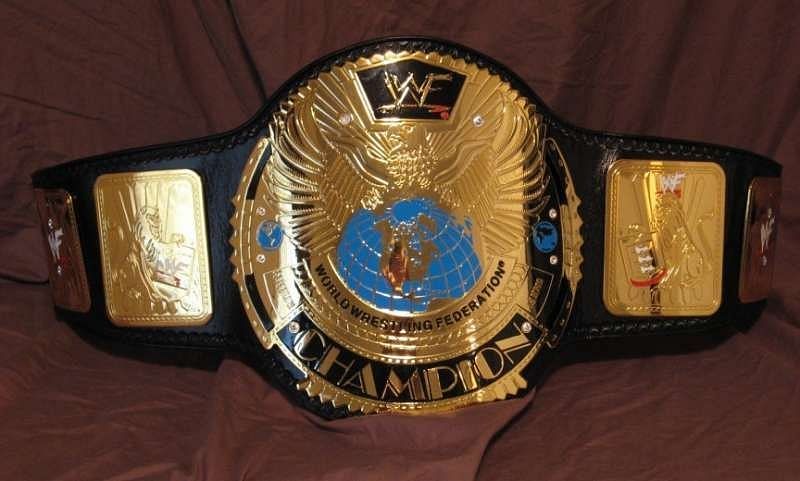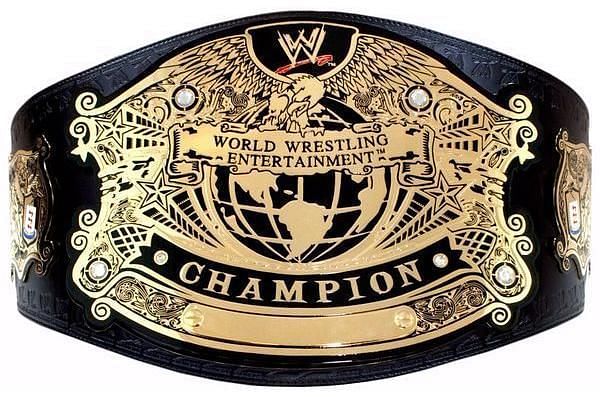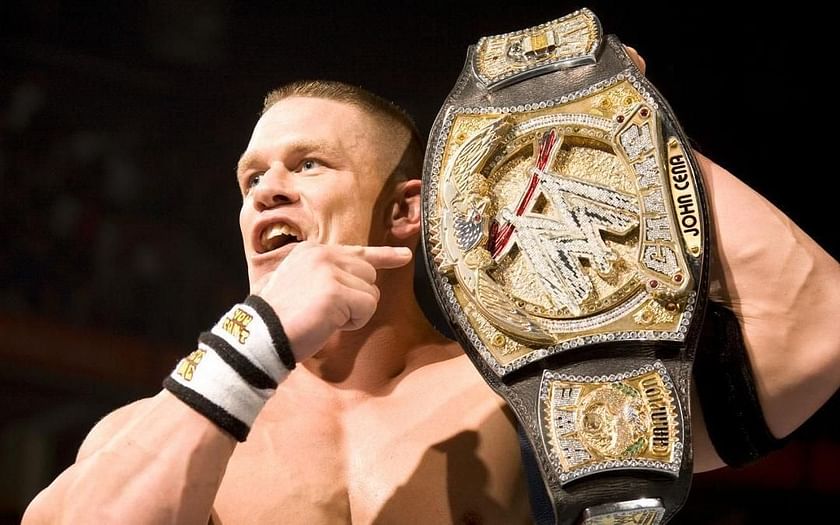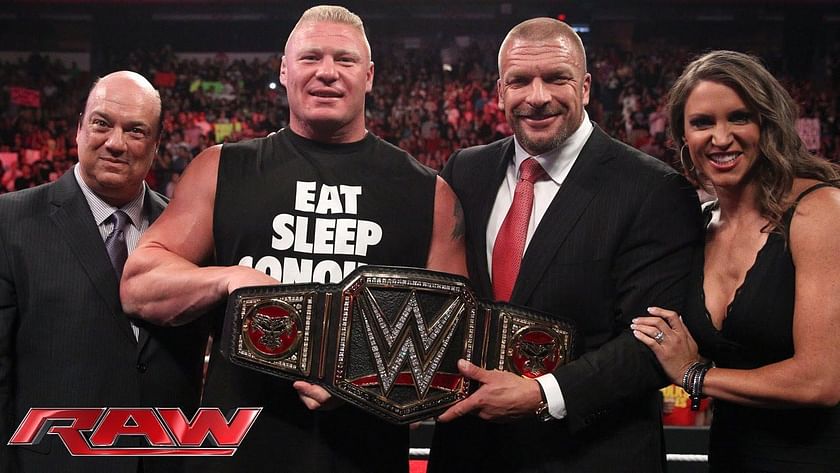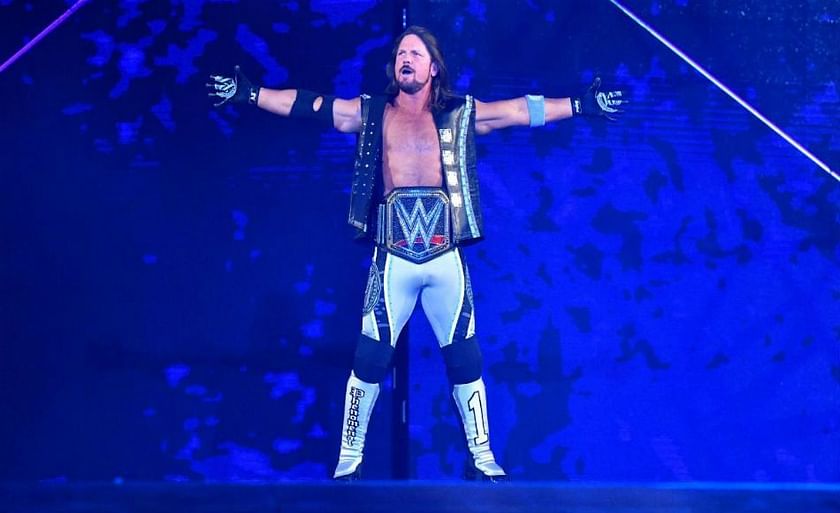 List of WWE Champions
Here is a list of WWE Superstars who reigned the WWE Championship Title.
| | | |
| --- | --- | --- |
| Champion | Date | Event |
| Buddy Rogers | April 11, 1963 | House show |
| Bruno Sammartino | May 17, 1963 | House show |
| Ivan Koloff | January 18, 1971 | House show |
| Pedro Morales | February 8, 1971 | House show |
| Stan Stasiak | December 1, 1973 | House show |
| Bruno Sammartino | December 10, 1973 | House show |
| Superstar Billy Graham | April 30, 1977 | House show |
| Bob Backlund | February 20, 1978 | WWF on MSG Network |
| Antonio Inoki | November 30, 1979 | House show |
| Vacated | December 6, 1979 | House show |
| Bob Backlund | December 17, 1979 | WWF on MSG Network |
| The Iron Sheik | December 26, 1983 | WWF on MSG Network |
| Hulk Hogan | January 23, 1984 | WWF on MSG Network |
| André the Giant | February 5, 1988 | The Main Event I |
| Ted DiBiase | February 5, 1988 | The Main Event I |
| Vacated | February 13, 1988 | Superstars of Wrestling |
| Randy Savage | March 27, 1988 | WrestleMania IV |
| Hulk Hogan | April 2, 1989 | WrestleMania V |
| The Ultimate Warrior | April 1, 1990 | WrestleMania VI |
| Sgt. Slaughter | January 19, 1991 | Royal Rumble |
| Hulk Hogan | March 24, 1991 | WrestleMania VII |
| The Undertaker | November 27, 1991 | Survivor Series |
| Hulk Hogan | December 3, 1991 | This Tuesday in Texas |
| Vacated | December 4, 1991 | Superstars of Wrestling |
| Ric Flair | January 19, 1992 | Royal Rumble |
| Randy Savage | April 5, 1992 | WrestleMania VIII |
| Ric Flair | September 1, 1992 | Prime Time Wrestling |
| Bret Hart | October 12, 1992 | House show |
| Yokozuna | April 4, 1993 | WrestleMania IX |
| Hulk Hogan | April 4, 1993 | WrestleMania IX |
| Yokozuna | June 13, 1993 | King of the Ring |
| Bret Hart | March 20, 1994 | WrestleMania X |
| Bob Backlund | November 23, 1994 | Survivor Series |
| Diesel | November 26, 1994 | House show |
| Bret Hart | November 19, 1995 | Survivor Series |
| Shawn Michaels | March 31, 1996 | WrestleMania XII |
| Sycho Sid | November 17, 1996 | Survivor Series |
| Shawn Michaels | January 19, 1997 | Royal Rumble |
| Vacated | February 13, 1997 | Raw |
| Bret Hart | February 16, 1997 | In Your House 13: Final Four |
| Sycho Sid | February 17, 1997 | Raw |
| The Undertaker | March 23, 1997 | WrestleMania 13 |
| Bret Hart | August 3, 1997 | SummerSlam |
| Shawn Michaels | November 9, 1997 | Survivor Series |
| Stone Cold Steve Austin | March 29, 1998 | WrestleMania XIV |
| Kane | June 28, 1998 | King of the Ring |
| Stone Cold Steve Austin | June 29, 1998 | Raw |
| Vacated | September 27, 1998 | Breakdown: In Your House |
| The Rock | November 15, 1998 | Survivor Series |
| Mankind | December 29, 1998 | Raw |
| The Rock | January 24, 1999 | Royal Rumble |
| Mankind | January 26, 1999 | Halftime Heat |
| The Rock | February 15, 1999 | Raw |
| Stone Cold Steve Austin | March 28, 1999 | WrestleMania XV |
| The Undertaker | May 23, 1999 | Over the Edge |
| Stone Cold Steve Austin | June 28, 1999 | Raw |
| Mankind | August 22, 1999 | SummerSlam |
| Triple H | August 23, 1999 | Raw |
| Mr. McMahon | September 14, 1999 | SmackDown! |
| Vacated | September 20, 1999 | Raw |
| Triple H | September 26, 1999 | Unforgiven |
| Big Show | November 14, 1999 | Survivor Series |
| Triple H | January 3, 2000 | Raw |
| The Rock | April 30, 2000 | Backlash |
| Triple H | May 21, 2000 | Judgment Day |
| The Rock | June 25, 2000 | King of the Ring |
| Kurt Angle | October 22, 2000 | No Mercy |
| The Rock | February 25, 2001 | No Way Out |
| Stone Cold Steve Austin | April 1, 2001 | WrestleMania X-Seven |
| Kurt Angle | September 23, 2001 | Unforgiven |
| Stone Cold Steve Austin | October 8, 2001 | Raw |
| Chris Jericho | December 9, 2001 | Vengeance |
| Triple H | March 17, 2002 | WrestleMania X8 |
| Hollywood Hulk Hogan | April 21, 2002 | Backlash |
| The Undertaker | May 19, 2002 | Judgment Day |
| The Rock | July 21, 2002 | Vengeance |
| Brock Lesnar | August 25, 2002 | SummerSlam |
| Big Show | November 17, 2002 | Survivor Series |
| Kurt Angle | December 15, 2002 | Armageddon |
| Brock Lesnar | March 30, 2003 | WrestleMania XIX |
| Kurt Angle | July 27, 2003 | Vengeance |
| Brock Lesnar | September 16, 2003 | SmackDown! |
| Eddie Guerrero | February 15, 2004 | No Way Out |
| John Bradshaw Layfield | June 27, 2004 | The Great American Bash |
| John Cena | April 3, 2005 | WrestleMania 21 |
| Edge | January 8, 2006 | New Year's Revolution |
| John Cena | January 29, 2006 | Royal Rumble |
| Rob Van Dam | June 11, 2006 | ECW One Night Stand |
| Edge | July 3, 2006 | Raw |
| John Cena | September 17, 2006 | Unforgiven |
| Vacated | October 2, 2007 | ECW |
| Randy Orton | October 7, 2007 | No Mercy |
| Triple H | October 7, 2007 | No Mercy |
| Randy Orton | October 7, 2007 | No Mercy |
| Triple H | April 27, 2008 | Backlash |
| Edge | November 23, 2008 | Survivor Series |
| Jeff Hardy | December 14, 2008 | Armageddon |
| Edge | January 25, 2009 | Royal Rumble |
| Triple H | February 15, 2009 | No Way Out |
| Randy Orton | April 26, 2009 | Backlash |
| Batista | June 7, 2009 | Extreme Rules |
| Vacated | June 9, 2009 | — |
| Randy Orton | June 15, 2009 | Raw |
| John Cena | September 13, 2009 | Breaking Point |
| Randy Orton | October 4, 2009 | Hell in a Cell |
| John Cena | October 25, 2009 | Bragging Rights |
| Sheamus | December 13, 2009 | TLC: Tables, Ladders & Chairs |
| John Cena | February 21, 2010 | Elimination Chamber |
| Batista | February 21, 2010 | Elimination Chamber |
| John Cena | March 28, 2010 | WrestleMania XXVI |
| Sheamus | June 20, 2010 | Fatal 4-Way |
| Randy Orton | September 19, 2010 | Night of Champions |
| The Miz | November 22, 2010 | Raw |
| John Cena | May 1, 2011 | Extreme Rules |
| CM Punk | July 17, 2011 | Money in the Bank |
| Vacated | July 18, 2011 | Raw |
| Rey Mysterio | July 25, 2011 | Raw |
| John Cena | July 25, 2011 | Raw |
| CM Punk | August 14, 2011 | SummerSlam |
| Alberto Del Rio | August 14, 2011 | SummerSlam |
| John Cena | September 18, 2011 | Night of Champions |
| Alberto Del Rio | October 2, 2011 | Hell in a Cell |
| CM Punk | November 20, 2011 | Survivor Series |
| The Rock | January 27, 2013 | Royal Rumble |
| John Cena | April 7, 2013 | WrestleMania 29 |
| Daniel Bryan | August 18, 2013 | SummerSlam |
| Randy Orton | August 18, 2013 | SummerSlam |
| Daniel Bryan | September 15, 2013 | Night of Champions |
| Vacated | September 16, 2013 | Raw |
| Randy Orton | October 27, 2013 | Hell in a Cell |
| Daniel Bryan | April 6, 2014 | WrestleMania XXX |
| Vacated | June 9, 2014 | Raw |
| John Cena | June 29, 2014 | Money in the Bank |
| Brock Lesnar | August 17, 2014 | SummerSlam |
| Seth Rollins | March 29, 2015 | WrestleMania 31 |
| Vacated | November 4, 2015 | — |
| Roman Reigns | November 22, 2015 | Survivor Series |
| Sheamus | November 22, 2015 | Survivor Series |
| Roman Reigns | December 14, 2015 | Raw |
| Triple H | January 24, 2016 | Royal Rumble |
| Roman Reigns | April 3, 2016 | WrestleMania 32 |
| Seth Rollins | June 19, 2016 | Money in the Bank |
| Dean Ambrose | June 19, 2016 | Money in the Bank |
| AJ Styles | September 11, 2016 | Backlash |
| John Cena | January 29, 2017 | Royal Rumble |
| Bray Wyatt | February 12, 2017 | Elimination Chamber |
| Randy Orton | April 2, 2017 | WrestleMania 33 |
| Jinder Mahal | May 21, 2017 | Backlash |
| AJ Styles | November 7, 2017 | SmackDown |
| Daniel Bryan | November 13, 2018 | SmackDown |
| Kofi Kingston | April 7, 2019 | WrestleMania 35 |
| Brock Lesnar | October 4, 2019 | SmackDown's 20th Anniversary |
| Drew McIntyre | March 25 or 26, 2020 | WrestleMania 36 Night 2 |
| Randy Orton | October 25, 2020 | Hell in a Cell |
| Drew McIntyre | November 16, 2020 | Raw |
| The Miz | February 21, 2021 | Elimination Chamber |
| Bobby Lashley | March 1, 2021 | Raw |
| Big E | September 13, 2021 | Raw |
| Brock Lesnar | January 1st, 2022 | WWE Day 1 |
| Bobby Lashley | January 29th, 2022 | Royal Rumble |
| Brock Lesnar | February 19, 2022 | Elimination Chamber |
| Roman Reigns | April 3, 2022 | WrestleMania 38 Night 2 |
Top combined Reigns of all time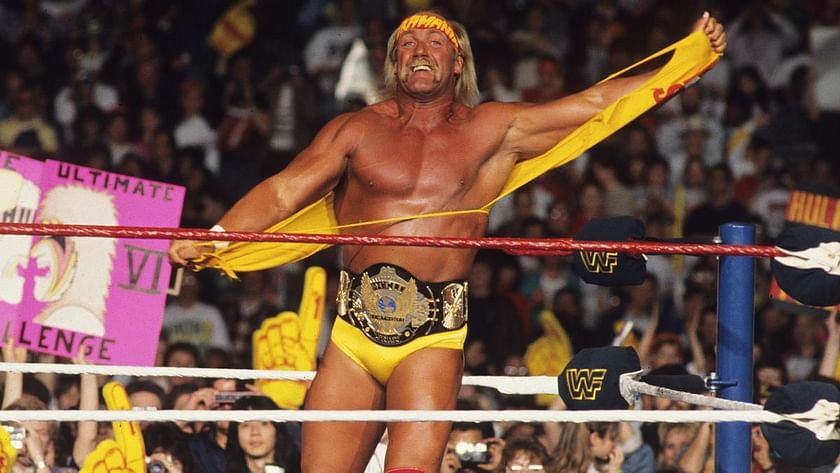 | | | |
| --- | --- | --- |
| Champion | Number of Reigns | Number of Days |
| Bruno Sammartino | 2 | 4,040 |
| Hulk Hogan | 6 | 2,188 |
| Bob Backlund | 2 | 2,138 |
| John Cena | 13 | 1,254 |
| Pedro Morales | 1 | 1,027 |
| Brock Lesnar | 7 | 828 |
| Randy Orton | 10 | 680 |
| Bret Hart | 5 | 654 |
| Triple H | 9 | 611 |
| Stone Cold Steve Austin | 6 | 529 |
| Randy Savage | 2 | 520 |
| AJ Styles | 2 | 511 |
| CM Punk | 2 | 462 |
| Shawn Micheals | 3 | 396 |
| The Rock | 8 | 378 |
| Diesel | 1 | 358 |
| Drew McIntyre | 2 | 300 |
| Kurt Angle | 4 | 299 |
| "Superstar" Billy Graham | 1 | 296 |
| Roman Reigns | 4 | 293+ |
Current
WWE Champion
Current Champion: Roman Reigns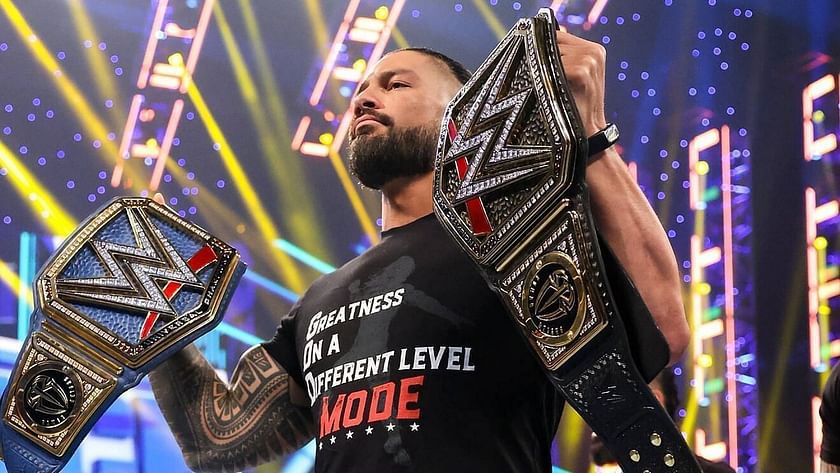 *Last Updated: 26th September 2022