Wrestling veteran Vince Russo feels that the Triple Threat match featuring Bianca Belair, Becky Lynch, and Bayley on WWE RAW this week ended too early.
It was announced after the show began that the three stars would collide in the main event. If The Man or The Role Model won the match, they would get added to the Women's Elimination Chamber bout. The EST of WWE defeated them to emerge victorious, and as a result, they won't compete inside the unforgiving structure.
Speaking to Dr. Chris Featherstone on the latest edition of Sportskeeda Wrestling's Legion of RAW, Vince Russo stated that he's not a fan of women's matches going long, but he thinks that the triple threat match on WWE RAW ended way too soon.
"These girls worked their butts off. There's no question about that bro. These girls always work very hard. But I do believe that - I think they let a lot of these women matches just go too long. And the longer it goes, bro, the more exposed that they're going to be. And I actually think bro, even though this match went long Chris, I think they went home too soon. And I know they were promoting Elimination Chamber in the end, I don't think that was by design, bro. I think they went home too soon," said Russo. [1:24:30-1:25:18]
---
Vince Russo on his criticisms against WWE's booking
The former RAW head writer was part of the creative team during the Attitude Era and helped create storylines and angles for superstars like The Undertaker, Kane and Stone Cold Steve Austin.
Vince Russo clarified that he doesn't hate anybody in WWE and feels that the product would be better if the higher-ups paid attention to his criticisms.
"I don't hate anybody on this show, I don't hate anybody who puts this show together. The criticism I'm giving, I actually think if they paid attention to them it would help them. And like I said bro, I think they're making strides bro. I think they're making strides but I want to see a solid three-hour show, one time," said Russo. [1:26:05 - 1:26:30]
Bianca Belair's opponent for WrestleMania will be determined at WWE Elimination Chamber. It could be Asuka, Raquel Rodriguez, Carmella, Natalya, Liv Morgan or Nikki Cross.
---
Who do you think will win the Women's Chamber match? Sound off in the comments section below!
---
If you use any of the above quotes, please give a H/T credit to Sportskeeda and embed the YouTube video.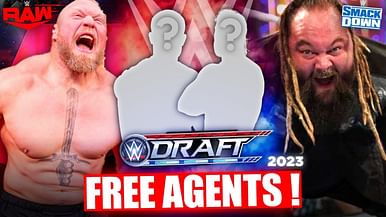 Brock Lesnar and 10 WWE stasr who are FREE AGENTS