Leati Joseph "Joe" Anoa'i better known by his ring name, Roman Reigns was born on the 25th of May in the year of 1985, in Pensacola, Florida. Reigns now 31 years of age, was initially more interested in playing Football. He played for Georgia Tech Yellow Jackets football team after he which Reigns started playing football professionally with the Minnesota Vikings and Jacksonville Jaguars of the NFL in 2007 making brief off-season stints.
Reigns then started pursuing a career in pro-wrestling and was signed by the WWE in 2010 reporting to their developmental territory then known as Florida Championship Wrestling, now known as NXT.
---
Roman Reigns family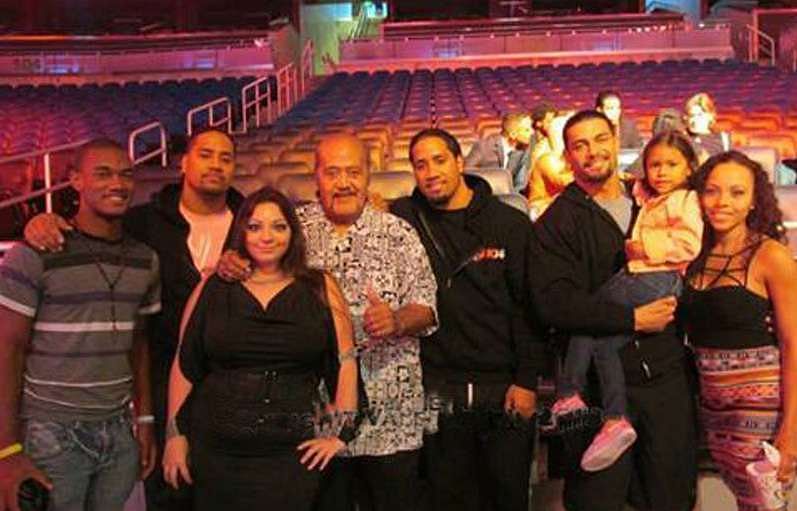 Reigns' dad Sika, is a 2007 WWE Hall of Fame Inductee, and one-half of the tag-team of the Wild Samoans with his brother, Afa. The Wild Samoans throughout their run in the 1970s and the 1980s became Tag-Team Champions in the National Wrestling Alliance, World Wrestling Federation.
As a part of the legendary Anoa'i family, Reigns is a cousin to former professional wrestlers Yokozuna, Rikishi, Umaga, and the Tonga Kid. He is also the first cousin once-removed to the Usos, and the Rock. Reigns is married to Galina Joelle Becker with whom he has a daughter named, Joelle Anoa'i.
---
Roman Reigns Theme Song
Roman Reigns' theme song is known as "The Truth Reigns" which is a remixed version of his former stable, The SHIELD's theme song "Special Ops". Both these themes were made by veteran WWE composer, Jim Johnston. Johnston has been providing the soundtrack for all the WWE programming, entrance themes for Divas and Superstars, video game soundtrack, and WWE's website content.
Johnston has been responsible for several popular themes like The Undertaker's theme "Rest in Peace", Triple H's tenth theme "King of Kings", and also Stone Cold Steve Austin's theme "I Won't Do What You Tell Me". Johnston since 2014 has been working with WWE's film division, WWE Studios for whom he has composed several soundtracks.
Roman Reigns Tattoos
Covering the entirety of his right arm and right chest, Reigns has a Polynesian style tattoo that has deep meaning and symbolism. Reigns got himself inked by the legendary tattoo artist, Michael Fatutoa aka Samoan Mike from Sacred Centre Tattoo, Florida. The most emotional part of his epic sleeve tattoo is the image of a turtle, which he has dedicated to his daughter, Joelle. It took around 17 hours for Fatutoa to ink the sleeve on Reigns' arm. Fatutoa is also responsible for tattooing Jimmy and Jey Uso, Reigns' first cousins.
---
According to Forbes, Reigns is earning $455,500 per year. His salary is supposed to bump up a little to $524,000 according to his new contract for 2017. His current winning bonus is $151,833, which is more than what he was getting in 2015($101,000). Thus, his current market value is around $3,000,000. Reigns' initial base salary in 2014 was around $227,750 and his winning bonus was $67,480, making his total net worth come to around $810,811. His base salary in 2015 was $314,138, with a winning bonus of $101,000 as mentioned above, making his total net worth as of 2015 around $1,000,000.
---
Roman Reigns Instagram and Twitter
As of 2016, Reigns has a total of 1.99 million Twitter followers. Reigns does not have an Instagram account, which he confirmed by sending out the below tweet:
For those asking..I don't have an istagram account..if I did awesome pics like this would be on it #WWEDoha #Paradise pic.twitter.com/TgOwMRxZgQ
— Roman Reigns (@WWERomanReigns) February 21, 2013
Reigns after hearing UFC star Conor McGregor's comments against the WWE Superstars and the WWE Universe sent out the below mentioned tweet:
Your the size of my leg. Shut up. https://t.co/fBVEdf8hE1
— Roman Reigns (@WWERomanReigns) August 7, 2016
Also after being suspended for violating WWE's Wellness Policy, Reigns sent out the following tweet:
I apologize to my family, friends and fans for my mistake in violating WWE's wellness policy. No excuses. I own it.
— Roman Reigns (@WWERomanReigns) June 21, 2016
---
Roman Reigns vs. Dean Ambrose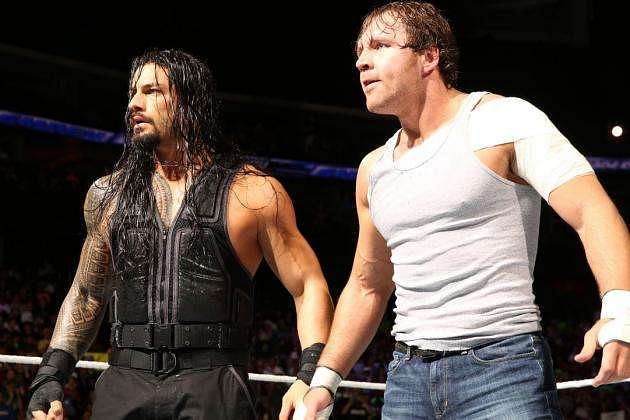 Seth Rollins after being injured at a WWE House Show was forced to vacate the WWE World Heavyweight Championship. Thus, to crown a new champion a Gold Rush tournament was set into motion with Superstars like Alberto Del Rio, Cesaro, Big Show, Kevin Owens, Roman Reigns, and Dean Ambrose. Reigns after defeating Big Show, Cesaro, and Alberto Del Rio, went on to face Dean Ambrose (who def. Kevin Owens in the semi-finals) in the final.
Reigns and Ambrose even after The SHIELD split-up were close to each other with Dean helping out Reigns whenever in need. Dean who himself had unsuccessful attempts at winning the championship made it clear to Reigns that this time nobody will stop him from winning the championship.
In the finals both forgot their friendship and fought like warriors for the title, with Reigns eventually winning the tournament. Reigns a few months down the line again faced Dean Ambrose and Brock Lesnar in a Triple Threat Match at Fastlane.
---
Roman Reigns vs. Triple H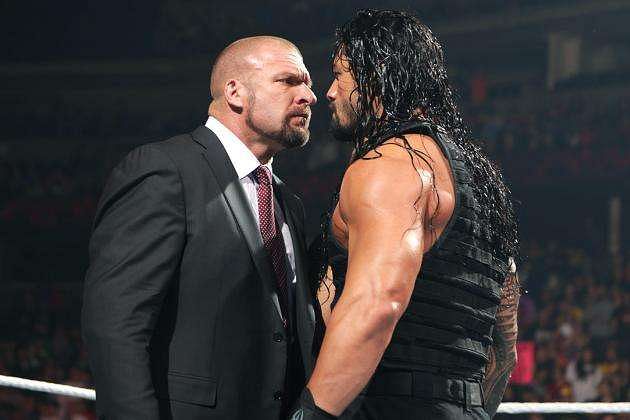 After winning the Gold Rush tournament by defeating Dean Ambrose in the finals at Survivor Series, Reigns immediately lost the title to Sheamus who cashed in on his Money in the Bank briefcase. Reigns managed to win back the title from Sheamus a few weeks later on RAW. But, as luck would have it, Reigns again lost the title in a Royal Rumble match for the WWE World Heavyweight Championship against, Triple H.
This lead to Reigns, Ambrose and Brock Lesnar to face-off against each other in a Triple Threat Match at Fastlane, with the winner getting a shot at Triple H's WWE World Heavyweight Championship. Reigns won the Triple Threat Match and went on to face Triple H in the main-event of Wrestlemania 32 for the WWE World Heavyweight Championship. Reigns won the match, thus becoming the three-time WWE World Heavyweight Champion in the process.
---
Roman Reigns vs. John Cena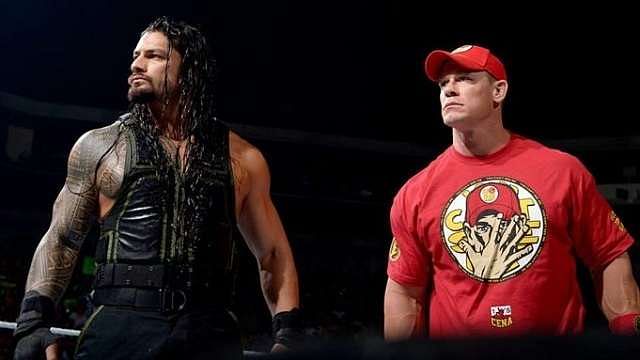 Reigns who was then a part of the SHIELD started feuding with John Cena, Ryback, and Sheamus after the SHIELD stopped working for CM Punk. The SHIELD participated in a six-man tag match at WWE Elimination Chamber, which the SHIELD won.
The SHIELD on the RAW after the Royal Rumble PPV participated in a six-man tag-team match against the team of John Cena, Daniel Bryan, and Sheamus for a chance to participate in the Elimination Chamber match for the WWE World Heavyweight Championship. The SHIELD lost the match after the Wyatt Family got involved, thus resulting into them not qualifying for the WWE World Heavyweight Championship Elimination Chamber match.
---
Roman Reigns Titles and Achievements
All of Reigns' achievements and Championship wins are mentioned down below:-
Slammy Awards (7 times)
Breakout Star of the Year (2013) - with Dean Ambrose and Seth Rollins (SHIELD)
"What a Maneuver" of the Year (2013) - Spear
Trending Now (Hashtag) of the Year (2013) - #BelieveInTheShield
Faction of the Year (2013, 2014) – with Dean Ambrose and Seth Rollins (SHIELD)
Superstar of the Year (2014)
Extreme Moment of the Year (2015) – Post TLC rampage
WWE World Tag-Team Championship (1 time) with Seth Rollins (SHIELD)
Royal Rumble (2015) def. Rusev
WWE World Heavyweight Championship Tournament (2015) def. Dean Ambrose
WWE World Heavyweight Champion (3 times) def. Dean Ambrose, Sheamus, and Triple H
FCW Florida Tag-Team Championship (1 time) with Mike Dalton