After WWE reportedly scrapped plans for Finn Balor and Edge to face off inside Hell in a Cell at the Royal Rumble in January, it now seems as though the two will face off at WrestleMania, with the Irish star potentially donning his iconic demon body paint once again.
During his early days in WWE, Balor would tap into his dark side and intimidate his opponents ahead of their match. The last time fans saw Finn as The Demon was at Extreme Rules 2021, where he faced off against Roman Reigns.
However, with Finn and Edge's rivalry now having lasted almost an entire year, WRKD Wrestling has reported that Balor may be returning as some form of The Demon at WrestleMania 39 in order to finally beat The Rated R Superstar for good.
"The idea of Finn Balor potentially being some form of "The Demon" has been floated for Wrestlemania against Edge. This was previously planned for their scrapped Hell in a Cell match at the Royal Rumble."
Earlier this month, Edge and his wife, Beth Phoenix, teamed up at Elimination Chamber as they defeated their rivals, Rhea Ripley and Finn Balor.
Finn Balor lays down a WrestleMania challenge to Edge
Last week on RAW, the former Universal Champion got some revenge against the Hall of Famer as he brutally assaulted Edge after his match with Austin Theory.
With their animosity still at boiling point, Finn laid down a challenge to Edge last night on RAW, demanding hef aces him one last time at WrestleMania 39.
"The Prince, he's playing chess and there's still one more move. So if you accept my challenge, I end this at WrestleMania. Checkmate." From 0:00 to 0:20
In what has become one of the most personal storylines of Edge's iconic WWE career, the Hall of Famer will be out for revenge against Finn after losing to him last year at Extreme Rules in an I Quit Match.
What are your thoughts on Edge potentially facing Finn Balor at WrestleMania? Let us know in the comments section below.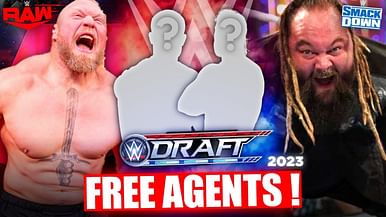 Brock Lesnar and 10 WWE stasr who are FREE AGENTS