Seven things you need to know about Impact Wrestling's Scarlett Bordeaux
17.44K //
22 Jul 2018, 02:48 IST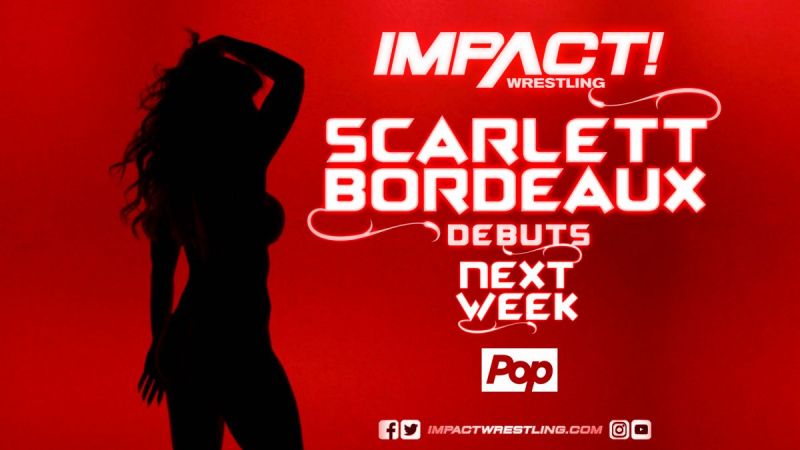 In wrestling, we all love a bit of mystery, a bit of enigma, a bit of a tease. And perhaps the only thing we like more than not knowing about something is the pay-off. Finding out the answer to a long-awaited mystery and reaching a conclusion. But without the initial enigma being there in the first place, the pay-off is pretty irrelevant. The build is everything.
Well, Impact Wrestling are on a role these days, with Slammiversary selling out and the product being arguably more exciting than ever before - thanks to an incredible feud between Sami Callihan and Pentagon Jr, and Austin Aries' title run among other things, but something Impact Wrestling have done oh, so perfectly recently is a wonderful little nuance - and it's building up talent.
One particular instance of this has to be the build up the debut of a new star appearing on television very shortly, and that came in the form of some mysterious vignettes that led to the eventual teaser clip this week announcing that "Scarlett Bordeaux" will be making her debut on next week's show - but who exactly is Scarlett Bordeaux?
Well, all Impact have told is so far is that she's beautiful, glamorous, and will be debuting next week. That's enough, right?
Only Sportskeeda gives you the latest Wrestling News, rumors and updates.
Wrong. As with most teaser clips, it left fans wanting to know EVERYTHING about Bordeaux.
Well, if you want to know more about "The Perfect 10" after watching that video, and I bet you do, we're going to tell you everything you need to know about Scarlett Bordeaux - and not just that she's 27 years old, five-foot-eight and from Chicago. We have the really interesting stuff here, like why WWE fans will DEFINITELY recognise Bordeaux, and how she's a woman of many talents.
And just like the deadly sins, we have seven of them lined up for you, so sit back, relax, and get ready to learn about one of Impact Wrestling's best kept secrets.
---
#7 She was a Rosebud
Let's start with this because, well, who wasn't, right?
Braun Strowman, Alexa Bliss, Becky Lynch, Carmella, Kalisto, James Ellsworth, Taeler Hendrix, Jimmy Jacobs, Bull James, Sami Callihan, Simon Gotch.
Those people don't share much in common aside from their profession, but one other thing they have in common is that they all played the same role in WWE at one point or another - party animal!
They've all been there. Adam Rose's party entourage was a goldmine of talent, and one which Scarlett was a part of "about 15 times" before March 2015. And while Adam Rose is no longer a WWE star, his character there lives on and it seems like the legacy of the Rosebud only continues to provide talent after talent in WWE and beyond.
Out of the 15 times Bordeaux was a Rosebud, she had one appearance at WWE Payback, and she even worked house shows as one of Rose's colourful companions!