The year of the Brahma Bull?
8.34K //
07 Nov 2012, 20:30 IST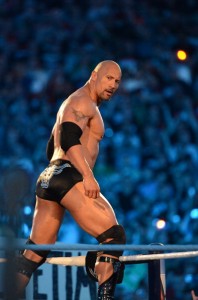 Will 2013 be the year of the Brahma Bull?
The last time we saw the Rock in the WWE was when he was assaulted by the WWE Champion, CM Punk.
Punk turned his back on the WWE Universe, and by doing so, infuriated the raging bull within the Rock. The Rock is ready to rumble and he has set his sights on both CM Punk and his WWE Championship at WWE Royal Rumble.
The WWE is coming up with big plans for the movie star as the 'Great One' is set to be the "focal point" of the WWE from the period between the Royal Rumble in January and the grand-daddy of all wrestling shows, WrestleMania 29.
The Rock is expected to defeat CM Punk to win the gold after a gap of over a decade. Are we in for John Cena vs The Rock Part II at WrestleMania 29? At least, the signs point that way!
The current WWE Champion needs to watch his back as it's the Great One's time to take centre-stage. The Rock is cooking up revenge plans and if CM Punk doesn't smell it, he's in for a tough time!