TWGTT - It's not arrogance if you can back it up
2.71K //
Timeless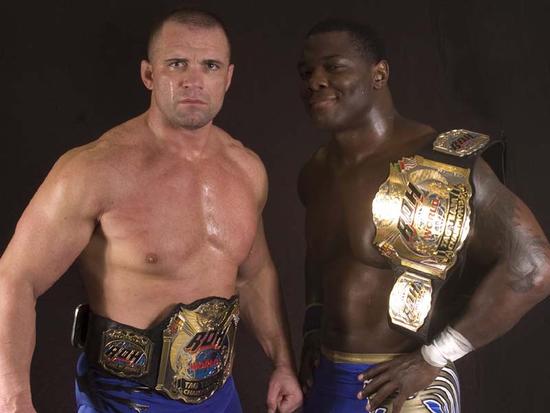 When you claim yourself to be the 'Greatest', you need to back it up in the squared circle. There have been many guys who proclaimed themselves to be the best, and only very few of them were able to back that statement up. Two individuals, who called themselves 'The World's Greatest Tag Team' did just that, cue Charlie Haas and Shelton Benjamin.
Shelton Benjamin was a phenomenal amateur Wrestler, having an incredible win-loss record in high school. His partner, Charlie Haas, had an almost identical background, both being incredible pure Wrestlers. The tag team made their debut as a part of Team Angle, gifted to Kurt by his then manager Paul Heyman. After their initial feud, they were promoted to the top of the tag team division, when they won the World tag titles just two months after they debuted! This showed the faith the creative heads had on the tag team of Haas and Benjamin, and they weren't let down.
They had memorable feuds and matches against many teams, which involved Benoit and Edge, Los Guerreros and so on during their first run, and saw them defending the tag titles, and retaining them against other teams. They competed in their first Wrestlemania, WM XIX, where they successfully retained their tag titles against Los Guerreros and Benoit/Rhyno. After they left team Angle, they began calling themselves 'The Best Damn Tag Team Period', something which they always backed up in the ring. When you put two phenomenal master in-ring technicians and team them up, you often end up with phenomenal matches, no matter who their opponents are. Later, they had to split when Benjamin was sent to RAW to receive a big push, but they reformed two years later.
Their second run saw them taking on teams like Cryme Tyme and The Highlanders. But perhaps, their best feud was against the team of Kendrick and London, where they defeated Londrick after a couple of matches. After that, they didn't have anything major to contribute to the tag team division, and were split again, only to make sporadic reformations.
One half of TWGTT, Shelton Benjamin, has been hailed as one of the best pure athletes in WWE History (Hey John Morrison! How you doin'?), but his lack of mic skills and charisma didn't make him last long in singles' divison. Haas, on the other hand, was handed an interesting gimmick in his singles' career, but he too was boggled down by his lack of mic skills. But the duo has been one of the best Wrestling tag teams, following in the footsteps of the Rockers and the Hollywood Blondes in their Wrestling styles.
Perhaps their best tenure was in Ring of Honour, where they won the RoH Tag titles multiple times, and had awesome matches with the likes of Kings of Wrestling (If you haven't checked it out, I urge you to), and the Briscoes.
Though there hasn't been much to be written about the two, their phenomenal talent and skills rank them very highly, alongside revolutionary teams such as the Blondes and Rockers. If you want to see them showcasing their skills, check out their matches from Ring of Honour. You will not be disappointed.