Who WWE superstars would be in the past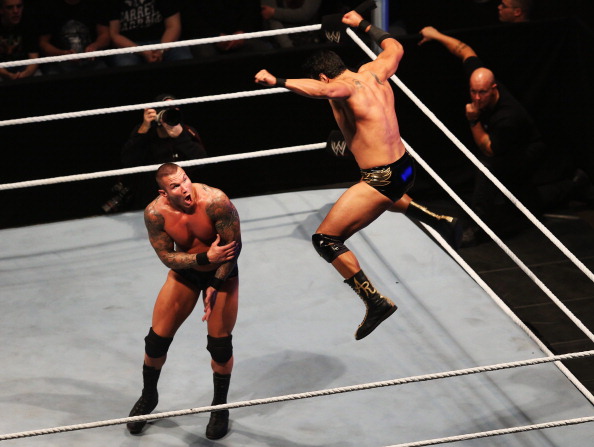 Wade Barrett - "The British Bulldog was always my favorite wrestler as a kid," Barrett admitted. "Unfortunately, he passed away a few years ago, because I would have loved the opportunity to step in the ring with him and take him on." "I would like to switch places with Bret 'Hit Man' Hart in his SummerSlam 1992 main event against The British Bulldog," the former Intercontinental Champion said.
Cody Rhodes - "Bret Hart versus Shawn Michaels from WrestleMania XII is my favorite match," Rhodes said in his deliberate style. "But I wouldn't want to place myself in that match because it's almost sacrilege to do so." "I would put myself at [In Your House 16: Calgary Stampede] and I would be on the team with [Goldust], Ken Shamrock, The Road Warriors and 'Stone Cold' Steve Austin against the Canadians," Rhodes revealed.
Daniel Bryan - "I would trade places with Hulk Hogan in the legendary WrestleMania III match against Andre the Giant,""It would have been awesome," the submission expert said. "It was one of the most monumental moments in WWE history in front of a huge crowd.""I would have never been able to bodyslam Andre the Giant," Bryan said with a cackle. "That would have been the main difference."
Tyson Kidd - "I would trade places with Shawn Michaels against Bret Hart in the WrestleMania XII Iron Man Match," "I've been fortunate enough to compete against Shawn Michaels, which was an absolute dream come true, but I've never competed against Bret Hart for obvious reasons," he said. "What better environment than a one-hour match where it all comes down to conditioning and technical ability?""We both have that same Dungeon style," Kidd said. "That whole style is based off technical ability. I think it'd be a lot of different counters that no one has really seen — very technical with a lot of my strikes and a lot of my high-flying."
David Otunga -"I'd like to trade places with John Cena at WrestleMania XXVIII against The Rock," Otunga admitted. "That was one of the biggest matches of all time and I'd like to see myself in the main event on The Grandest Stage of Them All."
Natalya - "I would switch places with Alundra Blayze at SummerSlam 1994 and wrestle Bull Nakano,"
Zack Ryder - "I would like to trade places with The Undertaker in his match against Edge at WrestleMania XXIV."