Why did WWE release Maryse in 2011?
4.53K //
08 Oct 2017, 22:00 IST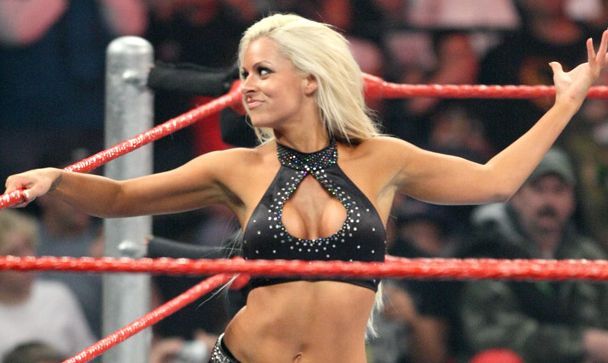 Maryse first appeared in the WWE Universe as part of the 2006 Diva Search. She actually made the top-eight which put her in the competition; however, she was the second woman eliminated.
She made enough of an impression to receive a tryout in WWE's developmental territory, Ohio Vally Wrestling. Maryse signed a WWE developmental contract on August 24, 2006, and got right to work training to be a wrestler in OVW. 
Her early days in WWE highlighted her French language skill and appearance in Timbaland's music video for "Throw It on Me." She started appearing on a regular basis in 2008 as a heel and was featured in a couple swimsuit competitions and a "Wet and Wild match"; 2008 was a much different time for the women in WWE.
Diva's Champion
On June 06, 2008, Vickie Guerrero announced the creation of the WWE Diva's Championship and from that point on Maryse had a new goal. She scratched and clawed her way into contention for the Diva's Championship and picked up the "butterfly title" on December 22, 2008, by defeating Michelle McCool during an episode of SmackDown.
Dubbed as The Sexiest of Sexy, Maryse carried the WWE Diva's Title for 216 days before Mickie James took her title at 2009's Night Of Champions PPV. Maryse carried the Diva's Title once more in 2010 but her second reign wasn't nearly as long being 49 days.
---
Ted Dibiase Jr's assistant and NXT
On June 21, 2010, Maryse became Ted Dibase Jr's assistant after he fired Virgil. This event might have made Virgil pretty lonely, but it resulted in a new role for Maryse — one where her body didn't need to take as much impact.
Maryse and Dibiase Jr were announced as mentors of Brodus Clay during the fourth season of NXT but Clay later traded them for Alberto Del Rio. Maryse later became co-host of NXT's fifth season entitled NXT Redemption. After her involvement in romantic angles with Yoshi Tatsu, Lucky Cannon, and Hornswoggle, she was given an ultimatum from Ted Dibiase Jr to pick him or NXT. Maryse chose NXT over Diabise Jr and the two separated after that point.
Some goodbyes aren't forever
Unfortunately, fans will never know what was next for Maryse during this time because in August 2011 she was forced to undergo surgery for an abdominal hernia. After taking a little time off from WWE television she was eventually released two months later.
She commented about her release in 2011 while speaking to Diva-Dirt.
"I think it was more mutual. I wanted to leave the company for a while now because I have other projects I want to work on and it was impossible to work on those projects being under contract with the WWE. I had six fantastic years with the WWE. I had a really good run. Two actually, with my two Divas Championships. After six years, I was looking at it and I said, 'I need to keep growing'. That's why I decided to take a break from wrestling and to leave because I wanted to focus on my next project which is House of Maryse."
She also explained how living in Los Angeles permitted her to start a film career and she was looking for more involvement in that business. She loved playing different characters and seemed excited about the chance to try her luck on the silver screen.
Five years later...
Maryse's 2016 return alongside her real-life husband, The Miz was the start of some of the best work of her career. But she got her start a long time ago and had already carved her place in WWE History.
Maryse accompanied The Miz through one of the greatest title runs of his illustrious career. It was at this time when The Miz might have solidified himself as the greatest WWE Intercontinental Champion in history.
On September 11th, 2017, Maryse announced they were expecting a child. The couple was allowed to make this revelation during an episode of Miz TV where her smiling husband said they wanted to tell everyone on WWE television because it was the same place they met.
As she entered the next portion of her life with The Miz into parenthood it was an incredibly happy time for them. Maryse took off from WWE television once again; however, this time she had an entirely different reason.
---
Send us news tips at fightclub@sportskeeda.com