World Championship match added to Survivor Series
1.56K //
01 Nov 2012, 12:39 IST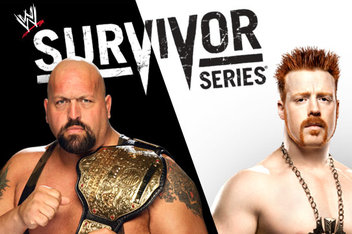 There's a chance you may have missed this one, as it was announced over Twitter and made official on WWE's website. No announcement has been made on television as of Monday night, but it has been confirmed that, at the 26th annual (not anniversary; there's a difference there that WWE seems to ignore), The Big Show will defend his newly won World Heavyweight Championship against the man he beat for the belt, Sheamus.
If you didn't see Hell in a Cell, you missed Show defeating Sheamus after two WMDs, scoring only his fifth overall World Championship during his near 20-year career. Sheamus, being the former champion, gets an automatic rematch, and that match will happen in just a few weeks on pay-per-view.
Honestly, it's kind of strange to see Show with the World title, as WWE and Vince McMahon have never been very serious about making Show a true main eventer in regards to the titles. Granted, he's never needed belts to get over. Much like Andre the Giant before him, Show (real name: Paul Wight) has been able to use his size and very little else to get over with fans. They pay to see the self-professed "World's Largest Athlete" because he's a huge, huge man, a size of human being you don't see every day. At the same time, I think Show's physical stature has also been his biggest enemy in regards to how he is pushed.
For someone Show's size, just getting around is very physically demanding, and unfortunately, that's not a good quality for a champion, since they have to do a lot more than the other competitors and are basically the face of the company. The schedule is already tough enough on them without having to carry around the company's most prized championship. This is why very, very few big men have had long championship reigns in wrestling history.
Honestly, I think this title reign will be more of a "thanks for your years of service" kind of thing, as I truly believe that Show will be winding down his career in the next year or so. I think this is kind of a "one last run" they are doing, but I could be wrong.
While I don't think Show's title reign will last very long, I don't see it ending at Survivor Series. I was surprised when he won the belt at HIAC, and I'd be surprised if he lost it just about a month later. WWE has been shying away from playing "hot potato" with the belts, so I expect Show to keep the title for at least a couple months. As for Sheamus, hard to say where he goes from here. He hasn't been the greatest of champions, so I don't see an immediate return to the gold. Don't get me wrong; his matches have been great all year. However, with his promos, he feels too "Cena-lite" for my taste, and there's already enough of John Cena in the company that we don't need a clone.