WWE 2K23 has fans buzzing in excitement like no other wrestling game we can remember. Following the smashing success that was WWE 2K22, expectations are incredibly high for the upcoming game.
One of the best features of WWE 2K22 was its Universe Mode. It received critical acclaim for its mechanics and how deep it allowed gamers to dive in. The innumerable customization options meant it felt like booking an actual WWE storyline. In fact, we can confirm that we have booked narratives better than Sami Zayn's Bloodline arc. Oh wait, that's impossible.
As such, fans are beyond hyped for WWE 2K23's Universe mode and what it could bring to the table. If you are one of these people, read on to find out what to expect.
According to the game's developers, the Universe mode in the new game will be a major step-up from that of the outgoing game. Players will now have full control over cutscenes and will have the ability to book any of them before matches. This will help them have complete access to their storylines and a far greater degree of control than what they had in WWE 2K22.
So if you want to have Sami Zayn hit Roman Reigns with a steel chair, you can do so without waiting for the Royal Rumble. However, we suggest you follow what Triple H and team did, because you are never topping that.
WWE 2K23's makers speak about its Universe mode
WWE 2K23 will have a much-improved Universe mode. The developers of the game recently talked about this update in an interview, wherein they shed light on what fans and gamers can expect.
"....those guys have done a tremendous job on Universe this year. And the ability – because cutscenes have always been prevalent in the Universe and telling those stories within within that mode – but you know, this year, having the ability to be that ultimate puppet master where, like Lynell (one of the game developers) described, being able to scroll through a list of available actions that you want your Superstar to do, whether it's to be respectful at the start of the match or disrespectful at the end." [H/T 411Mania]
Hearing these statements, we can't wait to graduate from the WWE Universe into, um, the WWE 2K23 Universe. Bring on the game already!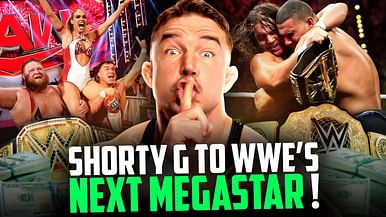 Why Chad Gable could be the next WWE mega star
Edited by Pranav Unnikrishnan