WWE Championship main event announced for TLC
4.54K //
29 Nov 2012, 13:06 IST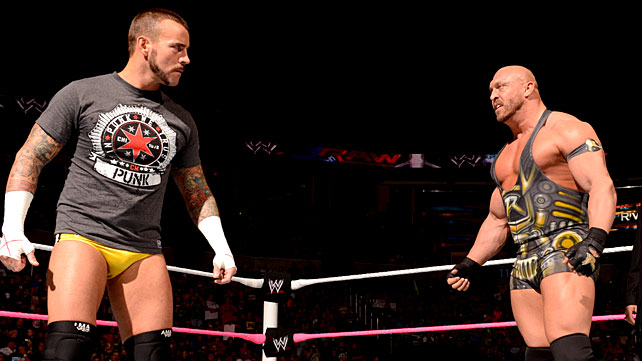 In addition to the Intercontinental and World Heavyweight Championship matches that will be taking place at Tables, Ladders & Chairs, it was confirmed Monday night on RAW that, as you would probably guess, there will be a WWE Championship match as well. Once again, CM Punk will defend his title against perennial challenger Ryback. This time, however, it will be in this show's namesake match: A Tables, Ladders & Chairs match.
If you didn't see RAW on Monday night, let me bring you up to speed. The opening of the show saw Ryback face Titus O'Neil in a pretty standard match (this was a result of Ryback beating Darren Young this past Friday night on Smackdown!). As would be expected, Ryback squashed O'Neil in minutes, nailing the Meat Hook and Shell-Shocked for the easy victory. After the match, Ryback refused to leave the ring, telling everyone he wouldn't leave the ring until he got what he wanted, referring to CM Punk and the NXT 3-Seth Rollins, Dean Ambrose and Roman Reigns, who would later announce their faction name as "The Shield".
Ryback stayed in the ring through the commercial break, and when the show came back, security guards began circling him. Ryback ran through a few of them before Vickie Guerrero eventually made her way out onto the stage. Guerrero told Ryback she knew he was upset and why, but that he couldn't put his hands on security. Before Guerrero could eject Ryback from the building, however, he cut her off, demanding he got Punk at TLC, and stating he would not leave the ring until he got what he wanted, essentially holding the show hostage. As Guerrero was about to agree to the match, he told her to shut up, because he wasn't finished. Ryback then demanded the match be made a TLC Match, that way, security can't do a single thing to him. Guerrero agreed to the match on the condition Ryback leave the ring immediately and prevent further disruption of the show. Ryback agreed and left the ring, but not before scaring the security guards off.
So, the match is set, and this will likely be Ryback's last shot at the title, at least until after the Royal Rumble. Unfortunately for his fans, he will not be walking away as champion, as the plan to go with Punk/Rock at the Rumble is still on track, and in fact, Rock is currently training for this match. Since it is basically an anything-goes match at TLC, you should likely expect some interference from The Shield that will result in Punk retaining the title.