8. Asuka vs Carmella (c) (WWE SmackDown Women's Championship):
Carmella defended her Championship for the second night in a row after she had retained against Becky Lynch on Night 1. She faced Asuka when Asuka answered her challenge.
The two had a good match, and it looked like Asuka might win the match. However, Asuka Carmella had an escape plan and got disqualified.
The Disqualification meant that while Asuka won the match, Carmella retained the title.
Result: Asuka won by DQ, but Carmella retained the Title.
---
9. AJ Styles (c) vs Daniel Bryan vs Samoa Joe (WWE Championship):
Finally, in the main event of the night, the audience received a dream match. The WWE Champion, AJ Styles, defended his title against Daniel Bryan and Samoa Joe, in a Triple Threat Match.
Bryan's recent weeks have been taken up by attacks from the Bludgeon Brothers, but he recently reunited with his former tag team partner, Kane, to reform Team Hell No. In Tokyo, however, Bryan was on his own looking to secure the WWE Championship.
He got a little help from a long time rival, Shinsuke Nakamura. Nakamura was not able to participate in any match due to a dog-bite, but he interfered on behalf of Styles and took revenge on Samoa Joe.
Joe had attacked Nakamura the previous night while he was on crutches. Nakamura got some of his own back by making sure Joe lost the match.
AJ, Daniel, and Joe, all put on brilliant performances, and the match stole the show.
In the end, AJ retained his title. AJ celebrated with the Good Brothers and Nakamura, offering him the Two Sweet, but Nakamura refused, saying that the next time they were in Tokyo, he would either hold or win the title.
Results: AJ Styles retained after defeated Samoa Joe and Daniel Bryan
---
Send us news tips at [email protected]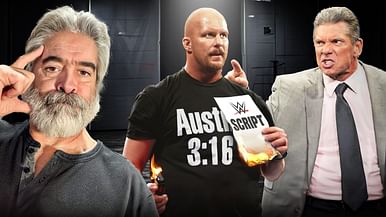 How Stone Cold was born in 2 minutes