WWE News: Beth Phoenix confirmed for WWE Hall of Fame
Congrats to Beth Phoenix!
902
What's the story?
The WWE Hall of Fame is shaping to be one of the best ever. With Kurt Angle, DDP, Teddy Long, and the Rock 'n' Roll Express already confirmed, there are others expected to be inducted this year. For the past few years, WWE has made an effort to diversify the year's class by inducting a female wrestler. This year, a former Women's Champion has now been confirmed to be included in the prestigious Hall of Fame.
In case you didn't know...
The WWE Hall of Fame all started in 1993 in honor of Andre the Giant. Andre was a posthumous inductee, passing away earlier in the year. While there was simply a video package and no formal ceremony, it did spawn the WWE Hall of Fame to grow and develop into one of the biggest events of the year. The Hall of Fame was linked to both King of the Ring and Survivor Series, before officially becoming a part of WrestleMania weekend.
The heart of the matter
Reported by USA Today, former WWE Women's Champion Beth Phoenix will be the latest inductee. Phoenix commented on the ultimate achievement to For the Win.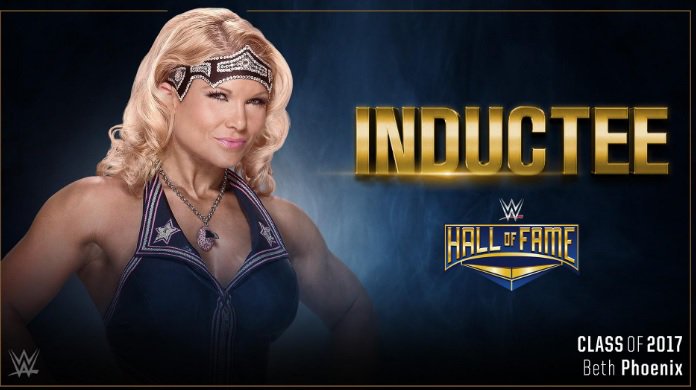 "When you are in WWE, you dream of that moment (in the future) when you get to reflect on your career and the things that you did and you get that wonderful individual honor. It seemed so far off in the distance for me (when I was wrestling). I didn't know when — or if — I'd ever experience that feeling. I certainly didn't think I'd have that opportunity this early in my life. It's amazing and very, very humbling."
Sportskeeda's take
Beth Phoenix is a former three-time Women's Champion, and one-time Diva's Champion. Her career spanned 11 years, and she experienced a number of memorable matches during her time in both Ohio Valley Wrestling and World Wrestling Entertainment. While there were many times that Phoenix seemed to be booked as good, but not revolutionary, her solid resume has earned her a spot in the 2017 Hall of Fame.