WWE News: Booker T shoots on Corey Graves, blames Graves for no longer being on RAW
5.27K //
05 Feb 2018, 01:37 IST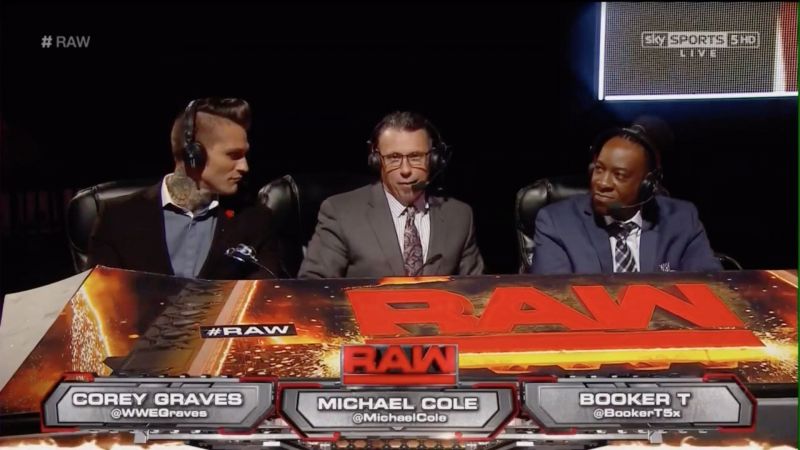 What's the story?
On the latest edition of his Heated Conversations podcast, Booker T spoke about WWE's decision to bring back Jonathan Coachman to replace him on the RAW commentary team.
Booker T said he believes Corey Graves is the main reason behind him no longer being on colour commentary. This is because people in WWE thought he was going to beat up Corey Graves - and then went on to threaten Graves on his podcast.
In case you didn't know...
Booker T had only taken on the role as part of a three-man booth with Michael Cole and Corey Graves as a temporary replacement for David Otunga back in April 2016, but has since returned to his role as pre-show panellist and ambassador for WWE.
The Hall of Famer was seen as a great replacement for Otunga as he brought much more experience as an in-ring commentator to the booth, but it seemed that he and Graves would butt heads almost every week on the red brand.
The heart of the matter
On Heated Discussions, Booker T addressed why he is no longer on WWE RAW.
He said he believed the main reason for him no longer being behind the desk and being transitioned back into his previous role was all down to Corey Graves and their clashes on-air.
The Hall of Famer said Corey is good at what he does, and he threw jabs and Booker threw jabs back, commenting on Graves' education and "vernacular" is better than his own - but said it would be very different if they got into a fight.
While the arguments were incredibly entertaining for the watching WWE Universe, Booker said he believed people backstage in WWE were scared he would attack Corey Graves.
He's the reason that I'm not on Monday Night Raw right now. A lot of people in the company thought I was going to jump on him, I was going to do something bad to him, I was going to drag him, I was going to take him out to the woods and beat that man so bad, I was going to beat this man until he said, "Please, please, just don't beat me any more." That's how hot I was getting.
The Grand Slam and Triple Crown Champion then said that they sent him back to the kick-off shows to take a step back and cool him down, as they knew what Booker could do to him.
Co-host Brad Gilmore even said, "You'd snap his neck like a pencil" with Booker adding, "I'd take him out to the woods and beat him up" until he said stop.
Booker T finished the rant by saying, "This will probably make the dirtsheets, like Meltzer and all those guys, but if I catch Corey Graves on the street, I'm going to do something to him."
Booker goes on to say he won't do it in the office, the airport or the arena, but he said he'll rearrange Corey's hair and "tattoo" him if he sees him on the streets or outside Starbucks.
Booker then called Corey Graves out to a fight at WrestleMania to end this week's podcast and said it would be a fight, not a match.
What's next?
Well, who knows if this is a shoot or if the Hall of Famer is working us all?
We'll need to wait and see if Graves responds to Booker and if the two will collide on WWE television any time soon.
Author's take
Booker did not seem happy on Raw when Graves cut him up on air on the red brand, and he seemed dead serious on Heated Conversations at first too until he called out Graves.
The five-time WCW Champion is notorious for cutting a great promo, so he may indeed be working us all - but this one may be hard to pay-off with Booker T retired, although he did say he could be open to a return, and Graves retired due to injury.
This is definitely one to watch out for.
---
Send us news tips at fightclub@sportskeeda.com