WWE News: Eric Bischoff comments on his rocky relationship with Bobby Heenan
438 //
18 Sep 2017, 21:43 IST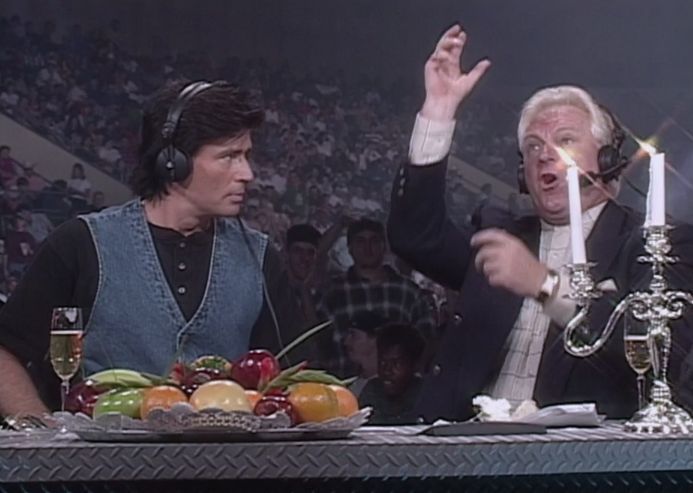 What's the story?
Bobby Heenan passed away on September 17th, 2017 and the wrestling world was deeply saddened to lose such a monumental personality. Eric Bischoff spoke to Jim Ross on The Ross Report where he discussed The Brain's natural ability for the wrestling business.
But unfortunately, Bobby Heenan and Eric Bischoff's relationship might have been strained due to some disagreements in creative direction.
In case you didn't know...
Bobby Heenan and Eric Bischoff worked together in WCW for a while as The Brain was a colour commentator. His one-liners made any show he was involved with so much more special and his old-school mind for the business was extraordinary.
The Brain was employed from 1994-2000, and during that time he witnessed a huge evolution in the company. But being let go seventeen years ago might have left a bad taste in Heenan's mouth which he held until he sadly passed away.
The heart of the matter
Jim Ross recently spoke to Eric Bischoff about Bobby Heenan, and the former president of WCW spoke candidly about Heenan.
Bischoff spoke about his relationship with Bobby Heenan. He said their relationship was professional but he still got to know him very well. They also seemed to butt heads from time to time.
Bischoff said he respected Bobby Heenan and really put him over for having an amazing instinct and point of view for the business. He said as a performer there hasn't ever been anybody as good as Bobby Heenan when it came to psychology.
But there were still times when Bischoff and Bobby seemed to clash on their approach to the business. Thanks to Still Real To Us for the transcription.
"On a personal level I've looked up to him, I've admired him. But I think we probably -- especially toward the end had a strange relationship. Because my approach to business was significantly different than Bobby's and I was pretty untraditional."
But there was no shortage of respect for The Brain even though Bischoff said he probably rubbed the legendary manager and announcer the wrong way toward the end of their working relationship.
"I can't express how much respect I have for Bobby. But I also acknowledge his approach to the business was significantly different to his and that probably rubbed him the wrong way especially toward the end."
What's next?
People will remember Bobby Heenan as being one of the best in the business. Nobody did it like Bobby even though plenty tried. He will also influence every generation to come due to his amazing ability to turn a phrase and a crowd against him.
Author's take
I've done stories about several people who have passed away but anything I have to write about Bobby Heenan has a special sadness to it. He was always one of my favourites and gave me an extra reason to pay attention to commentary whenever he was at the announce desk.
He battled many health issues before his death but never lost his unique personality.
Bobby Heenan influenced many and some people might not even realize how unique of a character he really was. But as time goes on, nobody will forget how amazing he was inside and outside the squared circle.