A few days after an excellent NXT TakeOver: Vengeance Day, the Black and Gold Brand looked to set up some new title matches. The NXT Dusty Cup winners, both men's and women's, revealed when they would challenge for the gold later on in the night.
On Sunday, Austin Theory was kidnapped prior to Johnny Gargano's match with Kushida. Though the NXT North American Champion retained his title, The Way couldn't find Theory. Would Mr. All Day be found tonight?
In the final moments of NXT TakeOver: Vengeance Day, Adam Cole shocked the system and the world by laying out NXT Champion Finn Balor and Kyle O'Reilly with a pair of superkicks.
---
Kyle O'Reilly cuts straight to the point on NXT
Kyle O'Reilly moved into the ring before Beth Phoenix, Vic Joseph, and Wade Barrett were even able to finish running down the results of NXT TakeOver: Vengeance Day. O'Reilly said that The Undisputed Era was supposed to be different and that they were supposed to be the group that defined a generation.
Despite being stabbed in the back via a superkick in the face, Kyle O'Reilly still considered Adam Cole a brother. With that, he needed to hear Cole's explanation. However, it wasn't the NXT Triple Crown Champion that came to the ring, it was Roderick Strong.
Roddy said that it was in the heat of the moment, and Cole would surely apologize. O'Reilly cut him off, saying that he didn't need Roddy to explain it. He needed to hear it from Cole. O'Reilly lost his trust not just in Cole but in the entire Undisputed Era on Sunday.
O'Reilly called Adam Cole once again, only for the NXT Champion Finn Balor to make his presence known. Balor said he had some business to talk about with O'Reilly, blaming him for getting his teeth kicked down his throat. Strong tried to defend his friend, and as he and The Prince began to get into a heated war of words, all three men were blindsided by Pete Dunne, Oney Lorcan, and Danny Burch.
Dunne and the NXT Tag Team Champions left them lying as we cut to footage of William Regal. The NXT GM revealed footage of Santos Escobar stating that he was going home and refused to face Karrion Kross tonight. Hence, Kross would face Escobar next week. And if Escobar attempted to bail again, he'd be suspended indefinitely and stripped of the NXT Cruiserweight Championship.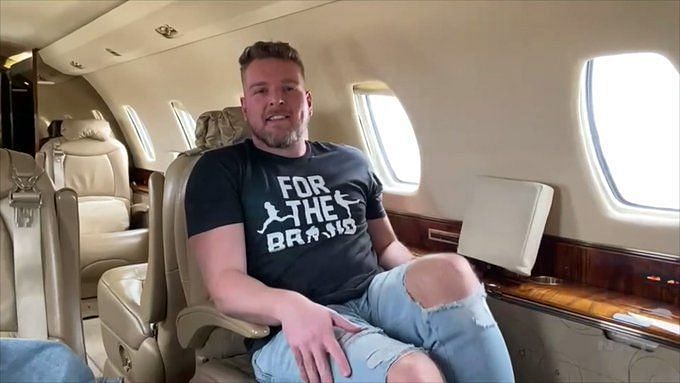 At NXT TakeOver: Vengeance Day, Austin Theory was abducted before Johnny Gargano's NXT North American Championship defense. On their way to the ring tonight, The Way was passing out missing posters of the blue-chipper.
The Way w/Johnny Gargano vs Ember Moon and Shotzi Blackheart on NXT
Ember Moon and Shotzi Blackheart, the 2021 NXT Dusty Cup runner-ups, lit Candice LeRae up with a quick tandem offense. LeRae was sent to the floor but was saved by Indi Hartwell. Back in the ring though, LeRae was unable to avoid Blackheart and Moon's offense.
After breaking away from a pinfall attempt, LeRae finally made it to Hartwell, who met a similar fate as the Poison Pixie of NXT. During the break, The Way took over, tearing apart Shotzi Blackheart. Moon tagged in, but a devastating big boot took the former NXT Women's Champion's head off.
The Way and Johnny Gargano were distracted by live footage of an unmarked van pulling up in the parking lot. Was Austin Theory in it? It wasn't enough to loosen their hold over Moon and Blackheart, but they were clearly shaken.
Moon kicked out of a pinfall after a sidewalk slam, but couldn't get away from The Way. A series of boots and a diving corkscrew press from LeRae to the floor left Moon out before a commercial break. Before we left, Johnny Gargano saw more footage of the van, leading to him abandoning ringside to see if he could find Dexter Lumis or Austin Theory.
Back from the second break, Blackheart lit up Indi Hartwell with a series of elbows and a rolling bulldog. The last Chancery was locked in, but LeRae broke it up with a senton. This led to all four women taking one another out and the camera cutting to Johnny Gargano checking the van.
Gargano couldn't get it to open, but was banging on the door, asking for Mr. All Day. Back in the ring, a superkick caught Blackheart on the button for a close call. LeRae and Moon tagged back in, and the Shenom of NXT planted LeRae with an elevated twisting facebuster.
The Way had the match won, but Johnny Gargano emerged with Austin Theory bound in ropes with a bag over his head. Candice LeRae rushed to the ramp to hug Theory, leaving Hartwell to be pinned by Moon.
Results: Kayden Carter and Kacy Catanzaro defeated The Way via pinfall on NXT.
Grade: B+
---
Pat McAfee sent NXT fans a message regarding Adam Cole, claiming that the Panama City Playboy was a s*****g all along.
McAfee encouraged them to tweet #PatWasRight and said he'd be seeing the WWE Universe soon.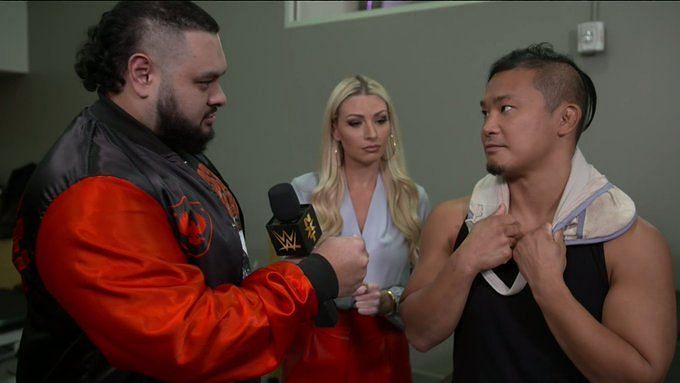 At NXT TakeOver: Vengeance Day, Kushida came up short in the NXT North American Championship match against Johnny Gargano. Backstage, he was being checked on in the trainer's room. Bronson Reed came in, saying that he's going to be the next man to challenge Gargano. They bumped fists and went their separate ways.
Malcolm Bivens came in next, asking if Kushida was medically cleared. The trainer exclaimed that he was, with Bivens looking to get his client Tyler Rust a big win tonight.
---
Isaiah "Swerve" Scott vs Leon Ruff on NXT
In the land of cruiserweights, Leon Ruff was still the runt of the litter. However, he was also the quickest. Ruff was at a disadvantage in size but was able to outmaneuver Isaiah "Swerve" Scott in the early goings of the match.
A nasty high knee to the mouth ended Ruff's run though, and a powerbomb backbreaker followed up. On the apron, the pump kick laid out Ruff. The former NXT North American Champion picked up steam again in the ring, rocking Swerve with the rebound clothesline and springboard cutter. Swerve managed to grab the rope just in time and put the stop to another springboard maneuver.
Swerve took out Ruff's leg but missed the House Call, allowing Ruff to hit a double stomp to the neck. It only angered Swerve, who turned Ruff inside out with a discus lariat. It looked like Swerve had the match in the bag, but Ruff was able to catch his opponent with the crucifix pin for the shocking victory.
Results: Leon Ruff defeated Isaiah "Swerve" Scott via pinfall on NXT.
Grade: B
After the match, Scott shook Ruff's hand before laying him out. Pure frustration took over as Swerve stomped Ruff into the mat. A launching Death Valley Driver sent Ruff's spine first into the corner. He stated that NXT was Swerve's House, and it was time for him to get what he deserved.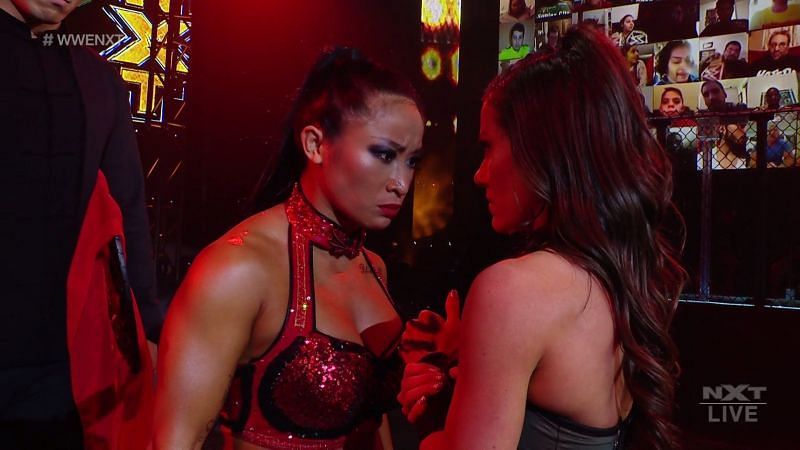 Kacy Catanzaro and Kayden Carter vs The Robert Stone Brand (Jessi Kamea and Aliyah w/Robert Stone) on NXT
In the NXT Women's Dusty Cup, Kayden Carter and Kacy Catanzaro made it to the semi-finals and were seen as bracket busters for many. Though they lost to the eventual winners, they proved to be a formidable tag team. They faced off with The Robert Stone Brand tonight, with Jessi Kamea struggling early until Boa appeared on the ramp, distracting Kayden Carter.
Aliyah and Kamea dished out some serious damage to Carter, but she was able to tag out to Kacy Catanzaro. The Ninja Warrior of NXT rocked Aliyah and Kamea before bringing her partner back in.
Catanzaro and Carter hit the Skull and Bones, picking up a strong pinfall victory.
Results: Kayden Carter and Kacy Catanzaro defeated The Robert Stone Brand via pinfall on NXT.
Grade: C
After the match, Kacy Catanzaro tried to talk some sense into the emerging Xia Li. The new and improved Li had other plans instead, marking Catanzaro's hand and stating she'd hurt her next week on NXT.
Next was the NXT Dusty Cup trophy presentation for both MSK, and Dakota Kai and Raquel Gonzalez.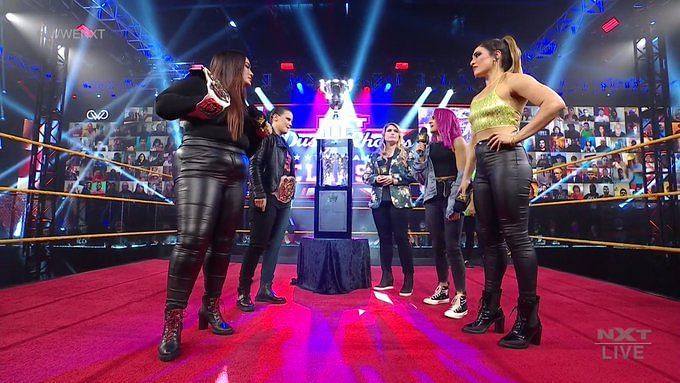 NXT Dusty Cup Presentation Ceremony
WWE Hall of Famer Beth Phoenix hosted the NXT Dusty Cup Presentation Ceremony. Phoenix said that the men's and women's tournaments lived up to the hype, delivering some masterful tag team matches. MSK debuted in the tournament and went all the way to the finals at NXT TakeOver: Vengeance Day, knocking off 2020 Dusty Cup runner-ups, Grizzled Young Veterans.
Dakota Kai and Raquel Gonzalez ran the gauntlet, defeating Shotzi Blackheart and Ember Moon in the finals.
MSK were brought out first, with Nash Carter and Wes Lee challenging Danny Burch and Oney Lorcan for the NXT Tag Team Titles on March 3rd. Would they be the ones to knock One-Two off the top of the division?
Next up were the first-ever NXT Women's Dusty Rhodes Tag Team Classic Winners, Dakota Kai and Raquel Gonzalez. The Captain of Team Kick stated that they were, without a doubt, the best team in the tournament. Before they could continue, WWE Women's Tag Champions Shayna Baszler and Nia Jax made their entrance.
Baszler, someone whose NXT career revolved around snapping Dakota Kai's arm, attempted to intimidate their new challengers. Kai didn't back down, and said that Baszler ran with her tail between her legs after losing to Rhea Ripley...the same Ripley that Gonzalez beat in a Last Woman's Standing Match a few weeks ago.
The Queen of Spades reminded Kai what she did to her years ago, leading to Kai promising to kick Baszler's head clean off. MSK and Phoenix were in the corner with...where did they get popcorn from?
On March 3rd, the champs will put their belts on the line and plan on ruining the run of Kai and Gonzalez. The new No.1 contenders promised to finally kick the champs off of their throne once and for all.
On March 3rd, both NXT Dusty Cup-winning teams could walk away with some new hardware.
---
Kushida vs Tyler Rust w/Malcolm Bivens on NXT
Tyler Rust attempted to outwrestle the Time Splitter of NXT but obviously got nowhere with that approach. Kushida managed to catch Rust with a unique pinfall, earning a close call. Rust responded with a punch to the mouth, focusing on more of a smashmouth offense. Kushida responded with a roundhouse that left Rust vulnerable for an over-the-shoulder arm breaker.
Rust shook off the pain, yanking Kushida off the top rope. Kushida took over after a commercial break, again working over Rust's left arm. After a series of kicks, Kushida looked for that hammerlock suplex. Rust blocked, rocking Kushida with a boot and hitting a half-hatch suplex. A series of kicks to the neck and head left Kushida down for the two-count.
Another Kushida roll-up was countered with a sleeper from Rust, who nearly got the biggest win in his NXT career. A modified bow and arrow locked Kushida up for a while, but Kushida was eventually able to break away and pelt Rust with some stiff strikes.
Kushida escaped Rust's grasp and quickly locked in the Hoverboard Lock. Bivens jumped up to the apron, throwing in the towel for his client.
Results: Kushida defeated Tyler Rust via submission on NXT.
Grade: B-
Malcolm Bivens said that wins and losses come and go, but he needed to protect his investment, which is why he didn't allow Rust to stay in that hold too long.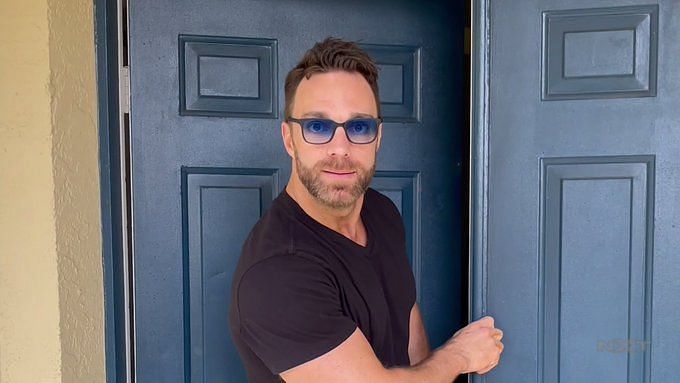 We got footage of L.A. Knight, who debuted for NXT at TakeOver: Vengeance Day on Sunday. Knight said that everyone that comes into NXT is considered "the hottest free agent." However, with him, it's true. Now he's off the market and looking to solidify himself as THE man on the Black and Gold Brand.
---
Zoey Stark vs Valentina Feroz on NXT
Zoey Stark planted Valentina Feroz immediately with a takedown and held her grip as she picked up her opponent and drove her into the turnbuckle. A big clothesline left Feroz on the mat gasping for air.
Stark missed a big stomp, giving Feroz a chance to light up the newest NXT star with a dropkick and judo throw. Feroz seemingly only woke Stark up. Stark dropped her face-first on the top turnbuckle, following up with a straight kick to the jaw.
A half-and-half toss suplex sent Feroz across the ring onto her neck, and a sliding knee strike nearly knocked her out cold. Stark finished Feroz off by spinning her in mid-air and rocking her with a knee to the jaw.
Results: Zoey Stark defeated Valentina Feroz via pinfall on NXT.
Grade: B
---
We saw a message from Karrion Kross and Scarlett for Santos Escobar. Clearly, Kross wasn't facing Escobar for the gold, but if he failed to show up next week, he would lose the title. Kross said that you can't outrun time or fate, and whether it's next week or even if Escobar continued to duck him, he'd eventually have to pay the toll. Tick tock.
---
Pete Dunne, Oney Lorcan, and Danny Burch vs Finn Balor, Kyle O'Reilly, and Roderick Strong on NXT
Oney Lorcan kicked things off with Kyle O'Reilly in the NXT main event. The multi-time NXT Tag Team Champion dominated the Boston Bruiser, taking him to his corner to tag Finn Balor.
O'Reilly and Balor trusted one another but kept Roddy Strong out of the match. They worked over Lorcan's arm for a while, but Lorcan was eventually able to get to the Guvnor of NXT. At this point, Balor did get tagged out by Strong, though it more than likely wasn't what he was looking for. Danny Burch took Strong to his corner, allowing Pete Dunne to enter the ring.
Pete Dunne dumped Strong to the floor, and Strong's partners tried to make the save as the NXT Tag Champions looked to drive him into the steps. The ref put a stop to it, and Strong fought his way to Kyle O'Reilly after a great backbreaker on Dunne. O'Reilly battered Burch and then hit two dragon screws on Dunne and Lorcan. O'Reilly, though, was nearly knocked out with a forearm by Dunne as he flew off the apron.
Dunne took over during the break, attempting to weaken and snap the limbs and fingers of O'Reilly. Dunne and the NXT Tag Champs took turns tearing apart O'Reilly throughout the break and into the final segment of the night. When O'Reilly made it to his corner, Strong was taken out by the opposition, leaving the NXT Champion as the only man to tag out to.
Finn Balor lit up all his opponents, coming in like a house of fire. Strong dropped Lorcan with a wrecking ball dropkick, leaving Balor and Dunne in the ring. Balor countered the Bitter End and dropped Dunne with the sling blade. The shotgun dropkick connected, but it sent Dunne into the referee.
Adam Cole then appeared to send Balor into the ref again. After that, Cole spiked O'Reilly on the steel steps with a brainbuster. Oney Lorcan crawled in as the smoke cleared and picked up the title to attack Balor. Strong laid him out, but when he went to hand it to Balor, The Prince hit a blind Pele kick, assuming it was one of his opponents.
Pete Dunne took advantage of the confusion, planting Balor with the Bitter End.
Results: Pete Dunne defeated Finn Balor via pinfall on NXT.
Grade: A-
Adam Cole attacked Balor after the match and held the NXT Title over the prone body of the champion.
Braun Strowman reveals the greatest talker in history here