Josiah Williams kicked off NXT with a celebration of the roster. The NXT Superstars ran through the Full Sail crowd as we saw highlights from the black and gold brand's dominance over RAW and SmackDown at Survivor Series.
An absolutely incredible performance, NXT trounced the other brands in a 4-2-1 victory, with the blue brand racking up two wins while the flagship show only managed to pick up a single victory.
The Undisputed Era cut the fun short, however, claiming that nobody in or around the ring actually did anything at Survivor Series. Adam Cole said that without them, none of this would've been possible. The NXT Champion claimed that they dominated at War Games, though a replay from Saturday's TakeOver would prove otherwise.
Tommaso Ciampa refreshed their memories about that night. That was the beginning of the end of the Undisputed Era. Tonight, the collapse of the group would continue when Keith Lee and Dominik Dijakovic captured the NXT Tag Team Titles. As far as Goldy's concerned, "Daddy Ciampa" has his eyes set on the prize once again.
Finn Balor appeared at the top of the ramp, walking in between the Undisputed Era. The former Universal Champion stepped up to Ciampa. The Blackhearted One responded by claiming to be the king to Balor's prince, and looked to set up a match between one another tonight.
Following that, Keith Lee beckoned the NXT Tag Team Champions, demanding that they enter the ring for their title match.
---
NXT Tag Team Championship Match: Keith Lee & Dominik Dijakovic vs The Undisputed Era (Bobby Fish & Kyle O'Reilly) (c)
The champions jumped their challengers out the gate, sending Dijakovic outside. Lee withstood the pressure, standing up to the two-on-one assault. O'Reilly was knocked out to the floor where he was hit by a flying FIsh, courtesy of Lee.
The Era took time to recover outside before Fish rolled in. O'Reilly wanted the tag, though, and faced the Limitless One instead. Lee's powerful grip left O'Reilly writhing in pain as his wrist was twisted around the ring. Dijakovic tagged in, and caught the champion who ran in with a running crossbody.
A knee to the mid section and a toss sent O'Reilly flying into the challengers' corner. O'Reilly did manage to get back to his corner where he tagged in Roderick Strong, who replaced FIsh mid-match due to medical reasons. From what we saw, a bad landing on the outside saw Fish land knee first, forcing him out of the match.
Lee and Dijakovic weren't shaken by the switch-up, as they continued to dominate the era with their unbelievable combined power. However, we saw a little dissension between the challengers, as the former rivals seemed to both want to take the lead in the match.
They shook that off when the Era jumped them. Dijakovic stacked up Strong and O'Reilly and dropped Lee on top of them with a release suplex. Dijakovic wasn't able to brag for long, though, as the champions took out his left knee. Strong worked him in a single leg Boston crab before it was fought off. Strong responded with a leaping dropkick to the seated giant.
Back from the commercial break, O'Reilly was tearing away at Dijakovic's leg. The big man sent him flying into his corner where Strong tagged in. Strong and O'Reilly struggled to keep him from tagging, but Dijakovic managed to get his partner in.
The Survivor Series all-star rocked both members of the Era, battering then with elbow strikes and launching O'Reilly into Strong. Both men escaped Spirit Bomb situations, but were dumped overhead with double overhead exploder suplexes. They rolled outside and baited Lee to moving to the apron.
From there, Strong and O'Reilly took over, chopping him down and stunning him with a flying knee. Back inside, Lee avoided a splash from Strong and knocked out O'Reilly with a headbutt. Dijakovic tagged in and mauled Strong in the corner. A facebuster and spinning clothesline turned Strong inside out.
Strong went back to his left leg, taking him down to one knee. As O'Reilly tagged in, he was met by a chokeslam. He countered with a triangle choke, though. Dijakovic was able to lift him and catch Strong by the neck for a chokeslam/powerbomb combination. O'Reilly kicked out.
More shots to Dijakovic's leg allowed the champions to escape and try to back up the ramp. Lee stopped them, and though he was taken out by a chop block, Dijakovic launched himself on top of them with a springboard rolling senton.
Back inside, a double chokeslam bounced the NXT Champions off the mat. Cole tried to rush the ring but Keith Lee bounced him into the crowd with a massive pounce. Dijakovic was so stunned by that move that he didn't notice the Era set up the High Low.
Results: The Undisputed Era defeated Dominik Dijakovic & Keith Lee via pinfall.
Rate the match here!
---
We were shown some footage of what went down between Dakota Kai and Tegan Nox at TakeOver. Kai betrayed her former best friend, reinjuring her knee and preventing her from joining the WarGames match.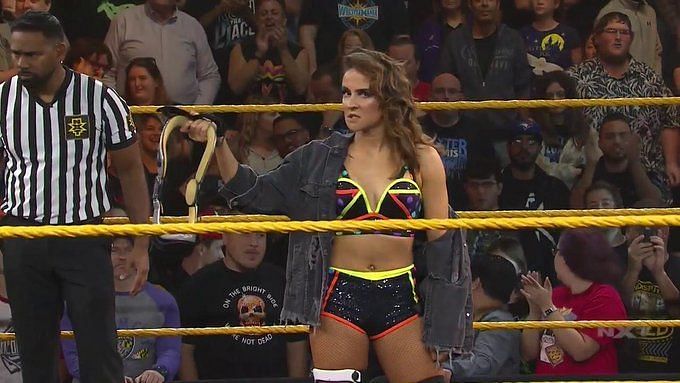 Shane Thorne vs Mansoor
Thorne was taken down with a springboard snapmare, but made it to his feet and took Mansoor to the corner. The two traded chops, with Mansoor seemingly getting the better of his opponent. Thorne was forced outside where he caught Mansoor running in with a suicide dive, countering into a backdrop driver.
On the inside, Thorne locked up Mansoor, planting him with a pop-up backdrop driver. Mansoor kicked out at two and caught Thorne with an enziguri and a superkick. The suicide dive finally connected outside and Mansoor rolled him into the ring for the springboard neckbreaker and the win.
Results: Mansoor defeated Shane Thorne via pinfall.
Rate the match here!
Dakota Kai faced off against Candice LeRae next. LeRae decided to get revenge for her fallen comrade Tegan Nox. Kai showed up with a brand new attitude and Nox's knee brace in hand.
---
Candice LeRae vs Dakota Kai
LeRae ducked a kick early and nearly picked up an early win with a springboard moonsault. Kai rolled away, but LeRae landed on her feet. A dropkick to the outside rocked Kai. LeRae followed up with a suicide dive and a running senton on the inside. Kai kicked out at two.
Kai gained the advantage when she spun LeRae into the ring post sternum first. She then set her up hanging over the apron for a vicious boot to the face. Back in the ring, LeRae kicked out. A second kick on the apron left LeRae nearly unconscious as we cut to commercial.
Back from the break, and LeRae cut off the Captain of Team Kick by taking out her leg. Kai managed to counter a hurricanrana, though, planting her former ally with a sit out powerbomb. LeRae kicked out and took Kai to the apron where she dropped her with a German suplex, clipping the apron and driving her face first into the floor below.
On the inside, Kai was struggling to recover from that nasty fall. LeRae followed up with a series of strikes and a tornado DDT. LeRae set up for her moonsault but her leg buckled. As she got up, Kai rocked her with a kick to the jaw. A running face wash connected. A second one was stopped with a jumping knee from LeRae.
A sunset flip powerbomb earned LeRae a near fall. The moonsault missed, and Kai drove her knees into her back with the Kairopractor. LeRae kicked out. Kai caught her with several knees to the head, but LeRae managed to recover and trap Kai in the Gargano Escape.
Kai eventually escaped and rolled out. LeRae bounced off the ropes for a suicide dive only for Kai to level her with Nox's knee brace.
Results: Candice LeRae defeated Dakota Kai via DQ.
Rate the match here!
Following the match, Kai bounced LeRae off the steel steps and ring post a handful of times. Before she could further injure LeRae with a chair, Rhea Ripley made the save, chasing off her former team member.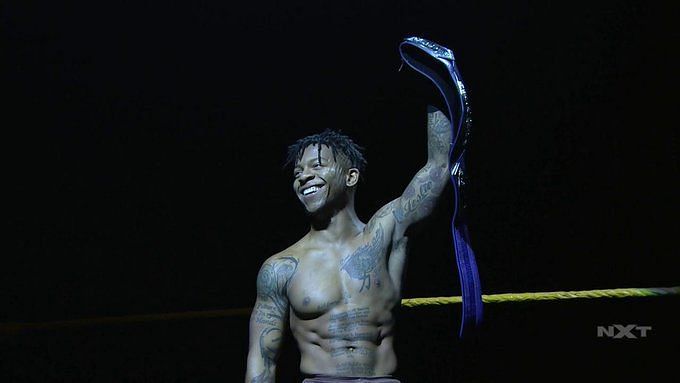 We got a Cameron Grimes vignette. Grimes said that he's not getting recognition because he's not a Bro, bay bay. However, he'll continue to do what he's always done...Cave In the competition.
---
NXT Cruiserweight Championship Match: Akira Tozawa vs Lio Rush (c)
Tozawa took the champ down with a shoulder block, but Rush quickly recovered, ducking a punch and baiting Tozawa in to chase him. Tozawa managed to catch him, however, matching his speed. A hurricanrana sent him overhead.
Tozawa and Rush shook hands, then caught each other's legs going for kicks. It was a tit-for-tat encounter, leading Rush to the top rope where he was rocked by Tozawa's fake-out jab. The Stamina Monster found himself on the apron with Rush, with the champion looking for a German suplex to the floor. Tozawa held onto the ropes and blocked a sunset flip powerbomb, stomping on Rush's face and following that with a senton on the apron.
Back from the break, Tozawa had Rush set up in a fireman's carry position. Rush tried to fight out but to no avail. A spin out facebuster and a running dropkick sent the champion to the floor. A rolling senton from the apron took Rush down to the ground.
Back inside, Rush finally picked up his tempo, lighting up his challenger with an impressive striking combination. He landed on his feet after a German suplex attempt, leading to both men landing pump kicks on each other. Back to their feet, Rush took Tozawa to the apron, where a pump kick stunned the Champ of the Hour.
Rush fought off a German to the apron only for an enziguri to set up one sending him flying nearly halfway to the ramp. Tozawa had a rough fall as well, but managed to get back in the ring, as did Rush, before the ten count.
A snap German was countered into a victory roll by Rush. Tozawa kicked out only to be met with another kicking combination, sending his mouthguard flying. Rush went for the Come Up, but Tozawa fel to the mat. A second Come Up was countered into a German suplex. The deadlift German suplex earned him a two-count.
Rush lifted his knees up as Tozawa leapt up for the Senton Splash. The champion moved up and landed the Final Hour on the back of his challenger. A second Final Hour connected, giving Rush an impressive title defense.
Results: Lio Rush defeated Akira Tozawa via pinfall.
Rate the match here!
Xia Li vs Vanessa Borne
Borne battered Li in the corner, but a shoulder tackle missed, sending her into the ring post. Li picked her up for a deadlift powerbomb. Borne struggled to stand up, but had time to recover as Shayna Baszler and her cronies walked down the ramp.
Li finished Borne quickly with a spinning kick to the head.
Results: Xia Li defeated Vanessa Borne via pinfall.
Rate the match here!
Quickly after the bout, Baszler, Jessamyn Duke and Marina Shafir rushed the ring. Li managed to fight off all three for quite some time, even rocking the NXT Women's Champion with a roundhouse. However, the numbers game was simply too much. Shafir and Duke held Li while a running kick from the Queen of Spades sent her spiraling to the floor.
Shayna Baszler then grabbed a mic and said there is nobody on the roster that had the kind of weekend she did, beating both the RAW and SmackDown Women's Champions. The crood shouted the name of Rhea Ripley as the Mosh Pit Kid strolled down the ramp. Not intimidated whatsoever, Ripley entered the ring in a three-on-one situation.
As she did, Baszler and her henchwomen rolled out. Ripley called Baszler back to the ring to congratulate her on her win at Survivor Series. She beat Bayley and Becky Lynch...however, she wasn't able to defeat the former NXT UK Women's Champion.
Ripley said that she'll beat Baszler again, and next time she'll be taking the title. Baszler said that she's heard that statement time and time again. Ripley is the Nightmare, that's true, but the champ is the reality. Just like the rest of her challengers, Ripley will be napping or tapping just like the rest.
Ripley demanded she prove it now, but Baszler thought better of it. Ripley had the last word as the Queen of Spades backed up the ramp, clearly afraid of what could be the next NXT Women's Champion.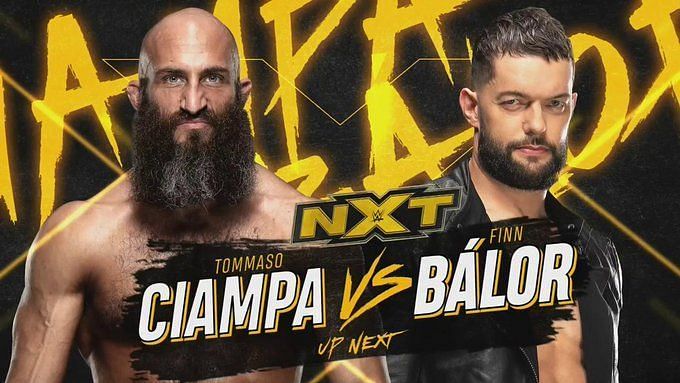 NXT TakeOver: WarGames featured an absolutely brutal No.1 contender's match for Adam Cole's NXT Championship. Pete Dunne defeated both Killian Dain and Damien Priest to advance to Survivor Series the next night. Priest was reportedly injured in the match, fracturing a couple of his ribs. Next week, he'll take on Dain in a one-on-one match.
---
Tommaso Ciampa vs Finn Balor
Balor managed to get the better of Ciampa early, but Ciampa broke away and managed to turn it into a brawl. Punches, kicks to the gut and a running forearm set up for a suplex.
Balor attempted a kick to Ciampa's face on the outside. Ciampa caught it and brought him in for an Air Raid Crash. Balor escaped, nearly sending Ciampa into the ring post. Ciampa blocked, taking Balor down and slingshotting him face-first into the steel.
Balor was hammered by the Blackhearted One on the outside but caught Ciampa rolling back inside, kicking the middle rope. Ciampa was left on the mat as Balor stomped him out and trapped him in a rear chin lock. In the corner, he was stomped deep into the bottom turnbuckle and hit with a delayed dropkick.
Ciampa kicked out at two. Balor moved to the apron but was nearly knocked off with a clothesline. A running knee sent him crashing into the barricade. Back inside, a second running knee strike caught Balor in the back of the head. A third knee strike was countered with a sling blade.
Balor knocked Ciampa to the floor with a running dropkick. A shotgun dropkick on the outside drove Ciampa into the barricade. Just like all those weeks ago, Balor tried to plant Ciampa with a 1916 on the ramp. Unlike Gargano, though, Ciampa was able to block, turning it into an Air Raid Crash.
Balor made it back inside at nine but ran into a knee face first. Project Ciampa earned the Psycho Killer a near fall. Balor responded with a double foot stomp to the sternum and a shotgun dropkick, bouncing him off the corner. He moved up for the Coup de Grace. Ciampa rushed him and took him down with a second rope Air Raid Crash. Balor kicked out at two.
Ciampa screamed that this was for "Johnny Boy" before setting up for the Fairy Tale Ending. Before he could connect, Adam Cole rushed the ring. Ciampa fought him off as Balor stole the NXT Championship.
Ciampa avoided a shot with the belt, but was spiked on it with a reverse DDT. He kicked out and pulled himself up on the ropes where Cole delivered an enziguri. The 1916 put him away for good.
Results: Finn Balor defeated Tommaso Ciampa via pinfall.
Rate the match here!
Balor and Cole stood in the middle of the ring, and it looked as if they were going to finally join forces. However, it was all a ruse, as Balor rocked the NXT Champion with a pele kick. Balor left the ring as both Cole and Ciampa were left out cold to close the night.
Braun Strowman reveals the greatest talker in history here