Here we are, the final TakeOver before Tampa! While this is often said every TakeOver, it's hard to look at this card and not consider it the most stacked show in the brand's history. On paper, it's six star-studded matches back-to-back, featuring the best in-ring competitors the black and gold brand has to offer. As we've seen from NXT, though, the roster always exceeds expectations.
Before starting the show, we got an opening song from Poppy, who by all accounts is to NXT what Puddle of Mudd was to the WWE in the Ruthless Aggression Era.
Tonight's PPV kicked off with the NXT North American Championship match. Dominik Dijakovic and champion Keith Lee have been involved in an absolute jaw-dropping rivalry with each other, and this match of the titans looks to be the end of that chapter. Who would walk out holding the gold and, maybe more importantly, the bragging rights?
---
NXT North American Championship: Dominik Dijakovic vs Keith Lee (c)
The giants locked up in the middle of the ring, with Lee shaking Dijakovic off and attempting a Pounce. Dijakovic avoided and went for the Cyclone Kick. Lee blocked, responding with a running hurricanrana that almost sent Dijakovic to the floor.
Dijakovic and Lee met in the middle with a series of shoulder blocks, with both men refusing to budge. Lee caught a chop, crushing Dijakovic's hand and lifting him straight up. Dijakovic chopped him with his other hand but couldn't break the grip. Dijakovic was sent into the ropes but responded with the Cyclone Kick, sending Lee outside.
A Fosbury Flop was caught by Lee, who picked him up for a powerbomb! Dijakovic escaped and clobbered Lee with a vicious back elbow. A suplex dumped Lee on the apron before sending him back to the floor.
Dijakovic took Lee inside the ring to dish out further punishment. Elbows, headbutts, and right hands pelted the champion. Dijakovic failed to bring him in for a suplex, and was instead dumped overhead with a standing release German. He kicked out at two.
The Big Bang Catastrophe was avoided and Dijakovic responded with another Cyclone Kick. A top rope spiral tap nearly earned the big man his first title in NXT! Back to his feet, Lee went to war with Dijakovic in an explosive striking trade that saw both men throw hands, feet, and even the kitchen sink!
Lee's Grizzly Magnum was blocked and he was sent to the apron after a vicious clothesline. He attempted to climb the turnbuckle on the outside only to be caught by his long-time rival. From the second rope, Dijakovic dropped Lee with an avalanche Death Valley Driver! And still, Lee found it in him to kick out.
As Dijakovic set up for another Cyclone Kick, a Pounce tossed him head first into the middle turnbuckle. He rolled to the floor to escape Lee's wrath. Lee followed, nearly knocking Dijakovic unconscious with a left forearm and two Grizzly Magnum chops to the chest.
Dijakovic was able to shake it off, sitting Lee in a chair for a superkick. From the inside of the ring, Dijakovic flew across the gap into the chair with a rolling senton! Holy S--- indeed! On the inside, Dijakovic attempted a chokeslam. Lee countered into a Big Bang Catastrophe. Dijakovic escaped, planting a superkick.
As he went for the chokeslam, Lee yanked his hand away from his own throat. Dijakovic escaped a chokeslam, landing on his feet, as did Lee, leading to a Spirit Bomb from Lee! Dijakovic rolled to his feet, but was planted again with a second Spirit Bomb! Dijakovic kicked out again!
Lee was dumped to the floor off the top rope, buying Dijakovic time to catch his breath. Lee crawled back to the top where he was hit with a Yakuza Kick. Dijakovic followed up with an avalanche Spanish Fly! Again, Lee kicked out!
Feast Your Eyes was next. Lee refused to budge, and Dijakovic's back gave out. The Big Bang Catastrophe finally put Dijakovic away.
Results: Keith Lee defeated Dominic Dijakovic via pinfall.
Following the match, Lee and Dijakovic embrace in the middle of the ring. The fans gave them both a standing ovation, rightfully so.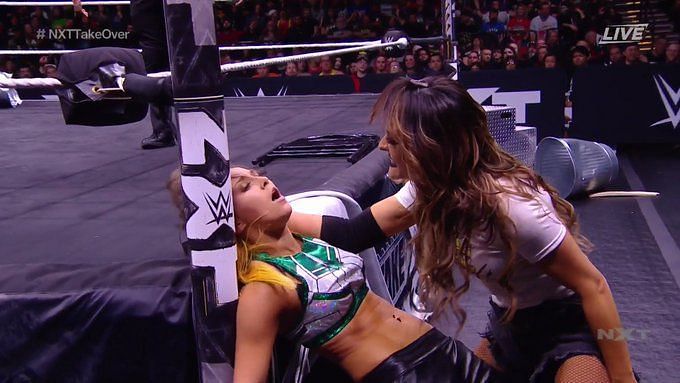 Tegan Nox vs Dakota Kai
As Tegan Nox entered the arena, she was assaulted by Dakota Kai from behind. However, Nox seemed prepared, quickly turning it around and driving Kai through the barricade with a spear!
Nox picked up Kai but was spiked on the fallen barricade with a DDT. Kai quickly rolled her in for a pinfall, getting a two-count. She moved to the outside, sliding in a few trash can lids, trash cans, and steel chairs. Attempting to crack Nox's skull between the ring post and a 2x4, Kai's swing missed, and Nox followed up with a crossbody off the stairs.
As Kai was left by the steps, Nox placed a trash can on her upper body, running in with a rolling senton, crushing Kai. Back in the ring, a two-count was earned. A table was set up outside, but Kai escaped a suplex attempt. Kai avoided a clothesline and set Nox up on the apron, banging a trash can lid off her head. Nox was set up by the table, and Kai went for the face wash. Nox avoided, hanging her up in the ropes for three superkicks.
Another garbage can was dented over the spine of Dakota Kai. Nox followed up with a high angle German onto the trash can. Kai kicked out. The Shiniest Wizard was missed, allowing Kai to spike her with the Chiropractor backstabber.
Nox found herself on the apron where she caught Kai coming off the top with a chokeslam attempt. Kai responded with a scorpion back kick, but was slammed face first on the apron.
As Nox moved to the top rope, Kai tried to send her crashing to the floor. Instead, Lady Kane dumped Kai with an avalanche chokeslam, followed by a Molly-Go-Round! Kai kicked out again. Nox set up a chair and left Kai's head through the back of it for a boot. Kai escaped just in time, sending the chair into her face for a boot.
As Nox was dumped to the floor, Kai wrapped her hands around the bottom turnbuckle with duct tape. With that, Kai hit her with back-to-back running boots, breaking the tape in the process. As she went for the laptop, Nox countered and bounced it off of Kai's knee, sending her scurrying into the ring.
Nox grabbed a heavy steel chain and slung it into Kai's knee. Nox tore at the brace, leaving Kai squirming on the mat. With a steel chair wrapped around it, Nox stomped on the surgically repaired knee. A Shiniest Wizard connected, but Nox said she wasn't done yet.
The table was brought inside and Nox placed Kai on top of it. A chair was wrapped around Kai's neck as Nox moved to the top rope. Before she could go through with it, Raquel Gonzalez stopped her. After saving Kai, she drove Nox into the table with a double handed chokeslam, but the table refused to break, seeing Nox's head bounce off it instead.
Kai cleaned up, picking up the win.
Results: Dakota Kai defeated Tegan Nox via pinfall.
After the match, Gonzalez helped Kai to her feet, much to the surprise of Kai. She raised Kai's arm in victory.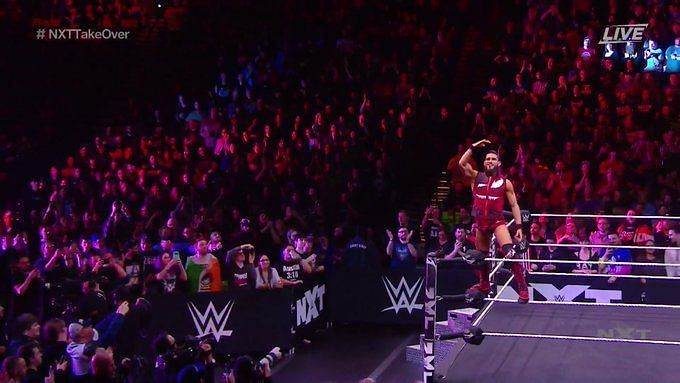 Finn Balor quickly made an impact after turning on Johnny Gargano back in the fall and spiking the heart of NXT on his head with 1916 on the ramp. Since then, Gargano has been working to get back to the ring for some much-needed revenge. After months of sneak attacks and jaded words, he finally got his opportunity tonight.
Johnny Gargano vs Finn Balor
Balor nearly got rolled up for an early loss, as Gargano seemed to edge Balor out on the grappling side of things. Balor managed to take over on the mat with head scissors, where he got a few reps of pushups in to pass the time.
Gargano escaped, taking Balor down with an arm drag and a standing dropkick. A schoolboy kick to the jaw left Balor dazed. From here, Gargano worked over Balor's arm with arm breakers. Balor came back with a running forearm, nearly busting Gargano's lip open. Balor and Gargano took turns chopping each other.
Balor escaped an attack in the corner by moving to the apron. Gargano followed him and took him down with a spear. On the outside, Gargano set Balor up for a shotgun dropkick into the barricade, but it was countered with a slingblade and a running knee from Balor. Balor brought Gargano inside, where Johnny Wrestling eventually escaped a rear chin lock, going after Balor's arm after a Divorce Court.
Gargano tied Balor's arm up in the ropes, but Balor was able to escape and wrap Gargano's leg in the ropes with a dragon whip. As Balor continued to attack the leg, he was caught in a cross armbreaker. He managed to escape, wrapping Gargano's leg in the ropes once again.
Balor was caught in a small package. After kicking out, he caught Gargano going for the schoolboy kick again. Trapping Gargano in a deathlock, Balor continued to tear at the left knee. Gargano eventually broke the hold and caught Balor with a step-up enziguri. A neckbreaker/gourdbuster combo set up a roundhouse and running clothesline, forcing Balor to escape again to the floor.
Balor caught Gargano going for a suicide dive and went for 1916 on the floor. Gargano shook it off, sending him into the steel steps. Back in the ring, a slingshot spear gave Gargano a nearfall. Fighting out of a Garga-No-Escape attempt and a slingshot DDT, Balor was finally caught with a lawn dart into the turnbuckle.
Fighting out of the corner, Balor traded kicks with Gargano, ending with a pele kick, which saw Gargano incidentally fall onto Balor for a two-count. Gargano found himself on the apron, where he and Balor hammered one another with elbow strikes. Both men ended with step-up enziguris.
Balor blocked the slingshot spear and left Gargano in the ropes for a Coup de Grace. Gargano pulled back and spiked Balor with the slingshot DDT. Still, Balor kicked out. A discus clothesline left Balor flat on his back. Gargano set up for a DIY superkick, but he was caught by a slingblade instead.
The shotgun dropkick was blocked by a superkick, but a second slingblade again countered the DIY kick. The shotgun dropkick launched Gargano spine first into the turnbuckle,and Gargano went up for the Coup de Grace. Gargano rolled out of harm's way, managing to trap Balor in the Garga-No-Escape.
Breaking the hold and hitting a double stomp, Balor went for 1916 again. Balor was instead trapped in Garga-No-Escape once again but managed to get to the ropes to break away. He moved to the floor hoping to get some air but was sent into the steel barricade with a shotgun dropkick. Gargano then set up to send Balor through the table, but was blocked. Balor dropped him gut first on the table, then climbed up on the other desk.
The shotgun dropkick off the table sent Gargano flying into the barricade. Back on the inside, the Coup de Grace finally hit. The 1916 was up next, and this time Gargano didn't have an answer. 1-2-3.
Results: Finn Balor defeated Johnny Gargano via pinfall.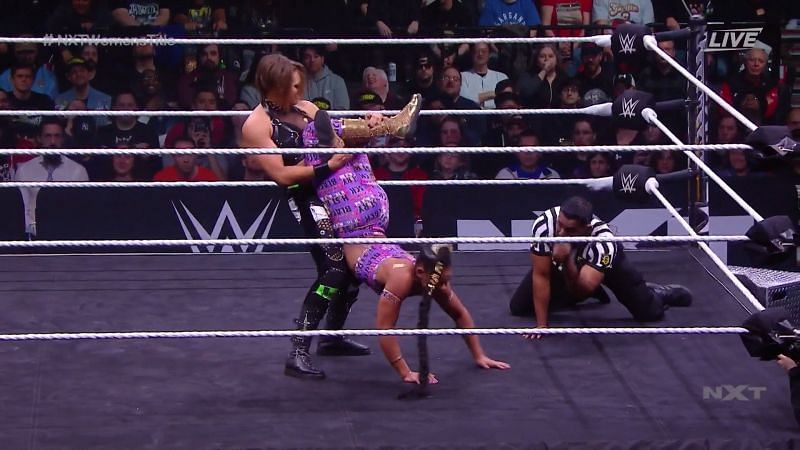 Backstage, Roderick Strong was asked about his match this Wednesday. Strong simply said that Velveteen Dream was a dead man, but tonight is about Bobby Fish, Kyle O'Reilly, and Adam Cole. The Messiah of the Backbreaker told Cathy Kelly that the NXT Tag Team Champions are going to put away the "Loserweights" and Adam Cole would end the delusions of Tommaso Ciampa.
Cole stepped in, telling Kelly, "Now you can go."
---
NXT Women's Championship: Bianca Belair vs Rhea Ripley (c)
Bianca Belair wrestled Rhea Ripley to the mat early and avoided the champ's power at the beginning. A dropkick in the corner and a few short-arm clotheslines dazed the challenger, though.
Ripley followed Belair around the ring, pelting her with rights and boots. Belair got back in the match by dropping Ripley on her head out of the corner. A cravate lock cranked Ripley's neck and kept her low to the mat. Belair slammed her again and connected with a standing moonsault.
Ripley caught Belair with a side kick to the gut, following up with clotheslines. A cravate hold with knee strikes and a dropkick to a seated Belair built steam for the champion. Ripley brought Belair up for an electric chair facebuster. Belair kicked out at two. The Mare's Grasp was locked in, but Belair was able to escape and plant Ripley with a rolling spinebuster.
Ripley found herself atop the turnbuckle, but was whipped by Belair's hair. A big slam from the top set up for a handspring moonsault. Ripley countered with the knees and set up for the Riptide. Belair escaped and went for her own finisher, the K.O.D.
Ripley managed to break away and kick Belair out of the air with a big boot, but Belair rolled rough for a nasty spear. Ripley escaped Belair's grasp for a superkick but was met with a forearm.
Belair responded with a hair whip, which missed. Ripley rushed in but was launched sky high over the ropes, nearly landing on her feet. Belair followed with a somersault plancha over the ropes.
Ripley found herself back in control after slamming Bianca with a facebuster on the steps. Belair was driven into the top turnbuckle, and Ripley moved to the top for a deadlift superplex. Belair blocked, only to be caught with a headbutt. Belair prevented a sunset bomb, but was planted with the Riptide.
Results: Rhea Ripley defeated Bianca Belair via pinfall.
After the bout, Charlotte Flair assaulted Ripley. She finally revealed that she'd be challenging Ripley at WrestleMania 36 before delivering the Natural Selection. As she left the ring, she tossed Bianca Belair head first into the steel steps.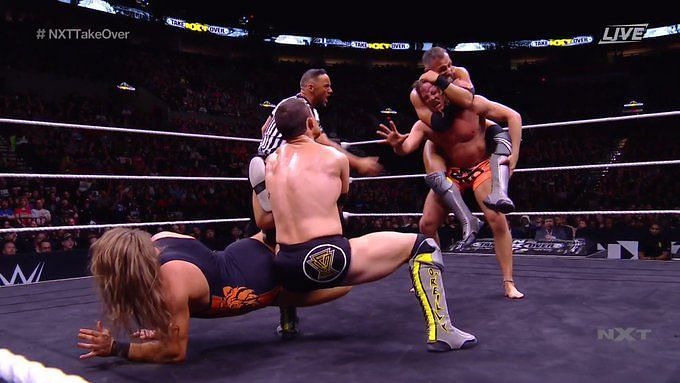 Undisputed Era waited in the ring to tear apart their challengers, only for the BroSerweights to taunt them from the stage in the BroSerweight mobile. Well, it was mostly Matt Riddle. Still, Riddle and Pete Dunne were both wearing shirts that said "How many fish could Bobby Fish fry if Bobby Fish could fry fish?" So it's good to see that he's participating.
---
NXT Tag Team Championship match: The Broserweights vs The Undisputed Era (c)
Bobby Fish and Kyle O'Reilly rushed their challengers, leading all four men back to the ring. Riddle was pelted with forearms and knee strikes but managed to take Fish over with a pair of gutwrench suplexes.
Dunne tagged in, launching Riddle onto Fish for a moonsault. O'Reilly rushed in and immediately had his arm snapped with a stomp to the bent elbow. On the outside, Dunne left Fish on the apron with an X-Plex, then X-Plexxed O'Reilly on top of him.
Back on the mat, Dunne continued the joint manipulation, tearing away at Fish's fingers. As Dunne rushed to the top rope, a high kick forced him to crumble to the mat. O'Reilly tagged in, taking out Dunne with a fast paced striking combination. Fish tagged in again, dropping the former UK Champion with a Samoan Drop.
Dunne was trapped in the UE's corner, with O'Reilly and Fish tagging in and out and pelting their opponent. Dunne attempted to fight out, rocking both members of the Era with palm strikes. However, O'Reilly wrapped him in the ropes with a dragon screw as Fish took out his leg on the apron with a sweep.
Dunne managed to move out of the way as O'Reilly ran in for a boot, catching Fish instead. Riddle tagged in and hammered both men with high roundhouse kicks. Exploder suplexes dumped both men on the mat for a pair of Brotons. Fish was planted with a fisherman buster while the Bro to Sleep and the high angle German suplex nearly put O'Reilly away.
Dunne tagged in and O'Reilly was caught in between a flash knee and rolling elbow strike. A powerbomb/knee to the back earned Dunne a two-count. Riddle tagged in, and the BroSerweights flew off the top rope, with Dunne falling on Fish and O'Reilly putting his knees up to block Riddle's Broton.
Riddle and O'Reilly withstood German suplexes, following up with Final Flash knees and rolling elbow strikes, leaving them both on the mat. Dunne attempted to kick Fish but wiffed and hit the ring post instead, leaving Riddle by himself.
Both Fish and O'Reilly were cut in half with spears. As Riddle went for the BroHammer, Fish took his leg out. An elevated butterfly DDT/German suplex combo gave Fish a nearfall. Fish escaped UE's finish and caught them both with knee strikes.
Dunne finally tagged in and almost trapped O'Reilly in a kimura lock. O'Reilly powered out but was met by a pair of rolling elbow strikes. Dunne and Riddle locked in ankle locks on O'Reilly and Fish.
They countered, allowing Fish to trap Riddle with a sleeper hold while O'Reilly caught Dunne in a sharpshooter. Riddle managed to rock O'Reilly with a Final Flash knee strike before falling back, breaking both submissions.
Fish tagged in and got spiked with a snap German suplex. Double stomp to the hands and a roundhouse caught Fish on the ear. Riddle tagged in, but Fish escaped the Doomsday Device, sending Dunne into Riddle. Fish took the King of Bros to the mat with an avalanche exploder.
O'Reilly tagged in and locked in a heel hook. Fish tried to keep Dunne away, but got his fingers snapped for his trouble. A diving stomp to O'Reilly's hand broke the hold on Riddle. Dunne and O'Reilly were now legal, with both men trading elbows and kicks.
Dunne prevented O'Reilly from tagging by snapping his fingers. O'Reilly dodged a spear from Riddle, sending him into Dunne. Fish tagged in for Chasing the Dragon and Dunne somehow kicked out at two-and-a-half.
Dunne fought out of the High Low and managed to get tagged by Riddle, who dropped Fish with a Final Flash. The BroSerweights finally hit their finish and sealed the deal, taking more gold away from the Undisputed Era.
Results: The BroSerweights defeated the Undisputed Era via pinfall.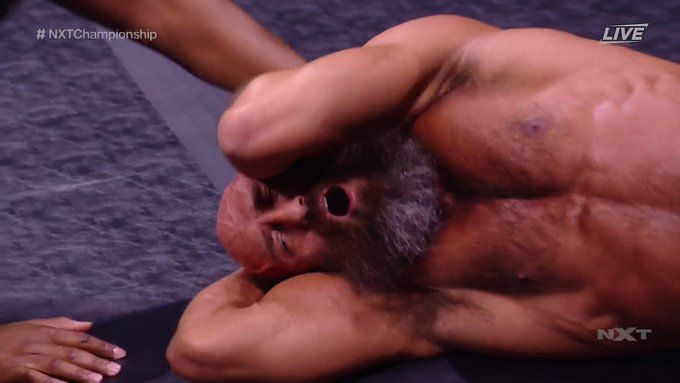 For 238 days, Tommaso Ciampa reigned supreme on NXT. The Psycho Killer was unstoppable, and at the top of his game. Sadly, and injury put Ciampa on the shelf, forcing him to miss the biggest match in his career.
Tonight, Ciampa looks to get back on track. His obstacle? NXT Champion Adam Cole. At this point, the Panama City Playboy was the only member of the Undisputed Era to still have his championship. The champ didn't expect that to change tonight.
---
NXT Championship match: Tommaso Ciampa vs Adam Cole (c)
Ciampa and Cole wrapped up, with Cole eventually getting the upper hand with mat wrestling. Cole was nearly caught in Willow's Bell, however, forcing him to move to the floor to put some distance between himself and his challenger.
Ciampa was one step ahead of Cole early on, avoiding the superkick and keeping the NXT Champion on the mat with a side headlock. Cole broke out and hung Ciampa in the ropes for a backstabber, but Ciampa held onto the ropes.
On the outside, Cole finally dropped his challenger with a bicycle knee to the jaw. Cole sat on the apron for Ciampa's "pat on the back" spot, which infuriated Ciampa. rocking him with elbows, sending him into the steps and ring post, and laying out Cole with a running forearm allowed Ciampa to show Cole how it's done.
Cole rolled to the other side of the ring, but Ciampa understood his game, avoiding a possum playing Cole's enziguri and driving him into the steps again. Cole was tossed into the ring but rolled out once again. Ciampa draped him across the barricade and rocked the champ with a running knee to the temple.
Ciampa set Cole up in a chair and delivered another running knee, which left him nearly unconscious. Fans around him erupted and celebrated with Ciampa as Cole struggled to get back up.
Cole finally got some offense in, countering a powerbomb with a wheelbarrow suplex, bouncing Ciampa's head off the corner of the announce table. On the inside, Cole targeted the neck, dropping Ciampa with a neckbreaker and trapping him in a figure four necklock.
Ciampa turned it into a pinfall, but as Cole broke the submission, he caught the Blackhearted One with a bicycle kick to the jaw. Cole took Ciampa to the turnbuckle and took him down with an elevated backstabber.
Cole escaped a backslide and Willow's Bell, rocking Ciampa with a superkick. Panama Sunrise was countered when Ciampa caught Cole with a leaping knee to the jaw. Ciampa began to build momentum, dropping Cole with multiple clotheslines and a German suplex. A running knee and a torture rack powerbomb almost earned him his second NXT Championship.
Cole hit a shining wizard and the ushigoroshi, but Ciampa still found a way to kick out. Moving to the top, he set up for an avalanche Panama Sunrise. Ciampa instead turned it into an avalanche air raid crash! Cole still kicked out!
Cole moved outside and caught Ciampa coming out with a superkick. He recovered and powerbombed Cole onto the Spanish announce table! A second powerbomb broke the table. Back inside, Ciampa connected with Project Ciampa but Cole kicked out again!
Ciampa was sent to the floor with another boot. As Cole dove through for a suicide dive, he was met with a jumping knee instead. As Ciampa followed Cole inside the ring, he was spiked with a rope assisted piledriver. Another ushigoroshi couldn't put Ciampa away.
After a superkick, Ciampa connected with the Last Shot! Ciampa rolled away, though, making it to the ropes before Cole could capitalize. As Ciampa rose on the apron, Cole lept off for the Panama Sunrise. Ciampa countered for another air raid crash, driving Cole's spine onto the apron.
Cole escaped the Fairy Tale Ending and moved to the table for a Panama Sunrise, spiking Ciampa on the floor. Ciampa was rolled in but caught Cole coming in with Willow's Bell. Fairy Tale Ending connected, but Cole managed to kick out yet again.
As Ciampa went to pick him up, Cole leapt up and brought his challenger down with a crossface. Ciampa responded with one of his own, which Cole broke when he got to the ropes, again falling to the floor.
Roderick Strong distracted the referee, allowing O'Reilly and Fish to take out Ciampa with the High Low. Cole made the cover, only for Ciampa to kick out at two-and-a-half. Last Shot missed and Cole was sent out to his UE cohorts. Strong got up on the apron and was spiked with Willow's Bell.
Back on the inside, Cole caught Ciampa with three superkicks and a Last Shot. Nothing he could do could put away the challenger. O'Reilly slid the belt in and distracted the ref. Cole missed with the belt, but sent Ciampa into the ref. A low blow caught Ciampa, but he responded with one of his own. Fairy Tale Ending connected again, sadly with no referee.
Gargano came out at this point, yanking the title away from Ciampa and cracking him on the skull.
Results: Adam Cole defeated Tommaso Ciampa via pinfall.
Braun Strowman reveals the greatest talker in history here