Seth Rollins kicked off RAW and said that he wanted to have a title match for his Heavyweight Championship since the belt hasn't been defended on RAW for two long years. Seth had put out an open challenge on Twitter earlier, and it was accepted by Damian Priest.
Rollins said that he was looking forward to the match before being interrupted by Finn Balor and Damian Priest from The Judgment Day. We got some trash-talking before Priest said that he didn't need help from his friends to win the match tonight.
Seth told him that if he really thought he could win on his own, Priest should leave his buddies backstage. Priest agreed and said that he will be walking out as champion at the end of the night.
---
WWE RAW Results (June 5, 2023): Becky Lynch vs. Sonya Deville
Becky got some big moves early on, but Sonya dragged her down by pulling her hair and sent her into the corner before locking in a headlock. Becky came back with a Bexploder from the ropes before getting a near fall off an uppercut.
Trish Stratus and Zoey Stark came out to watch the match, and it allowed Sonya to get Lynch from behind, but Becky turned it around and got another near fall. Chelsea Green tried to interfere multiple times and took a dive to the outside before Becky got the Manhandle Slam for the win.
Result: Becky Lynch def. Sonya Deville
Grade: B
---
After a recap of The Usos' promo with Roman Reigns on Friday, KO and Sami Zayn were backstage and said that they were really happy to see that Jimmy Uso finally stood up for himself. They added that Jey still hadn't fully turned on Roman but hoped it would change soon.
Imperium walked up to them, and KO got very mad about them showing up unannounced, and Owens challenged Gunther to a match right then before we headed for a break on RAW.
---
Kevin Owens vs. Gunther on RAW
Owens was sent into the corner early on but came back with furious strikes to the IC champ before taking a big boot and a German Suplex. Outside the ring, Owens got a superkick but was driven into the barricades and then dropped on the apron.
Back in the ring, Gunther got a dropkick, but KO countered the Powerbomb before getting a Fisherman Buster. Gunther got a suplex from the ropes before trying for the splash, but KO got his knees up.
Gunther kicked out of the following Swanton Bomb before Vinci and Kaiser tried to interfere and got into a fight with Sami on the outside. KO went out to help and dragged Kaiser into the ring for a stunner, but Gunther came in off the distraction and rolled Owens up for the win.
Result: Gunther def. Kevin Owens
Grade: B+
---
Riddle was talking trash about Gunther backstage when Kaiser and Vinci came in to pick a fight with him. Riddle took them out and left them on the floor before officials came in to help.
Kayden Carter and Katana Chance were backstage and challenged Ronda Rousey and Shayna Baszler to a match.
---
Ronda Rousey & Shayna Baszler vs. Kayden Carter & Katana Chance on RAW
Carter and Baszler kicked off the match, and the champs were in control early on. Tags were made, and Ronda tried for an armbar on Chance using the ropes, but Carter broke it up with a drive-by.
The challengers hit big dives on the champs before Ronda and Baszler got a big double-team move on Chance for a near fall. Carter got some big kicks on Bazsler as the match went on, and they got their combined finisher on Rousey, but the pin was broken up by Bazsler.
Rousey recovered and locked in the Ankle Lock, but it was broken before Carter tried to roll Baszler up off a blind tag. Bazsler locked in the Kirifuda Clutch on Carter and picked up the win.
Result: Ronda Rousey & Shayna Baszler def. Kayden Carter & Katana Chance
Grade: C
---
Ricochet vs. Shinsuke Nakamura on RAW
We got some quick offense from Ricochet before Nakamura was sent outside. Nakamura got a big German Suplex before Ricochet went up top, and Shinsuke met him up there but got taken down.
Bronson Reed came in and derailed the match, taking out both Ricochet and Nakamura. The ref had no choice but to call the match off as Reed celebrated in the ring.
Result: D.N.F
Grade: C
---
Alpha Academy and Maxxine Dupri were backstage, and Gable said that it was time Maxxine joined them in the ring.
---
The Miz was out next for Miz TV, and his guest was Cody Rhodes. Miz called Cody crazy for picking a fight with Brock before Rhodes made a tiny balls joke. Miz said that he had a surprise before calling Dominik Mysterio out since he, too, was a multi-generational superstar like Cody.
Dom came out with Rhea Ripley, and the crowd booed him as usual as he spoke, and we could barely hear him. He called Cody a bird with a broken wing and said he was a bad father for ignoring his daughter and choosing to wrestle instead, like his own dad Rey.
Cody got up and took shots at Dom, calling his match with Rey a 'public spanking' and saying that he was a disappointment. Rhea got Dom to walk off at first, but then he came back for a cheap shot on Cody before hiding behind Ripley.
Dom and Rhea walked off, and Cody knocked The Miz out with a shot from his arm cast before walking out himself.
---
Zoey Stark vs. Natalya on RAW
Stark got the advantage off the bat and targeted Natalya's knee, smashing it into every hard surface she could find. Nattie came back with some big kicks and got a German suplex before trying for the Sharpshooter.
Zoey broke out of the hold before Stratus came in with the assist and hit Natalya in her injured knee. Stark followed up with the Z360 and got the win.
Result: Zoey Stark def. Natalya
Grade: C
---
Paul Heyman was backstage and said that this Friday, Jey will have to make a choice between his brother Jimmy and Roman Reigns. Heyman then said that Jey better choose The Bloodline/Reigns in a poorly veiled threat.
---
Indus Sher vs. Hurt Business on RAW
We saw a brawl as the match started leading to Benjamin being sent outside. Cedric took a big double-team move before the match was stopped since he was unable to continue. Indus Sher got another double-team finisher for good measure before RAW moved on.
Result: D.N.F
Grade: F
---
Seth Rollins (c) vs. Damian Priest - World Heavyweight Championship match on RAW
Priest was sent outside early on before we headed for a break. Back on RAW, Rollins drove Priest into the ring post before taking a big strike to the face off a dive.
Rollins came back with a backbreaker in the ring before going up top, but Priest dodged the dive and hit a big boot and an elbow. Damian reversed the Pedigree before catching Rollins off a dive to the outside and sent him into the announcers' desk.
The two were on the ropes, and Rollins got the superplex followed by two Falcon Arrows, but Damian rolled out before the pin. Rollins hit dives to the outside and sent Damian over the announcers' desk before hitting the splash in the ring for the near fall.
Priest got a big top rope move before Rollins countered a clothesline into a Pedigree for a near fall. Rollins powerbombed Damian into the barricades before Balor interfered and got taken out.
Damian got the South of Heaven in the ring of the distraction before giving Balor a disapproving stare for the interference. Rollins came back with a big takedown and got the stomp for the win.
Result: Seth Rollins def. Damian Priest to retain the World Heavyweight Championship
Grade: A
---
Episode rating: B+
Seth Rollins put his title on the line on RAW tonight while we got some great Money in the Bank qualifier matches.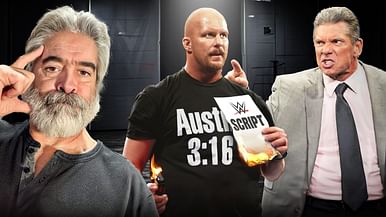 How Stone Cold was born in 2 minutes