WWE RAW Review - 25th March
3.85K //
27 Mar 2013, 09:37 IST
I've been complaining for quite a long time now about how the hype for WrestleMania is nonexistent, and how this might just be the most under-hyped WrestleMania of all time. There were about 2 feuds that got good hype, and the rest feel like a filler at this point of time. This week's RAW had to hit some home runs when it came to closing the feuds, with just one more episode of RAW remaining before we go to WrestleMania. And before I start my review, my wishes go out to Sean Waltman, aka X-Pac. If you're wondering why, Google it. Or don't; forget I ever brought that up.
This episode of RAW came to us from Philadelphia, Pennsylvania, the home of ECW. Philly has always been a hot crowd, so this RAW felt special. And fittingly enough, Paul Heyman came out to open the show along with 'The Paul Heyman guy', CM Punk. It's great how Paul is involved in the top two major feuds at this year's WrestleMania. It shows the class Heyman is in, anyway. Punk comes out with the urn to loud boos, and gets on the mic. You have the top 2 talkers in the business in the ring. Punk says Taker could have retired and kept his legacy in tact, but now, the 20 – 0 will become 20 – 1, and that the one will be thanks to CM Punk. He drops the urn and says that it has no significance for him, but means the world to the Undertaker. He said Taker could have gone 50 – 0, but he met Punk, and will lose at WrestleMania. Punk looked towards the ramp and asked for Taker to appear, and he got his wish. The lights went out, and when they came back, Taker was in the ring to a massive pop. Taker landed some punches on Punk, and Punk and Heyman retreated. Taker cut his throat as Punk's music played. What a great opening segment! There was a small 'ECW' chant, and loud 'Undertaker' chants. These two guys should end WrestleMania, especially if Punk is to win. I love both the performers, and once again, they did a solid job during the opening segment.
Next was Fandango's debut. While he was getting ready, Jericho ran down and attacked him, and Fandango took off through the crowd. Guess we aren't lucky this week either, huh? The next match was between Jericho and Ziggie with Big E (I love saying that). Apparently, it was supposed to happen later. Jericho is such a giver! Anyway, their match only got about 8 minutes, and Jericho won via submission, as Ziggie tapped out. Post match, Big E dropped him with the Big Ending and left with his pals. Fandango then ran down and attacked Chris to 'You can't wrestle' chants. Then he finished Chris with a top rope leg drop and this confirms their match at WrestleMania. Jericho can make anyone look good, so we'll have to wait and see how WWE goes with this Fandango gimmick, although it doesn't seem to be getting over with the fans.
There was a back stage segment with Big Show, but The Shield showed up and attacked him. Randy Orton showed up (out of nowhere!) and tried to attack The Shield with a chair, but that didn't work. Show then chased them off. Does that mean Show is turning face? We'll have to wait and see.
Mark Henry then took on the Usos. It was a basic squash match to put the monstrous Henry over. Usos got a bit of their offense in but Henry squashed them both, quite literally. He then delivered multiple WSSs and a big splash to end things. It would be great to see Ryback lifting Henry up for the Shell Shocked at WM. That would truly be a WM moment, and looks like that is the only reason why WWE put Henry in Ryback's path.
In the next match, ADR (With Ricardo) took on Cesaro. It's almost sad that Cesaro is the US champion but doesn't even get proper air time. Swagger attacked Ricardo which distracted ADR, and ADR got counted out. Then he came back into the ring and attacked Cesaro. I predicted ADR would snap, and that's what happened. Swagger got WWE more mainstream attention than the Rock. By the way, he was on this episode of RAW.
The next part of the show was between Team Hell No and the team of Darren Young and Titus O'Neill. I'm loving Titus, the big man can talk and is charismatic! Anyway, a very short, squash match to put THN over. Ziggie and Big E came out to size them up. Ziggie and Bryan in a match makes me excited as a wrestling fan.
Next up was Haitch coming out for his promo (Haitch, like Naitch. Get it? No? Okay). A solid promo by Triple H to show how serious he was going into WM. A very short promo, which ended with him telling Brock to bring his A – Game, and that he would kick his a**. Barrett then came out staring at HHH, and HHH kicked him in the groin region! A solid promo nonetheless, driving the point home.
Barrett, who was hurting, then took on The Miz. The match went on for 10 minutes, and saw Barrett losing to Miz clean. Wow, it's almost a formality for champions to lose on RAW, which takes away any credibility they have. Anyway, this puts Miz over in their feud, but takes away any credibility from Wade as a champion.
Backstage, there was a scuffle between Kaitlyn and AJ when Kaitlyn tried to warn THN about her. Then AJ overheard it and attacked Kaitlyn. Bryan and Kane pulled AJ off of her. A short segment to put over their match later, and a possible pre show match at WM.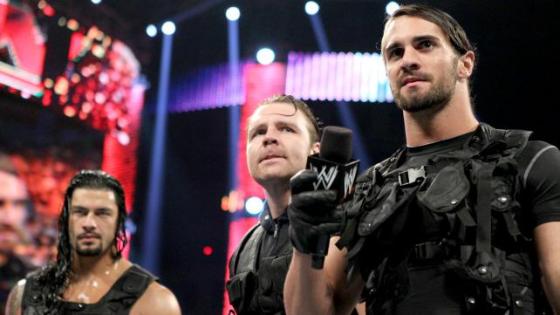 The next match was between The Shield and Zack Ryder, Justin Gabriel and The Great Khali. A basic squash match again, and post match, The Shield delivered a triple power bomb to Khali which was impressive! Then Orton, Sheamus and Show came down to the ring and cleaned house as The Shield retreated. As I said, what's the point if you book the stable so weak, when you're supposed to make them look dominant? WWE logic, I guess.
Team Rhodes Scholars with the Bellas took on Brodus and Sweet T. Sweet T? That's almost as bad as Crime Tyme. Another squash match, with Team Rhodes Scholars picking up the win. Crowd didn't care, and I don't blame them.
The next match was between Ryback and the new J.O.B squad, 3 MB. Ryback dominated the match and won it to nobody's surprise. I'd mark out if Drew gets sick of it and cuts a promo. Wait, this is WWE, where logic doesn't make sense. On SmackDown! there will be a weight lifting competition between Ryback and Henry.
Next match was between AJ and Kaitlyn. Match ended with AJ winning via count out. This sets up their match for WrestleMania. Another match that will be stacked during the pre show. Did I mention this WM will be 5 hours long?
Time for Rock – Cena promo! A Q&A session with Rock and Cena, with Bret, Mick, Dusty and the new Hall of Famer Booker T presiding over it. Sounds more like a school debate, or a Mayor election. Anyway, each guy asked them a question and they replied. This is how they hype for WrestleMania. I miss the storylines between the guys a decade ago. Cena and Rock were in serious mode, and the only good thing here was their intensity. It made it look like the match is actually important. Oh, and it is for the WWE Championship, just so that people won't forget. I'm being so sceptical and cynical because, honestly, WWE dropped the ball big time with this feud, and this took away any credibility the WWE title has. The segment ended with Rock giving Cena the Rock Bottom. I love how Bret didn't even move for that. Guess he thought that was pretty average too. Cena explained how he was the reason for the loss last year, because he got too over confident. It wasn't a heel move, just to calm people down. It was a way to downplay The Rock, like Rock putting people down on the mic. It shows the arrogance and confidence of the participant. The show ended with Rock walking out with the WWE title.
Another disappointing RAW to say the least. I give the show about a 5 out of 10. Last week's show was a 4 from me. So it got a bit better; not much, but just a bit. There is only one week remaining before we go to WrestleMania, and WWE better do something to make this event look at least a little meaningful. The Punk – Taker match should close the show, but it won't, and why? Because Cena and Rock need to go on last. I won't complain, though. I can switch off the PPV after 4 hours. If people didn't know, this WM will go for 5 hours, with the pre-show included. Anyway, that does it from me for the review. Let us see what WWE comes up with for the last week before we go to WrestleMania.