WWE RAW: Triple H vs Brock Lesnar stipulation announced and other news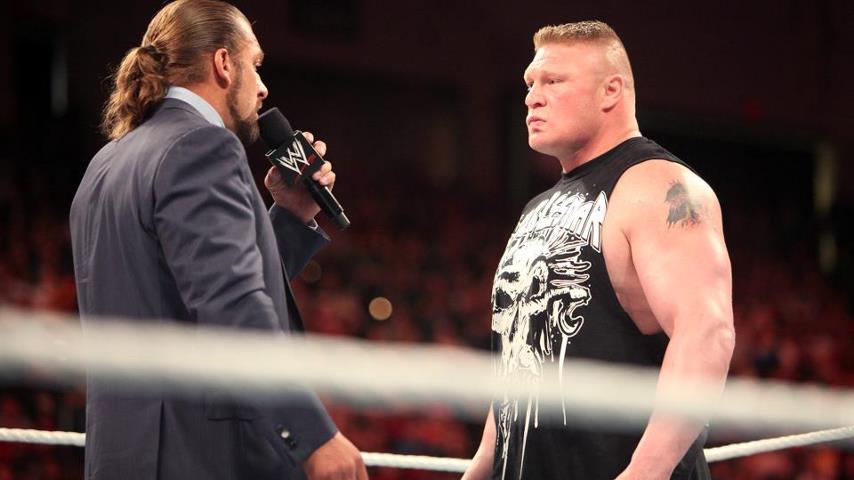 Triple H and Brock Lesnar will face each other in a No Holds Barred match, and the loser would leave WWE. Heyman announced the stipulation after Triple H signed the contract.
Huge match announced at WrestleMania on RAW this week. Team Hell No challenge Dolph Ziggler and Big E Langston to a match at WrestleMania and they agree. This happened after Ziggler beat Kofi Kingston in a match at RAW. This match seemed obvious after Big E attacked Bryan in a match on RAW last week.
In other news, Booker T was announced as the next inductee into the HOF. While many would disagree with this induction, Booker T has done a lot of work backstage and helped several young and upcoming wrestlers grow to what they are today.
Earlier in the show, Vickie Gurrero announced that Ryback will face Mark Henry at WrestleMania forcing him to leave the team of Orton and Sheamus
At present the WrestleMania Card stands as follows.
Undertaker vs CM Punk ( Streak at stake)
The Rock's Legacy vs John Cena's Redemption (WWE Title)
Triple H vs Brock ( No Holds Barred, with loser leaving WWE )
Randy Orton, Sheamus and Big Show vs The Shield
Big E Langston, Dolph Ziggler vs Team Hell No ( WWE Tag Team Titles)
Alberto Del Rio vs Jack Swagger (World Heavyweight Championship)
Ryback vs Mark Henry