WWE Smackdown spoilers & analysis for February 26th 2015
4.72K //
25 Feb 2015, 10:19 IST
This week's SmackDown tapings took place in Atlanta and will air on Thursday 26th February so let's take a look now at the results and analyse their significance. A lot of tonight's focus seems to revolve around the Intercontinental championship which is a great thing for increasing its importance.
- Daniel Bryan opens Smackdown with an in ring promo where he spoke about Wrestlemania 31 before being interrupted by Bad News Barrett. Barrett begins insulting Bryan as well as Dean Ambrose who soon comes out to brawl. Bryan and Ambrose double teamed Barrett and sent him packing leaving them in the ring to celebrate with his IC title belt.
- Dean Ambrose defeated The Miz. During the match Barrett came down through the crowd and took his title back. Damien Mizdow was not at ringside.
- Renee Young interviewed Dean Ambrose backstage.
- Natalya defeated Naomi. The Usos, Cesaro, Tyson Kidd were all at ringside and brawled briefly.
- Lana and Rusev came out to cut a promo but were interrupted by Jack Swagger. Rusev went on the attack, putting Swagger in the Accolade submission while the Russian flag dropped over the ring.
- Daniel Bryan defeated Bad News Barrett with his running knees in a non-title match. R-Truth was on commentary and stole Barrett's IC title again. Barrett was looking around for his title after the match but obviously didn't find it having not realized what had happened.
- Byron Saxton interviews Roman Reigns backstage.
- R-Truth finds Ambrose backstage and gives him Barrett's IC title belt.
- Fandango defeated Curtis Axel. Also Axel now has a clock on the tron showing how long he has been in the Royal Rumble match to continue #Axelmania.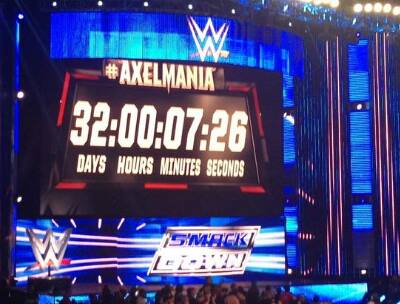 - Bray Wyatt cut yet another mysterious cryptic promo directed at The Undertaker
- Goldust defeated Adam Rose. Stardust was disguised as one of the rosebuds and attacked his brother.
- Ryback, Eric Rowan and Dolph Ziggler defeated Kane, Big Show and Seth Rollins. Ryback hit the shell shock on Rollins to pick up the pinfall. Apparently Ryback got a huge pop.
- The Primetime Players defeated two unnamed local wrestlers in a dark match.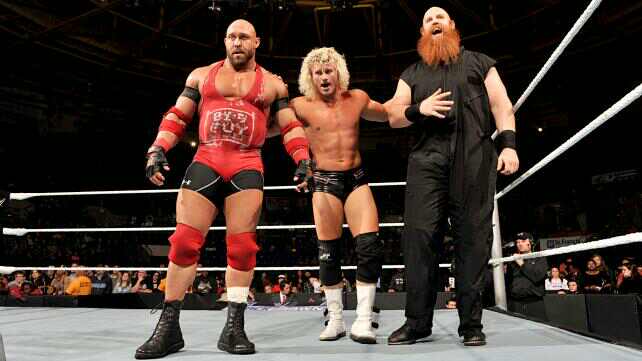 Analysis
Interestingly enough Bryan had some heavy interaction with Barrett (even defeating him) and others such as Ambrose or Truth who all seem headed towards a multi-man IC title match at Wrestlemania. With the recent inclusion of Bryan, could he possibly ne joining them? It would seem like a step down for many but a resulting match between Barrett, Ambrose, Truth, Ziggler and Bryan would be pretty amazing (maybe even a ladder match?).
The brother v brother feud continued when Stardust disguised himself as one of the rosebuds to attack Goldust. It will be interesting in the coming weeks to see how this story develops and whether Cody Rhodes will stay as the Stardust gimmick or move back to being himself.
#Axelmania continues with Curtis Axel but was once again cut short by Fandango this time. This will likely lead nowhere for Axel besides a mediocre performance in the Andre the Giant Memorial Battle Royal at Wrestlemania 31.
The feud between The Brass Ring Club and The Usos also continued with their wives doing battle in singles competition in what should be a solid bout if given the right time. Cesaro/Kidd could find themselves defending the tag titles in a standard tag match against The Usos but a multi-team match is still a very likely possibility to give more tag teams a chance to shine.
The main event saw a Fastlane rematch but this time the babyfaces were victorious. Surprisingly enough though it was Ryback who apparently got the biggest pop of the bout, even more than Ziggler for a change.
A lot of the focus for this week's Smackdown seems to be on the IC title which is definitely a good thing for that championship. The road to Wrestlemania will be an interesting one as things are now beginning to get heated.