WWE: Top 5 moments of SummerSlam
5.58K //
Timeless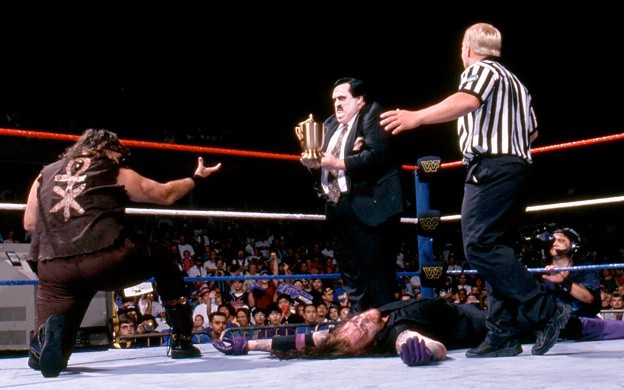 With only a couple of weeks to go for the biggest party of the summer – SummerSlam, we take a ride down  memory lane. SummerSlam has always been a memorable PPV, whether it was because of Shawn Michaels' return to professional wrestling or because of the much hyped Undertaker – Stone Cold Steve Austin confrontation, capping it off with the ever so memorable 'Highway to Hell' theme.
SummerSlam is regarded as the second biggest PPV in the WWE, and hence, WWE pulls out all the stops going into the PPV. In this article, I take a look at the top 5 memorable moments in SummerSlam history.
Paul Bearer turns on The Undertaker at SummerSlam 1996

When you think of the legendary Undertaker, you immediately think of the aura surrounding him. The magical presence of the Undertaker has captivated all the fans for over two decades, and one constant being associated with the Undertaker has been his storyline uncle/ half father, and his real life good friend, Paul Bearer.
Paul was regarded as the piece of the puzzle which completed the Undertaker, and as such, has been monumental in the career of the Undertaker. So in '96, when Bearer turned on the Undertaker and sided with the deranged Mankind at SummerSlam, the crowd and the WWF fans all around the world were shocked! This easily became the talk of the year in the WWF, and led to some memorable matches and storylines in years going forward.