Bundesliga Articles
Classy act from Borussia Dortmund fans who marked the 25th anniversary of the Hillsborough disaster by singing a chorus of "You'll Never ...
Steven Gerrard in tears after winning against Manchester City For football fans, the weekend ended with the thrilling Liverpool and Manchester City ...
Ilkay Gundogan (C) Borussia Dortmund midfielder Ilkay Gundogan has put all transfer rumours to rest after extending his contract at the German ...
Manchester United are ready to break the bank and are reportedly set to offer Bayern Munich midfielder £260,000 a week should he decide to complete ...
Bayern Munich sign Sebastian Rode from Eintracht Frankfurt Bayern Munich have confirmed the signing of midfielder Sebastian Rode from Eintracht ...
There is no such thing as a friendly between Bayern Munich and Borussia Dortmund. Their meeting at the Westfalen last season, 20 days before the ...
Kroos has been heavily linked to Manchester United Manchester United, who currently sit 7th in the Premier League, are rumoured to be targeting ...
Former Bayern Munich manager Jupp Heynckes advices Toni Kroos not to leave the German club. Former Bayern Munich manager Jupp Heynckes revealed ...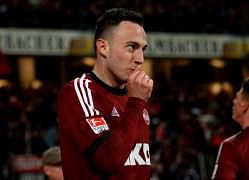 Josip Drmic Bayern Munich legend Lothar Matthaus has revealed that FC Nürnberg striker Josip Drmic will sign for Premier League outfit Arsenal ...
Adrian Ramos Borussia Dortmund have officially signed Adrian Ramos on a four year deal and he will join the club this summer. The 28-year-old ...