AEW might soon get a boost to its women's division. The Bella Twins (aka The Garcia Twins) have announced that they will be parting ways with WWE upon the expiry of their contracts.
Having been in the company for close to 16 years, Brie and Nikki Bella have both won the Divas Championship and are bonafide WWE Hall of Famers.
Although they stepped away from the ring full-time almost seven years ago, The Bella Twins have made sporadic appearances and even worked as WWE Ambassadors. The last time they appeared in a match was during the 2022 WWE Royal Rumble.
During the latest episode of their podcast, The Bella Twins discussed their departure from the sports entertainment giant.
"When our contract came up with WWE, mutually, we all knew we needed to head into this next chapter. We are so grateful for the past 17 years. I have learned so much in and out of the ring. I have traveled all over the world, I have incredible fandom. It's been amazing. This is part of relationships. Whether it's business, love, this is relationships in life. Sometimes, you come to this part of your life where it's like, 'let's go separate ways. It doesn't mean it's forever, but we just know that it's right,'" Nikki said. [H/T: NoDQ]
Is this the end of the wrestling chapter of their lives or could The Garcia Twins be tempted to jump ship to AEW? Given that Bryan Danielson, Brie's husband, is currently employed with the company, it is wholly plausible. Here are five opponents the Bella Twins could face in AEW.
---
#5. TBS Champion Jade Cargill vs. Nikki Bella
AEW TBS Champion Jade Cargill has reigned in the women's division for over a year and is still undefeated. She is scheduled to host an open challenge on the upcoming episode of Dynamite, which will take place in Winnipeg, Canada.
If she can survive her trip up north, who else could feasibily take down Cargill? She has steamrolled past the roster with relative ease. Perhaps the one to take down the TBS Champion is somebody who is not yet part of the AEW locker room.
Enter Nikki Bella. The former WWE Divas Champion knows a thing or two about long title reigns. She held that particular title for a record number of days, surpassing everyone in history.
Although Nikki might be retired at this point, the 39-year-old is still in amazing shape and could step into the ring to face Cargill if she so chooses. It will be a fascinating battle of strength between two of the most powerful women in the business.
---
#4. Nikki Bella vs. Brie Bella
Brie and Nikki Bella might be twins, but they are no strangers to fighting one another. They previously had a feud in WWE back in 2014. Nikki betrayed her sister during her match with Stephanie McMahon at SummerSlam and helped the Billionaire Princess gain victory. It led to a match between the two at that year's Hell in a Cell pay-per-view.
If Tony Khan wants to boost the AEW women's division, he could consider reigniting this rivalry for his programming as well. Both stars are well-known names and will definitely bring in new eyeballs to the product, especially if they feud with one another.
---
#3. Brie Bella and Bryan Danielson vs. Adam Cole and Britt Baker
If the Bella Twins were to debut in AEW, it is inevitable that Brie Bella will eventually reunite with her husband Bryan Danielson. The two have teamed up together in a number of mixed tag team matches in WWE against the likes of The Miz and Maryse, for example.
The current "It" couple in AEW are former Women's Champion Britt Baker and Adam Cole. The power couple is set to feature prominently in the upcoming All Elite reality show called AEW: All Access.
Bryan and Brie have, of course, appeared on the wildly popular Total Divas and Total Bellas reality TV shows. This could lead to a fun dynamic between the two couples if they were ever to engage in a feud.
---
#2. The Bella Twins vs. Britt Baker and AEW Women's Champion Jamie Hayter
Current AEW Women's Champion Jamie Hayter is an absolute fan favorite right now. Together with Britt Baker, the two female stars are a formidable duo for any opponent.
With the AEW audience firmly by their side, it could lead to the Bella Twins coming into the company as heels if they want to face this duo. The sisters have had experience playing the villains and can be effective in that role.
As the more popular names in the mainstream, having the Bella Twins fight Hayter and Baker can lead to them getting the kind of exposure that is beyond what All Elite Wrestling can offer right now.
---
#1. Nikki Bella vs. Saraya
Nikki Bella once faced current All Elite Wrestling star Saraya back at WWE Money in the Bank 2015 for the Divas Championship. Back then, Nikki was the bigger name while the former Paige was still making her way on the WWE main roster.
However, Nikki has since retired from the ring, while Saraya would also enter into temporary retirement before making her emotional wrestling return to Tony Khan's company. Given their history and talents, this would surely be a highly anticipated match if Tony was able to book it for a Dynamite main event.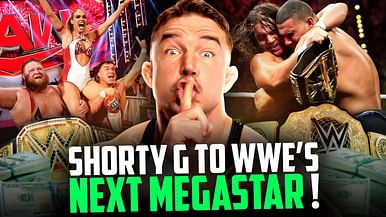 Why Chad Gable could be the next WWE mega star
Poll : Will the Bella Twins join AEW?
22 votes