Rhea Ripley's latest picture with her real-life partner AEW star Buddy Matthews has left Twitter in shambles. The on-screen relationship between Mami and Dominik Mysterio has been drawing eyeballs in WWE lately, leading fans to erupt after taking note of the latest clip.
The reigning SmackDown Women's Champion has been involved with Dominik Mysterio since his heel turn in September 2022. Since then, the kayfabe couple has been one of the most-talked-about performers in the pro-wrestling realm. However, the apparent close bond is only for the portrayal, as The Eradicator is in a real-life relationship with AEW star Buddy Matthews.
Fans have been taking the deep entertainment plunge of the unique dynamic between Ripley, Matthews, and Mysterio. Most recently, Rhea Ripley shared a picture with the AEW star with a loving message, "Happy little vegemites," referring to their shared Australian heritage.
Twitter erupted after spotting the couple together with an array of hilarious comments concerning Dominik. While some fans chimed in with humorous descriptions of what Dom's reaction could be, others cheered for the lovely real-life couple being in their natural element.
Check out some of the reactions below:
Some fans factored in the post with Buddy's time in WWE when he was involved in a romance storyline with Dominik's sister Aalyah.
Some fans came up with their own creative booking ideas:
Rhea Ripley feels she could convince Buddy Matthews for a WWE return
Formerly known as Buddy Murphy, the House of Black member spent over seven years in WWE from 2013-2021. During his impressive stint with the global juggernaut, the 34-year-old earned laurels for his solid in-ring work. He clinched the NXT Tag Team title, Cruiserweight title, and RAW Tag Team Championship on one occasion each.
After parting ways with WWE, the Australian star made his AEW debut in February 2022. Having been associated with House of Black from the get-go, Matthews is the current AEW Trios Championship holder.
In an interview, Rhea Ripley reflected on her relationship with Buddy and voiced her thoughts on the latter's chances of landing in WWE again.
"So, I'm very convincing. I'm a very convincing girl, you know. I normally get what I want. So, it might happen, you never know. But right now I'm happy with my DomDom. I'm happy going out there with him and Finn and Damian and I mean, you never know what the future holds. It might happen," said Rhea Ripley.
(You can read more here)
Despite being associated with rival promotions, the couple never shies away from posting their photos on social media.
Both promotions have also acknowledged their relationship at times, as Max Caster recently roasted Matthews with a Dominik reference at Double or Nothing. Meanwhile, Seth Rollins also name-dropped his former protege on WWE programming this week.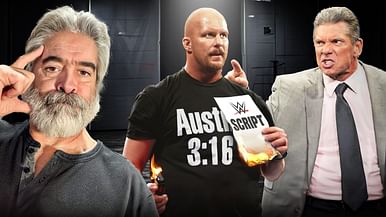 How Stone Cold was born in 2 minutes