SmackDown Women's Champion Rhea Ripley believes she can convince her partner and AEW star Buddy Matthews (fka Buddy Murphy) to leave the promotion and return to WWE.
Matthews signed with the sports entertainment juggernaut in 2013. He spent nearly eight years as a regular competitor, during which he held the NXT Tag Team Title, the RAW Tag Team Championship, and the Cruiserweight Title. However, the company released him from his contract in June 2021. A few months later, the 34-year-old debuted in AEW, where he is currently active as a member of the House of Black and is the current Trios Champion.
In an interview with Gery Roif, Ripley addressed the possibility of her convincing Matthews to return for WWE. She stated that she normally gets what she wants and noted that one never knows what the future holds.
"Ohh, Maybe, maybe. I don't know. So, I'm very convincing. I'm a very convincing girl, you know. I normally get what I want. So, it might happen, you never know. But right now I'm happy with my DomDom. I'm happy going out there with him and Finn and Damian and I mean, you never know what the future holds. It might happen," she said. [0:40 - 1:04]
What is Rhea Ripley's partner Buddy Matthews doing now? Know all about ex-WWE star Buddy Matthews in 2023 here.
---
What did Rhea Ripley's WWE on-screen partner Dominik Mysterio say about Buddy Matthews?
Over the past few months, SmackDown Women's Champion Rhea Ripley has been associated with her Judgment Day teammate Dominik Mysterio. The two are currently an on-screen couple.
During an interview with Sportskeeda Wrestling's Riju Dasgupta, Dominik addressed Ripley's real-life relationship with Buddy Matthews. He even referred to Matthews' romantic storyline with his sister Aalyah in 2020.
"Yeah, well, he kissed my sister [Aalyah], so I don't know, we might have some problems there family dynamic-wise, but overall I think my dynamic with Mami works both ends, on my side and on her side. When we're at TV, it just works out for us," Dominik said. [5:25 - 5:47]
It remains to be seen what the future holds for Dominik and Rhea's partnership if Buddy Matthews does indeed join WWE sometime in the future.
---
Check out five things you didn't know about Dominik Mysterio's real-life partner here.
---
Please credit Gery Roif and give a H/T to Sportskeeda if you use the quotes in the first half of the article.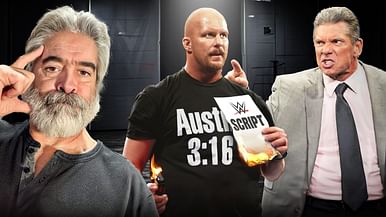 How Stone Cold was born in 2 minutes