In a surprising turn of events, an injured AEW star has recently made an enigmatic post on social media, sparking speculation about a potential return to the ring.
Santana, who has been absent from AEW television for almost a year, posted a cryptic message on June 4 on his Twitter account, leaving fans curious and intrigued.
Interestingly, this is not the first time Santana has utilized this tactic, as he previously posted the date April 21 on his Twitter account, leaving fans intrigued yet ultimately puzzled.
"6/9" Santana wrote.
Check out his tweet below:
This could indicate Santana's potential return on the next episode of AEW Rampage or if it signifies an announcement regarding his future in wrestling.
Santana sustained a knee injury during the intense Blood and Guts match in June 2022. Following this, he was absent from AEW television for nearly a year. This led to a speculation that he might be nearing the end of his contract due to a rumored disagreement with his long-term tag team partner.
However, reports from Fightful Select indicates that Santana remains contracted with AEW and has been receiving compensation while recovering from his injury.
With his recent activities only time will reveal the true meaning behind Santana's cryptic post, but for now, speculation continues to run rampant.
---
Konnan confirms tension between Santana and Ortiz in AEW
According to WCW veteran Konnan, Santana and Ortiz are currently not on good terms. Despite being highly talented and once considered the future of the tag-team division, the duo seemed to be underutilized and disappeared from television after Chris Jericho's betrayal.
On the Keepin' It 100 podcast, Konnan disclosed that their issues go beyond professional disagreements. He also added that the disagreements have escalated to the point where Santana almost got into a physical altercation with Eddie Kingston.
"Yeah, they ain't talking to each other and it breaks my heart 'cause I spend a lot of time with them and I've said this before, they're like my sons and I heard it almost got physical with Santana and [Eddie] Kingston over this, and it's not a good look," Konnan said.
This strained relationship between duo is a cause for concern. While Ortiz has made occasional appearances on the Tony Khan-led promotion, Santana is currently sidelined with an injury but is reportedly stated to return soon.
What are your thoughts on Santana recent tweets? Let us know your thoughts in the comment section below.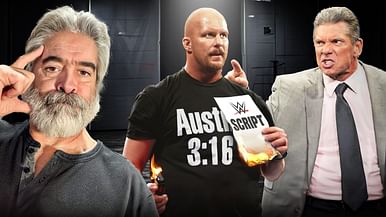 How Stone Cold was born in 2 minutes
Edited by Ashvinkumar Patil