Jeff Jarrett originally founded what would today become IMPACT Wrestling back in 2002. Recently, the promotion celebrated its 1000th episode, and Jarrett has now opened up about why he wasn't present.
DoubleJ is one of the most praised wrestlers in the industry today, and many of his peers have praised his wrestling mind. Jarrett is also a multi-time champion and has wrestled in numerous promotions and almost always held gold there.
During a recent episode of My World with Jeff Jarrett, the veteran revealed IMPACT Wrestling never approached him for an appearance. Due to this, he explained why he thinks this happened.
"No, not a peep from anybody. Not a word. I mean. No, not a word. nor when they had there. No. But it was that location that was a fur piece from my house. I totally understand. It did not hurt my feelings. It really doesn't, because I understand. I'm not sure that I agree with their line of thinking. Suppose they're going to and don't see that. That's why I still do it over and over and over. But I have to get out of the assumption business, but I would assume." (H/T WrestlingHeadlines)
While it was a missed opportunity, it doesn't seem like Jeff Jarrett took it as a personal sleight at him. Notably, other top AEW stars who were major in TNA but were absent included Jeff Hardy and Jay Lethal.
---
Missed out on Wednesday's AEW Dynamite? Catch up with the results here.
---
Jeff Jarrett doesn't believe The Rock's excuse for missing out on WrestleMania 39
While WrestleMania featured one of the biggest headlining matches with Roman Reigns and Cody Rhodes, fans wanted another major clash. With The Rock's ties to the Anoi'ai family, fans have hoped that he'd someday battle The Tribal Chief for the crown.
According to Jeff Jarrett in another episode of My World, The Rock's excuse for missing WrestleMania 39 was complicated.
"So, I'm not sure I'm buying that Rock was uninspired going into SoFi this year. We all know what happened the day after [Endeavor buying WWE]. Well, I just think there was a lot going on behind the scenes."
Additionally, Jarrett speculated that perhaps The Rock was banking on there being more interest in the clash a year later. On top of this, Jarrett believes that the Endeavor/WWE merge and the writers' strike could have influenced the setback to his return.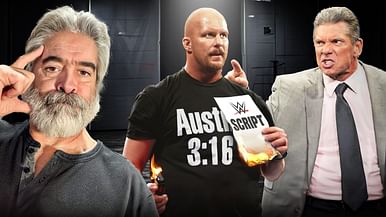 How Stone Cold was born in 2 minutes