Alexa Bliss is one of the most decorated superstars in the WWE women's division. However, there was a surprising real-life incident a few years ago that possibly grew Little Miss Bliss' popularity tenfold.
She along with Renee Paquette, Nia Jax, Cassie Lee, and Jessica McKay appeared on Paige's Twitch live stream back in 2020. At one point during the stream, Paquette asked Bliss why she was not in a bikini, leading to the 31-year-old star removing her shirt. You can check the clip here.
While speaking during her appearance on The Bellas Podcast in 2022, AEW star Saraya recalled that live stream and added that Little Miss Bliss removing her shirt was the "most-viewed clip" of the stream.
"I had a big group of people and then Alexa Bliss took her shirt off," Paige said. "I was like, 'Oh no, sis, this is live!' She had a bra on underneath, obviously, like a sports bra, but it was a low-cut one. She'd been sipping a few drinks during the stream and then she took it off. It's still my most-viewed clip of the stream and I've been streaming for nearly three years. It's crazy."
---
Alexa Bliss recently announced her pregnancy
The 3-time WWE RAW Women's Champion had a pretty pleasant surprise for the wrestling world earlier today when she announced that she is pregnant.
Bliss and her husband Ryan Cabrera are expecting their first child in December 2023. You can check out her Twitter post below.
"The best moments in life are the completely unexpected 🩷🩵 Baby Cabrera arriving December 2023!!!" wrote Alexa Bliss.
Little Miss Bliss' announcement immediately led to multiple names from the pro wrestling business as well as countless fans sending in their well-wishes for her and Cabrera.
We at Sportskeeda Wrestling extend our heartiest congratulations to the power couple and hope for their bright future.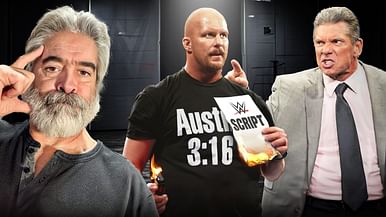 How Stone Cold was born in 2 minutes