Hardy's performance at the WWE Royal Rumble has apparently drawn the contempt of an AEW star.
This year's Royal Rumble featured a musical performance from American country music singer and songwriter, Hardy. He had previously appeared on RAW as well, attacking Solo Sikoa to save Elias. This time, he performed the song "SOLD OUT" at the show, which was released last year.
While the performance got a significant pop from the fans, AEW star Dustin Rhodes was seemingly unimpressed by it. Taking to Twitter, the veteran criticized Hardy's performance:
"That sh*t ain't country. Sorry, not sorry," Dustin Rhodes tweeted.
You can check out the original uncensored tweet here.
---
AEW star Dustin Rhodes has previously commented on his retirement
Dustin Rhodes has had a long and illustrious career in pro-wrestling, but now believes the time to hang up his boots is inching closer.
In an interview with the Busted Open Radio podcast, Dustin explained the reasoning behind his decision to retire from in-ring wrestling this year. He also acknowledged that many wrestlers return after their retirement, but seemed determined not to do so himself:
"I made the decision that 'Hey man, at the end of July, my contract is up.' I don't know if that's going to be it, because when we say we're retiring, we always come back. And we never say never. But that's what I'm looking for, an end date for my in-ring wrestling career," Rhodes said. (H/T -WrestlingInc)
He further expressed the wish to stay in AEW as a coach and occasionally make on-screen appearances:
"I want to get out while I can still walk, but still teach the kids, still coach hopefully, if I'm allowed to do that, and occasionally make an onscreen appearance, I just don't want to embarrass myself is the main thing." (H/T - WrestlingInc)
As of now, it remains to be seen what the future holds for Dustin Rhodes.
---
Who do you want to see Dustin Rhodes face before his retirement? Sound off in the comments section below!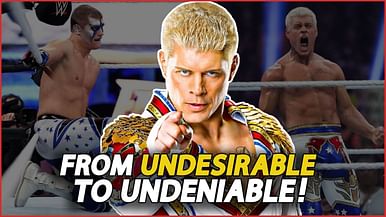 How Cody Rhodes returned to WWE and change pro wrestling forever!