Mortal Kombat 12, the twelfth installment in the arcade video game franchise, has finally been confirmed for a 2023 release by Warner Bros. at their earnings call event.
The last game in the franchise, Mortal Kombat 11, was released in 2019 to generally positive reviews from fans and critics. The expansion DLC for the eleventh installment, Mortal Kombat 11: Aftermath, was released on May 26, 2020. Both these releases were then followed by the Ultimate Edition of the game that was released on November 17, 2020, and included both the base Mortal Kombat 11 game and the Aftermath DLC.
---
Mortal Kombat 12 might feature Onaga as the main antagonist
Since there is not much news regarding Mortal Kombat 12, no sufficient information is available on which gaming consoles and platforms the twelfth game will hit. Gamers are also unsure whether it will be an exclusive next-gen game (for PS5, Xbox Series X/S, PC) or will it also include previous-gen consoles (PS4, Xbox One, Nintendo Switch). Additionally, an official trailer for the game is yet to be released.
However, Warner Bros. Discovery CEO David Zaslav has said at the earnings call event that both MK 12 and Suicide Squad: Kill The Justice League will have "ambitious launch projections."
Following the MK12 announcement, Ed Boon, the co-creator of Mortal Kombat and Injustice video games, jokingly asked if fans had heard about Injustice 3, the highly anticipated third installment of DC and Netherrealm's Injustice video game franchise:
"So who has heard the news about INJUSTICE 3?"
In response, when a fan told Boon to stop joking, thinking Boon had meant Mortal Kombat 12, Boon replied to the fan by saying they did not get his joke:
"I don't think you're getting my joke."
Prior to the official announcement of Mortal Kombat 12 at the earnings call event, fans knew a twelfth installment was happening. This is because Mortal Kombat's co-creator Jonathan Anderson posted a picture teasing the game, which he has since deleted from his Twitter and social media.
However, some fans zoomed in on the photo and found a file name titled "MK12_Mast," leading to more speculations to rise among fans. The photo, when zoomed in, also contained a snippet of an email that read:
"Our fans eagerly scrape the internet."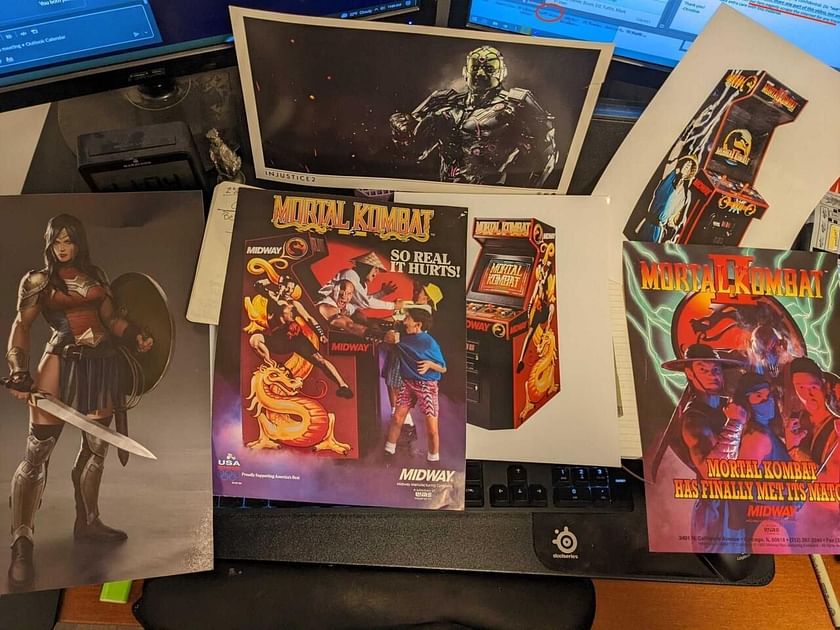 Although plot details for Mortal Kombat 12 are currently unknown, fans can assume that the following playable roster will be present in the game:
Baraka
Cassie Cage
Cetrion
D'vorah
Erron Black
Frost
Geras
Jacqui Briggs
Jax Briggs
Jade
Johnny Cage
Kabal
Kano
Kitana
Kollector
Kotal Khan
Kung Lao
Liu Kang
Raiden
Noob Saibot
Scorpion
Shao Khan
Skarlet
Sonya Blade
Sub-Zero
The story of Mortal Kombat 12 may possibly follow the events of the last game, where Aftermath left off. In the last game, Liu Kang defeated the evil Kronika and gained power over time, thunder, and fire. He eventually gained Raiden's electric and lightning powers as well.
However, in Aftermath, Shang Tsung freed a being known as Onaga, the Dragon King. Thus, MK12 might possibly feature Onaga as the primary antagonist.
---
Apart from Mortal Kombat 12, this year will see the release of several other anticipated games, such as Suicide Squad: Kill The Justice League, Insomniac Games' Spider-Man 2, as well as other anticipated fighting games like Tekken 8 and Street Fighter 6.