It's not often that Virat Kohli and Rohit Sharma fail together in an international match. However, unfortunately for India, when they do, it's generally in highly consequential games. For instance, in India's first innings of the 2023 World Test Championship final against Australia at The Oval.
Chasing Australia's mammoth first-innings score of 470, skipper Rohit was trapped in front by his opposite number Pat Cummins for 15 (26) while Kohli edged a brilliant good-length rising ball from Mitchell Starc for 14 (31). India finished the day at 151-5, trailing by 318 runs with only three recognized batters left.
No matter how bleak it looks, the match isn't done yet and, if it reaches that stage, the two senior stars might just return to their best in the second innings.
However, this has allowed us to look back at three instances where India couldn't come back in an ICC knockout match where they failed together.
---
India vs Australia, 2015 ODI World Cup semi-final
The first goes back eight years. In the 2015 ODI World Cup semi-final at the Sydney Cricket Ground (SCG), Australia hammered MS Dhoni's India by 95 runs.
Kohli wasn't in good form all tournament and struggled for 12 balls before mistiming a pull-shot on his 13th against Mitchell Johnson for an easy catch, going back for just one run.
Rohit, who had scored two half-centuries and a ton before that match in the tournament, got a decent start but was bowled by a beauty from Johnson.
Ajinkya Rahane, who is India's last hope at the Oval, scored 44 in that match too as Dhoni also chipped in with 65 but India never really got back into the game.
---
India vs Pakistan, 2017 Champions Trophy final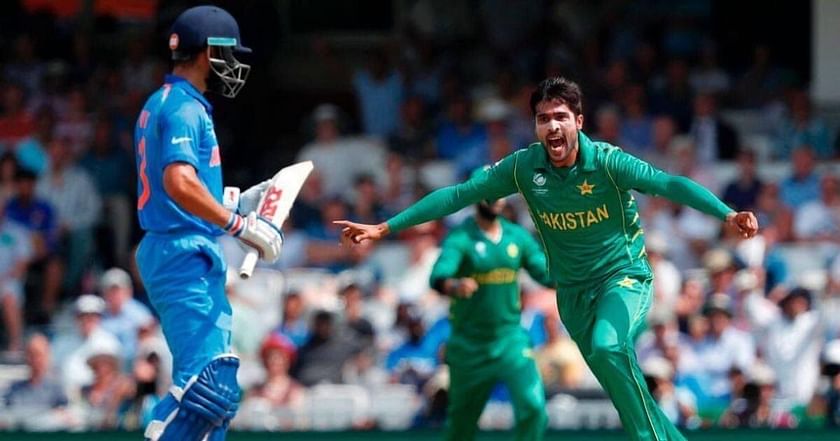 Probably the match that every Indian fan wants to forget but will never be able to.
India conceded too many in the first innings and was under pressure to go big early in the second. Mohammad Amir sensed the opportunity and his left-arm swing was a question that had no answers from the Indian batters.
Rohit was out lbw for a three-ball duck in the first over, missing a beaming in-swinger completely. Kohli was cautious at the start but looked to be in disarray against Amir's control and discipline. He got lucky to be dropped at the slips on his eighth ball but edged a flick on the next and gave a simple catch to point for 5 (9).
A young Hardik Pandya scored 76 (43) to salvage some respect for the Men in Blue who were eventually bowled out for 158.
---
2019 ODI World Cup semi-final against New Zealand
In Dhoni's last international match, negating swing with the new ball proved to be India's Achilles heel once again. They had been unlucky with the rain but managed to get New Zealand out for just 239/8 in the big semi-final and needed just a couple of good knocks on the reserve day to reach the final.
However, the top three - KL Rahul, Rohit, and Kohli - all got out for just one run each. Rohit edged one to the wicketkeeper against Matt Henry while Kohli couldn't handle left-arm seamer Trent Boult's pace and guile and was out lbw.
Dhoni and Ravindra Jadeja's partnership took the game teasingly close but couldn't prevent the humbling 18-run defeat.