A (ficticious) personal account of India's best 12th man - Ajinkya Rahane
1.51K //
31 Dec 2012, 18:50 IST
Disclaimer - The following article is written by a fan. Ajinkya Rahane hasn't taken up a liking to write personal accounts to kill his time on the bench.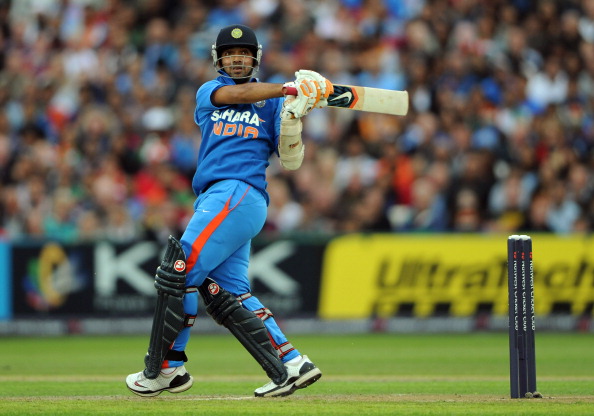 I am Ajinkya Rahane and currently I am warming benches in the Indian team. I am proud to be a part of the world class Indian team which has no place for me, even after the barrage of losses. I have done everything I could to be in the Indian squad. If I continue to warm the benches, I am sure I will be the most decorated 12th man in the annals of cricketing history. Today, I shall tell you my story which has no real dramatic elements. But like my batting across the three formats, my story is 'Plain Simple.'
Knocking the door of the selectors? Bloody hell, I've broken the door with my performances!
September 2007 – Making my debut as an opener for Mumbai, I scored a hundred against Karachi Urban in Mohammad Nissar Trophy. I have never looked back since then. Currently, I have played 59 first class games, scored 5,352 runs at an average of over 62 with 19 tons, almost double the number of centuries by Raina and Murali Vijay and 12 more than Abhinav Mukund and Ravindra Jadeja. My average is almost 20 percentage points more than Raina and certainly the best amongst the contemporary young "talented" players – even more than Cheteshwar Pujara – who is currently the apple of everyone's eyes and a resourceful Indian cricketer. Look at the records, my average and the number of tons are more than Pujara's – yet the coveted Test cap eludes me. But I am a fighter. I will get it come what may- even if I have to wait till 2020 (when I will be 32). I am not going to be the forgotten chapter in the Indian history.
People come and go but I am where I am!
I have seen people like Abhinav Mukund making their Test debut before me. The reason for my exclusion was that I was not an opener. In fact, I started out as an opener but dropped to No.3 position because Wasim Jaffer had to bat at the top for Mumbai. Yet, when I eventually made my debut for India in ODIs, I was made to open – Isn't it funny? The  "terrific" Vijay-Mukund duo, that has a moderate success rate in the domestic competitions playing for Tamil Nadu, did not fire after donning India colours. Yet, I did not fret and geared myself up for the Emerging Players' Tournament to be held in Australia where I scored a couple of hundreds, I stood out from the rest.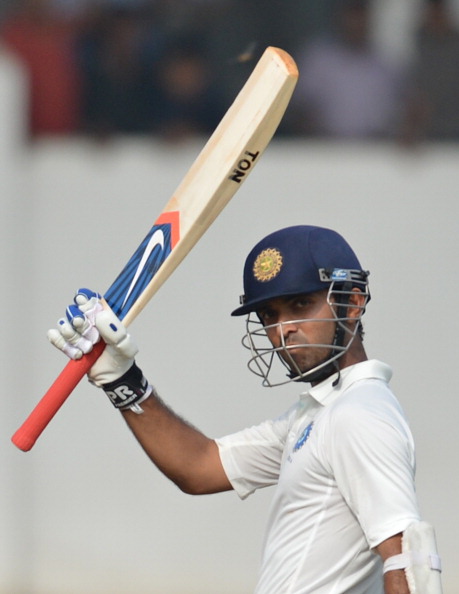 India was thrashed in England and my colleague, Mukund had a horrid time after playing a couple of Test matches there. I had scored centuries in English conditions playing for India A, yet I was overlooked for the tour. It was after my exploits with the bat in Emerging Players' Tournament, that I got a national call up. But I got a call because Virender Sehwag was injured. I am saddened by the fact that I was there as a temporary replacement. Yet, I did not complain. I was getting an Indian cap after all.
I top-scored in the only T20 game and then played well in the ODI series that followed. Many pundits prophesied a great future for me. They said that I was the shining light of the tour although our world class team did not register a single win.
When England came to India, I failed in the first couple of innings. The knives were suddenly out. I had seen some of the players failing for two years, yet their place was secured in the team. I was under immense pressure. But Dhoni gave me another game. I got an important 91 in the third ODI, when we were chasing 300 runs for victory. I was awarded the man of the match trophy for the first time in my ODI career. Finally, things were falling in place for me.
Personally, things were going great for me. I got to learn a lot (excluding the reasons for my bizarre exclusion from the playing XI time and again). My consistent performances were rewarded. I was in the Test match squad when West Indies toured India just before the Australia tour. We were leading the three-match Test series 2-0. I thought I might get to play the final Test match – which was to be played in Mumbai. That was a dead rubber. I was optimistic about getting a game. But there was absolutely no change in the team. The performing men wanted to continue their good form, and the struggling men played with the hope of striking the right chord before the big tour of Australia. I was warming the benches. Yet, I did not complain.
The Australian tour was supposed to be a big tour for me, personally. I saw how our famed batting line up was struggling. I saw it from close quarters. After the drubbing we got at Melbourne, Sydney and even Perth, I thought at least now I will get a game at Adelaide! But some people had taken an oath to embarrass themselves, come what may. Wriddhiman Saha got a game because Dhoni was suspended. As a matter-of-fact, Saha had played his first Test match in 2010 as a specialist batsman. That is something which boils my blood. But Saha was the only change when it came to the otherwise static batting line up of the Indian team. The same set of batsmen played all the matches and I was continued to be sidelined. Yet, I did not complain. I was sent home in the ODI series that was taking place immediately after the Test series. The team had stalwarts who were, as I had said earlier, world beaters. The team failed to click together as a unit. I was happy for Rohit. He was getting many chances. It is my dream to be 'Rohit Sharma' at least for one ODI series. Meanwhile, I performed relentlessly for Mumbai. I got big scores; the door was ajar- only just, but then I want to open the door completely by my performances only. I do not have any godfather, I do not represent a star-studded IPL franchise. For me, the road to the top is a laboured journey endorsed by the maxim, "Nothing great was achieved without sweating it out."
IPL calling
I had been labelled as an orthodox batsman – a future Test batsman. But as I had found out, it was tough getting into the Test team courtesy of the famed batting line up. The established batsmen continue to get a long rope, hence for somebody like me, it was never easy to break into the side. My job was to score, irrespective of the format. There have been funny instances where players have got a Test cap thanks to their IPL exploits. Ask David Warner, R Ashwin and even Ravindra Jadeja. So I started to focus on the IPL.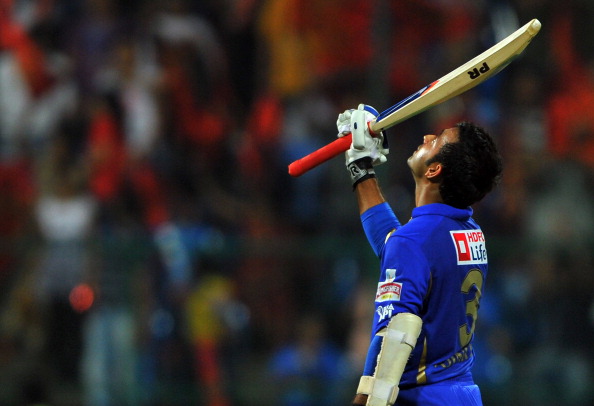 Luckily, my skipper Rahul Dravid supported me in his full capacity to improve my batting. I felt comfortable batting with him. I started getting noticed in the competition. I scored a 98 in the first game against Kings XI Punjab. I had missed my century by a whisker but I was determined to get a hundred. I got it against an attack that comprised Muralitharan, Zaheer and Vettori. A 60-ball 102 essay against Royal Challengers Bangalore was not bad for a bloke who was considered as a Test player only. I got noticed; there was a lot written about me. But I did not care, since my ultimate aim always has been to don the Indian Test cap. I finished the tournament as one of the promising youngsters. I got to face the International attack which had done my confidence a world of good.
Pujara got the nod ahead of me and he played well
Cheteshwar Pujara got to bat at No.3 in the Test series against New Zealand. He scored 159 priceless runs and impressed one and all. I just wanted one opportunity, but I was not getting it. But then like Pujara, I am determined to do well whenever I get the chance. After Laxman's retirement, the No.6 slot was vacant. I have always scored runs, irrespective of my batting position. But all of a sudden, Raina got to play at that position. He failed miserably. He has had opportunities in the past and has not really converted those, but somehow tried and tested men sneak in before me. But then my job is to score runs. Yet again, I did not complain.
Surprise exclusion
I had done what I had to. I had scored runs in the T20 format. Yet, when the Indian T20 team for the World Cup was announced, my name did not feature in it. "He always plays his shots. He is a match winner," – Virender Sehwag was welcomed in the team with such wonderful quotes by the media. Piyush Chawla and Harbhajan Singh were some of the men who were lost in wilderness. Even they made a comeback. Rohit Sharma was also in the team. Manoj Tiwary continued not to be a part of playing XI, thanks to the abundant "talent" of my Mumbai colleague. I lost out yet again. I was down, but not out. I continued to put in hard yards. My job has always been to score runs. Yet again, I did not complain.
The home series against England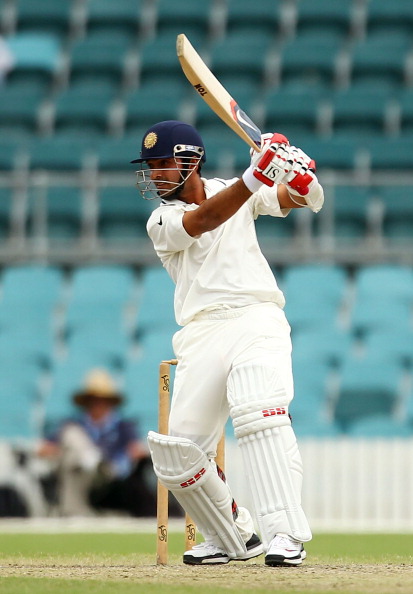 Indian batsmen struggling – that was not something new. But the batsmen struggling in Indian conditions – this was a rare occurrence in recent years. I was seeing Gambhir, Sehwag, Tendulkar, Kohli , Yuvraj (yet another No.6 batsman) struggling. But I did my duties as the 'water boy'. The famed Indian batting line up had lost its sting. On a turning track in Mumbai, the batting collapsed. At Eden Gardens, poor shot selection brought about India's downfall. The new selection committee made some hard calls after India were trailing 1-2 after three Test matches.
I was optimistic about getting a game at Nagpur. I had waited all this while. Sehwag was not in form. Gambhir had done nothing spectacular since 2009. Wasim bhai (Wasim Jaffer) had just one bad series in Australia and he was dropped thereafter. I wonder how some cricketers are lucky to get the support of the management and many like Wasim bhai, who continue to miss out despite having one or two bad tours. Anyway, I had waited all this while to get my maiden call up. My resume was glittered with a 64+ average, 19 hundreds and a few promising innings for India. Yet, Ravindra Jadeja, who scored two triple hundreds in the first class season, got a game at my expense. His exploits were noticed, but my four and half years of sweat and toil were not awarded.
I lost out again. I was down, but not out. My job has always been to score runs. Yet again, for the umpteenth time, I did not complain.
The road ahead
I played four T20 innings and this has been the longest run that I have got for playing for India. I must say that I squandered the advantage by not scoring at least couple of fifties; one each against England and Pakistan. I was in good touch. I was looking forward to the ODI series against Pakistan. But when the team was announced, I missed out yet again. I feel that I was due for a big score. But then, the 'Viru-Gauti' partnership is like 'Fevicol' and it is impossible to replace them. They failed miserably. I am touted to be a technically good batsman. I was looking forward to playing on a green top against quality fast bowling. But I was not given the opportunity. All the top five batsmen were out due to their poor technique. But they will continue to play and I shall continue to miss out.
Maybe a day will come when I shall represent India in 100 Test matches as a 12th man. I shall be part 200 ODIs by giving water to my team mates. But such is my life on the bench.
My job was, is and always will be to score runs. And I promise you that I will not complain.