A letter to an Australian cricket fan
2.03K //
01 Mar 2013, 14:08 IST
Dear Australian friend,
I hope this letter finds you in good health. Witnessing a day of Test cricket sitting next to an Australian was always going to be fun. The banter was on, the wisecracks were present, but I was happy that the rivalry remained healthy. While James Pattinson was asking serious questions of the Indian batsman in the middle, there were some serious ones asked by you back in the stands. I didn't answer them then, but will do so now.
You were particularly unhappy with the crowd's hysteria whenever Sachin was involved in the game. Even a small throw back to the keeper seems epic to his fans nowadays. You had asked me "How can someone be adored so much? How can someone be bigger than the game?" You must understand certain factors before asking this. The average age of an Indian crowd in a cricket match would be in the late twenties. The Indian crowds are very young, as opposed to the older crowds of England and Australia. You must know that every youngster in the country has grown along with Sachin's stats. This was a generation that didn't grow up on DC comics, that didn't grow up on Playstations and Xboxes, but grew up on real-life stories of Sachin the Superhero. A Superhero who could fight sand storms, a Superhero who could bash bowlers twice his height, and a Superhero who was a morally correct celebrity – the first of his kind. It's not his fault to be seen as a Superhero. He just became one over a course of time.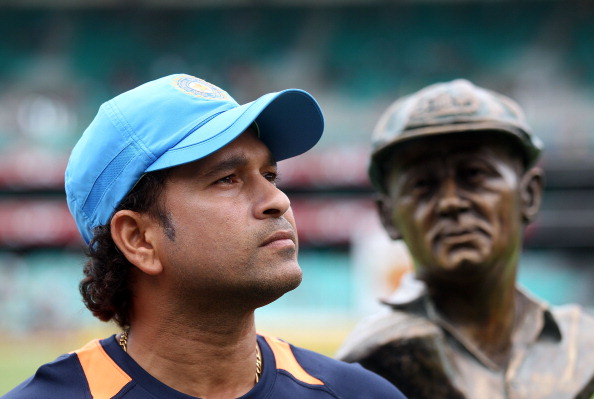 As for being bigger than the game, Australians, many of them, including the ones who haven't seen him at all, regard Don Bradman as the greatest of all time. Some have even given up milestones for Bradman's sake. One shouldn't forget Mark Taylor and Michael Clarke declaring the innings to preserve the record of Don Bradman. Certain personalities bring out the fanatic in you and stop you from reasoning.  If Bradman is one of them, so is Sachin. Bradman has stood the test of time, and I sincerely believe Sachin will too.
You had wryly asked me "How many runs has Sachin made against minnow countries?" I don't know the figure against the minnows, but I do know that he has 10 Test centuries against Australia; against a team that dominated world cricket for 15 years of his 23 year career, he has consistently come up with his best. There hasn't been an 18-year-old after him who could score a Test ton on a pitch which could cause even the most accomplished batsman serious danger. Attaching Sachin's record to the minnow teams are weak tactics of his haters.
You had asked me "Is he the greatest of all time?" The question was almost in disbelief, the disbelief which many people get in sport. The disbelief that the present can be greater than the past, the disbelief that makes people question greatness of present players, the disbelief that the greatest batsman of all time and the greatest tennis player of all time had a coffee at Wimbledon 2011. How can it be possible? In this modern age, how can two sporting greats live at the same time? The answer to your question is only in your belief. If you aren't willing to accept facts, no statistic of mine could make you change your mind. Yes he isn't perfect. He has had chinks in his armour. But every time he has been at a point of no return, he has returned. That, for me, makes him the greatest, not to mention the pressure of being "Sachin", which I wouldn't go into detail here.
You had asked me "Has he given back something to the game? Has he coached young people?" The answer to this question lies within the team. Kohli, Pujara and every national player below the age of 25 would have picked up the bat because of him. Of course, potential bowlers could have been scared off by him, but his batting has inspired more than it has discouraged. His straight drive is a chapter in a cricket book, as is his paddle sweep. It is for the students of the game to study him and learn.
Finally, the most important question "Is he God? Or is he just a sportsman?" I have thought long and hard about this. Sometimes I would think he is the latter, and simple logic would tell me that the latter can only be right. But then I am going to surprise and shock many by saying that he is the former. Sachin may not walk on water; he may not score a century every time. He may not defy gravity, or be perfect all the time. But if God makes us optimistic about life, then he is God. If God comforts people sitting in their homes and suffering in their own lives, he is God. If God unites people of all kind, he is God. Some people might find this blasphemy, and some melodramatic. But all I can say is this is rational. If God was perfect and there were no catastrophes and no tragedies on this earth, then there would be no need for belief in God. God had to be imperfect to let people know his presence. The same goes with this little man.
He has aged, his powers have waned, and his career is at its end. But every now and then, a small innings restores our belief in him. 'Hell, it's only a sport! You won't get a single rupee watching cricket day long! You will get nothing watching him bat!' All these statements are true. But the same logic applies to visiting a church, a mosque or a temple. Sachin may after all be God, just not the conventional one that people seem to know and imagine.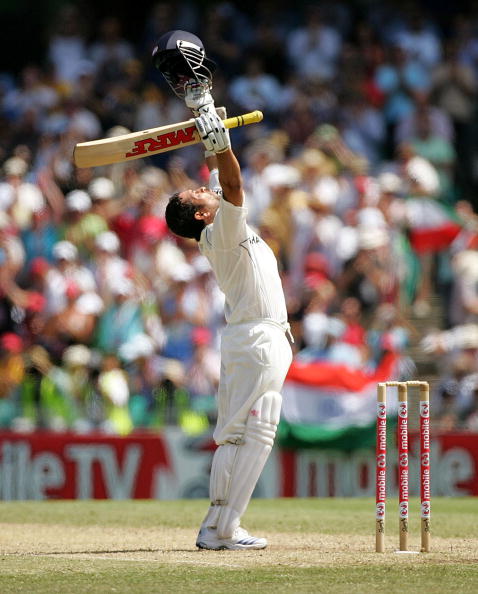 There is a belief that Test cricket is dying. That may be true. It may be living its last moments. So please enjoy the flashes of its life in watching Sachin bat as it dies a slow death. I hope your questions were answered. Have a good trip and keep away from unhealthy food.
Yours,
A cricket fan!