A moment many fail to capture
1.05K //
23 Nov 2012, 00:59 IST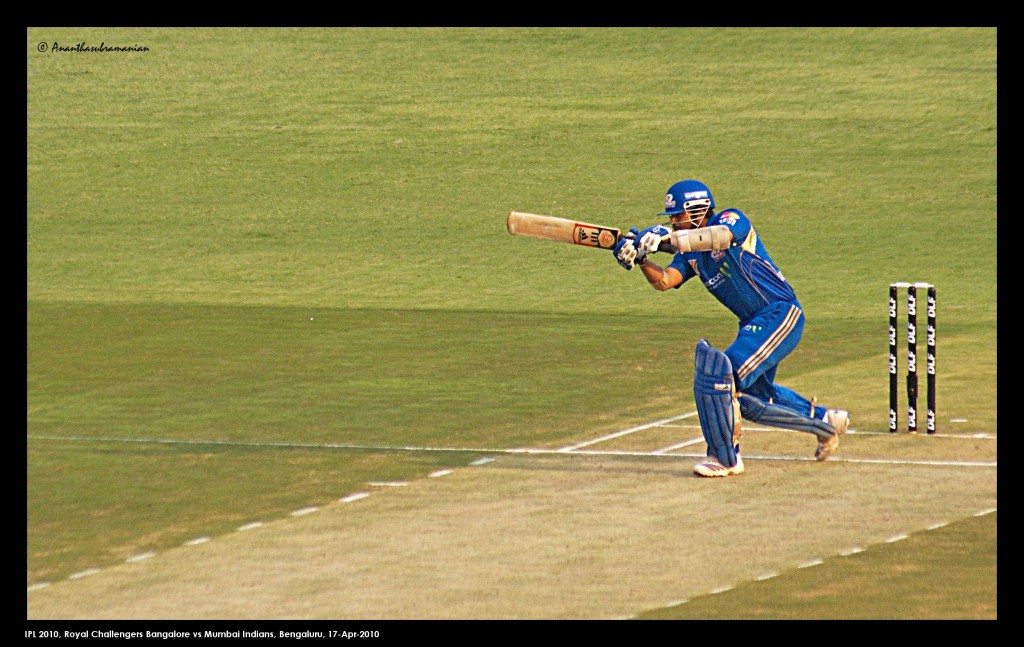 For a long time now, I stand fascinated whenever I see cricket match photographs either on newspaper dailies or on Cricinfo's images section. In the last 5-6 years, there has been lesser access to newspapers. But I continue to browse through the photographs in Cricinfo. Photographs make a greater impact. There is a certain amount of artistry involved with photographs as they capture moments for a lifetime. For many, it is these photographs that get printed on posters inside their living rooms. I was one crazy cricket poster collector. At one point of time, my entire home was filled with cricket posters from Sportstar. A lot of action, and on-the-field photographs were part of it. My cubicle at work lives with cricket posters too. Cricket wouldn't be the same without photographs for many and cricket photography is very much an integral part of the sport.
While it means nothing but a mere record capture for a few, it means much more to the ones involved in the photograph and even more to the ones who adore their hero, even sitting miles away from them. Watching cricket in Indian stadiums is a story of extremes. You could live the moment of a lifetime and at the same time, spend the most worthless minute ever. It could be chaotic yet beautiful. I remember standing in those huge queues ahead of the crucial India vs England World Cup game in Bangalore. You could feel the energy and enthusiasm even before the first ball was bowled. Beautiful chaos at its very best.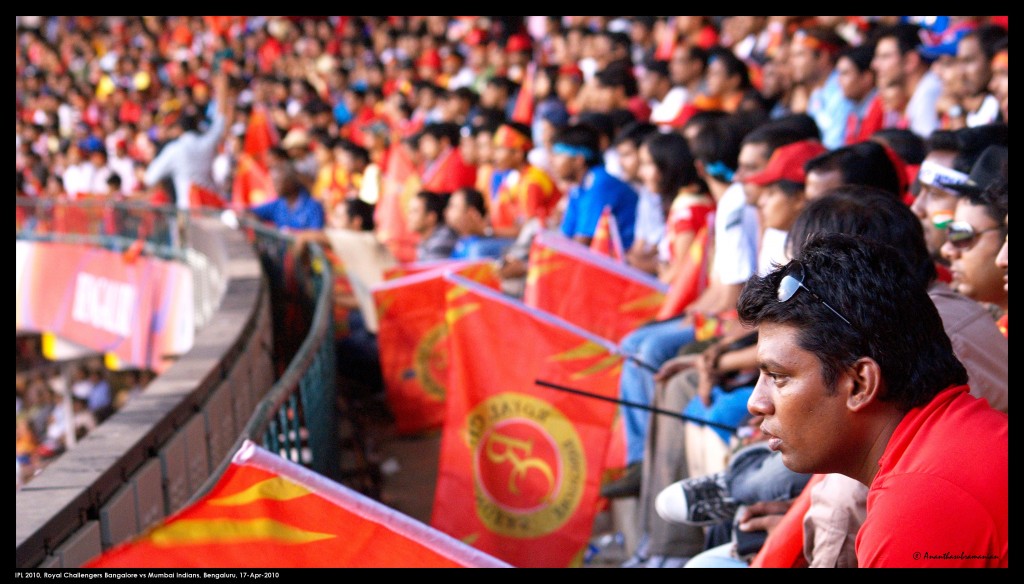 While that is at one end of the spectrum, the other end has bad stands, poor seating arrangements, costly food, along with ventilation and restroom issues. I must say that a lot of them have improved in the last 5-6 years. Stadiums have become swanky with bucket seats. The pricing also has increased for those seats. But along with all this come the restrictions and bans in the name of security.
Anjali Doshi writes spectacularly well on Wisden India when she says: "You need Indian cricket more than Indian cricket needs you." The converse, however, is also true. The spirit of Indian cricket is very high, so much so that despite all the backlashes, the fans will still love the game. The administrators know it is a resource that shall never cease.
You could walk into any sporting event in the world, including the Olympics, with a camera around your neck. How many times have we seen friends post photographs from the Wimbledon or the Rod Laver Arena on social networking sites!! How many times have we seen photographs from MCG !!! In case you try to do that in India, you and your camera won't be spared.
Back in 2008, I had a lovely time with my friend's camera watching the India-Australia test in Bangalore. It was the first time I came close to sports photography. We had the best seats in the stadium – straight over the bowlers' head. So the view was fantastic. Since then, my love for photography has gone only one direction. I think a few Indian stadiums care less for tests. You can carry your camera inside the stadium for test matches. But if it is a domestic T20 game or an ODI, the same stadium would not allow you to take the camera inside.
I still carry lovely memories from that test match. The photographs made it even more memorable. A year later, I managed to carry it for an IPL game between the Royal Challengers Bangalore and the Mumbai Indians. It was a dream to photograph Tendulkar. I didn't possess the greatest of lenses and cameras then. So I had to manually focus every time to get the picture tack sharp.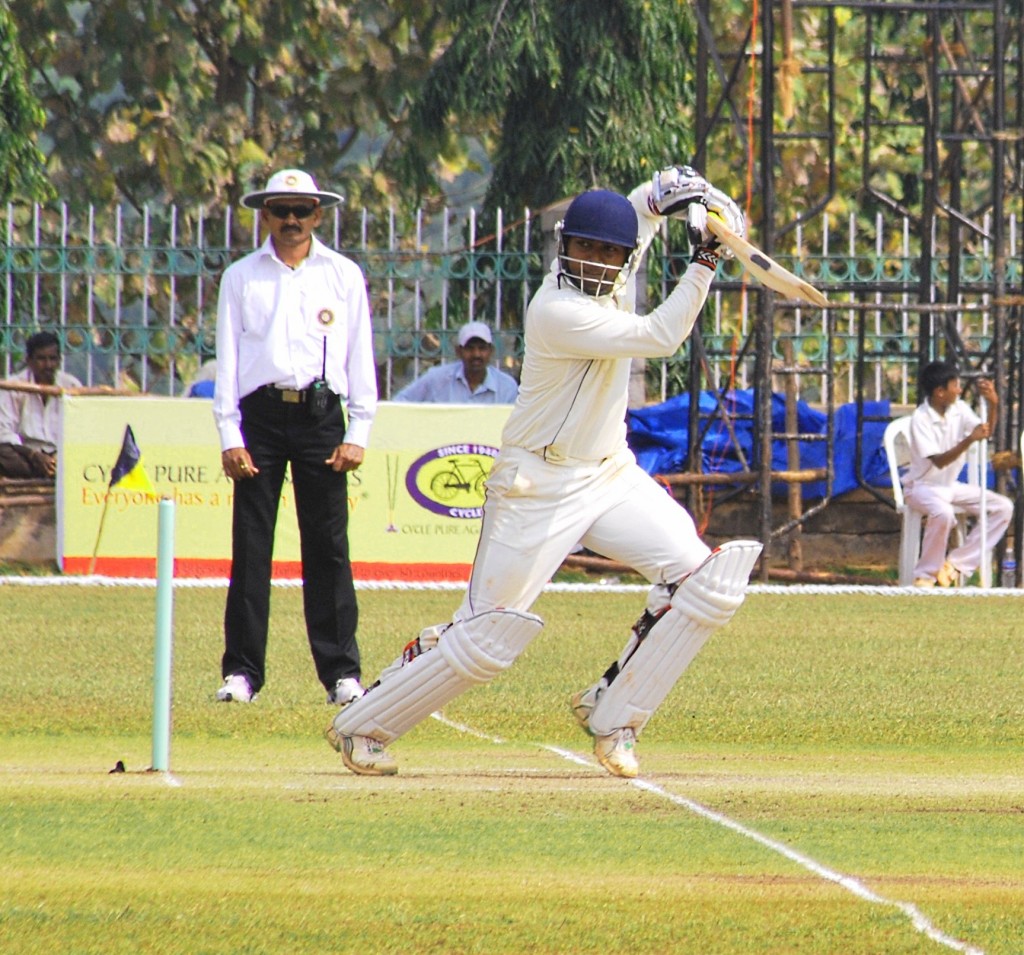 A little later in the beginning of 2010, I could get easily into Gangothri Glades, Mysore to watch and photograph the Ranji final. There was hardly a hassle to click photos, even though there was a massive security blanket for a cricket ground in Mysore. In hindsight, the only qualm that will remain is my inability to make better photographs out of such rare opportunities.
Chennai remains a fortress for passionate photographers, I believe. The security refused to allow cameras when I had been there for an IPL game in 2010, and worse was to follow in 2011. You buy a ticket for such tournaments, and on the back of the ticket you will see a hundred rules which mainly includes things which you should not carry to the stadium. There was a time back in 2004 when my mother would pack us lunch for the test matches at Chepauk. Now, you're not allowed to carry food into the stadiums either.
I knew that the cameras would not be allowed. But how about placards and posters? Even they were not allowed inside.
We had stayed late the previous night before the World Cup game against West Indies at Chepauk. All the security managed to do was to throw it away as rubbish!
Thankfully, it was still in the same place after the game, so we could manage to get our posters back. One of them still stays in my cubicle. I certainly know security and terrorism is a concern in the country and hence the administrators take stringent action against the spectators. But even that has a limit. Getting in a placard or a camera is not going to crash the roof of the stadium.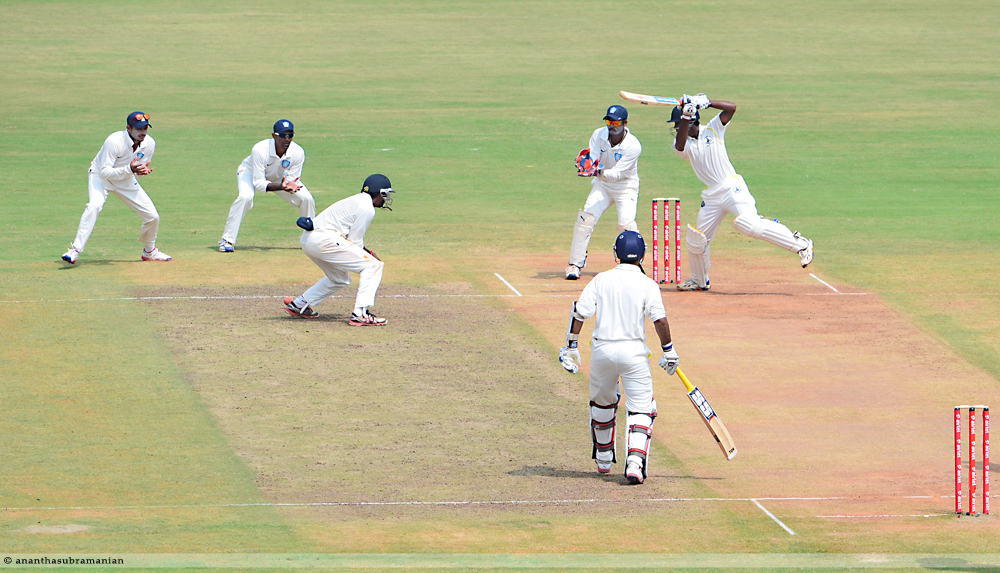 Enough security arrangements are already in place at the entrance and I can't understand why security in the grounds can't ever be friendly with the crowds. Most of then turn hostile in situations that put them in a fix.
At another IPL game in Bangalore, guys would just open their mobile cameras and click photos. Within a few minutes, a couple of guards would come to meet them and seize their phones. They wouldn't return the mobile phone until the game was over. Would we ever get to see this anywhere else in the world?
A myriad such incidents have occurred in Indian cricket for an average spectator. For the most revered domestic competition, which is least followed in Indian cricket, it is a security breach if you take a camera inside. Why can't the stadium administrators be spectator friendly? In many ways, the administration needs to take efforts to make it once-in-a-lifetime-experience for the spectator in the stadiums.
A friend from Australia tells me that spectators in the stands also have a few restrictions with respect to photography. They're not allowed to carry 300mm lenses to the stadium. The maximum that they can carry is a 200mm lens. In India, these things sadly don't work!!! There is no respect for the common man on the stands. He stands the right to celebrate and capture the moments he wants to relive all his life. The administrators are trying their best to kill the spirit of many such people around.
The value for spectators is the lowest in India. If we can't allow fans to be what they are at the grounds, how do you expect spectators to throng the stadium? Anjali Doshi once again posts a curious question about empty stands – "You lost your chance to bid Ganguly farewell. You never got a chance to say goodbye to Dravid or Laxman. Will Sachin Tendulkar play the last few test matches of his career to empty stands? I really hope not." Spectators have been long taken for a ride by the bureaucrats at BCCI. It doesn't look like it will ever change. These are the same administrators of the game, who are in a conflict with some of world's biggest photo agencies now. Where are we to get noticed?