Ashes 2013: 1st Test, Day 2 - Flops of the Day
1.15K //
12 Jul 2013, 12:54 IST
After 14 wickets fell on the opening day under an overcast sky, the wicket eased out quite a bit during mid-morning on the second day of the first Test between Australia and England in the Ashes series.
Bright conditions also helped the batting side for most part of the first two sessions of play. Even so, there were some inept performances from a few notable names on both sides, which did have some impact on the game at crucial junctures.
Here are the Flops for Day 2:
Brad Haddin (1 run off 2 balls; 1 catch)
The wicket-keeper batsman is supposed to be one of the mainstays of the Australian line-up along with skipper Michael Clarke; in fact, he even resembles the latter to some extent. But he showed virtually no common sense when playing against England off-spinner Graeme Swann.
The wily bowler sent down a traditional off-spin delivery which most batsmen would play off the front foot. But not Haddin – he chose to play it off the back foot, only to see it turn in sharply and disturb the stumps. His dismissal left Australia six down for 113 and in deep trouble before Ashton Agar and Phil Hughes conjured their Houdini act.
This was simply poor batting by a player known to be comfortable against spin.
Stuart Broad (1/40 in 6.5 overs)
I don't know whether the lanky blond-haired pacer still has nightmares of Yuvraj Singh's assault in the 2007 T20 World Cup, but he certainly did not look like a Test bowler yesterday. With just one wicket to be taken, Broad decided to be generous, and sent down loose deliveries at will. Phil Hughes took advantage of this generosity by cracking three fours in his opening over.
Not to be outdone, Ashton Agar clobbered the hapless seamer for another couple of boundaries before Broad got his prized wicket with a short ball. If England are to entertain any hopes of winning this match, Broad will need to get his line right – he was just all over the place yesterday. With the shoulder injury playing its part, England would hope Broad is back at his fittest soon.
Steven Finn (2/80 in 15 overs)
If Broad was wayward, Finn was simply ridiculous. Never, under any circumstances, bowl short and wide deliveries outside the off-stump to a No.11 batsman unless you're absolutely sure he is inept. Agar drove the fast bowler through point for a lovely boundary to begin with, before Hughes smashed a short delivery to the mid-wicket fence.
Finn refused to learn, and his poor length made easy pickings for Agar who is a compulsive puller of the ball. He's got to get his length right and pitch it up to get some good movement.
Joe Root (5 runs off 31 balls – 1 four)
On a pitch that had offered plenty of help to the fast bowlers, Australia had a 65-run lead, and England needed a solid start from their openers to wrest back the advantage. However, Joe Root had other ideas.
He flicked a rubbish delivery from left-arm pacer Mitchell Starc (instead of leaving it alone) as it went down the leg side and got a faint edge to the keeper. He should have taken the review, but Root seems to have taken a leaf out of Adam Gilchrist's book: he walked after the umpire gave it out.
A fairly irresponsible shot from someone who's touted as the future of English cricket – Nick Compton must be laughing his guts out at Root's failures.
Last-Wicket pains for England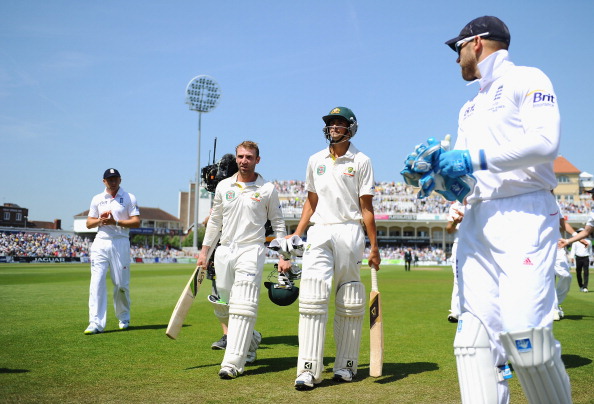 You normally expect a side like England to run over the opposition in conditions that are friendly for pace bowling. They managed to take out nine Australian batsmen without too much fuss, but then came the fightback from a player who was making his Test debut.
To add to their woes, their key bowlers – Finn and Broad – were hell bent on offering enough width for the batsmen to play their shots. James Anderson wasn't as effective as earlier, while Swann was tonked for a couple of sixes by the tailender. These are worrying signs for England, and skipper Alastair Cook will have to address these concerns quickly if his side are to retain the Ashes.
Even with the not-so-great performances above, it was another exciting game of cricket. It shows one thing – this series will be very closely fought, and maybe Test cricket can get a new lease of life. Over to Day 3!