Australia need Batman to salvage draw
1.02K //
12 Mar 2013, 18:10 IST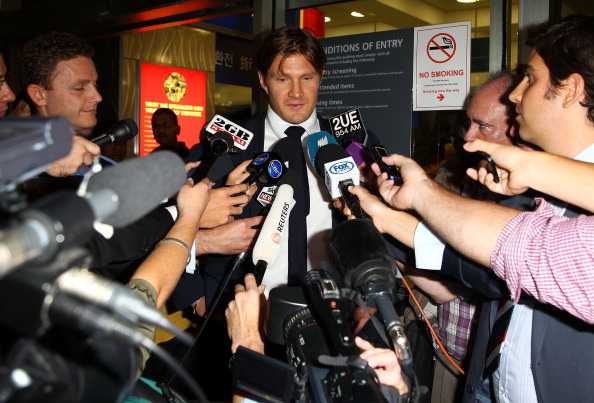 Years ago, when Australian spin bowling was not in the shredded state it is in today, one man shouldered a bowling attack with an overdose of sunscreen on his lips and a little flick of his wrists. Watching Shane Warne could turn a cynic into a believer. He did things with the Kookaburra nobody had ever witnessed, and it was no surprise to see him bow out of the game with an astounding 1001 wickets under his belt.
That was a time when tactics and aggressiveness on the field shocked opponents into submission. Warne's googlies had batsmen questioning his skill, their abilities and their existence. If Warne had the ball in his hand, those padded up to come in next would uncomfortably shift in their seat, while the Aussie crowds would ignore their beers for a moment to create a buzz around the stadium. That was a time when opponents were dumbfounded into praising the genius of the man.
Today, however, they're just dumbfounded. No words, no expression of shock, and certainly not of awe. Mickey Arthur's decision to axe four of his players – three of whom could have salvaged their tour and one of whom is a potential replacement for a little someone named Ricky Ponting – for not giving feedback, was astounding. Australia may have just nuked themselves in the foot, potentially readying themselves to turn one of their worst series in recent memory into the apocalypse.
The task set out by Mickey Arthur was simple enough. 'Submit a feedback of performances over the past two matches, point out the mistakes, and suggest ways to improve'. In colleges and schools, if you don't do well in your exams, you either have to hold your ears and do innumerable squats, or sit next to the smart kid who smells of coconut oil and who is responsible for influencing your study pattern. So it is safe to say that the Australians were let off pretty easily.
Still, axing your premier players for a schoolboy error is disastrous for the performance of the team and the sacked players' morale. Australia are not the team they once were, and now they're just further away from it. A new team cocooning out of its past requires experience in abundance, and Shane Watson and Mitchell Johnson provided the team with exactly that. In their absence, Michael Clarke is a lone man steering a heavy boat on dangerous tides. But did Clarke himself want this?
Fingers are pointedly aimed in his direction when discussions about these radical decisions take place. Clarke's relationship with Watson is reportedly a rocky one, and this could be the last shot in the chest with Watson contemplating retirement from the longer format. With the Ashes also coming up, this places Australia's chances well below England's, and slightly below the chances of correctly predicting the English weather conditions.
India will be licking their lips at all the ruckus in the opposing camp. For once, the media glare is on the shenanigans of the opposite side, and not theirs. The questions regarding Sehwag's axe have now been forgotten, leaving India with a bit of solace and more space to practice, while Australia's press conferences are now overflowing with people hounding the team with questions and demanding answers. India sense the opportunity to take the series without spilling blood; something they've never achieved in a series with three or more Test matches against the Aussies. Australia are vulnerable, and India are hungry; a peculiar position with respect to the last year and a half.
Australia are in desperate need of a hero. Not the one they deserve, but one they desperately need. Batman, anyone?