Book Review - The Trundler
1.42K //
21 Jul 2013, 15:45 IST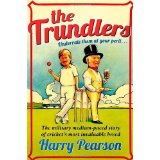 Trundlers. Dobblers. Line and length merchants. Medium pace bowlers have gone by many names over the history of the game and have largely had an unworthy press. Everyone loves the mystery and magic of a great spin bowler, as well as the sheer excitement of a fast bowler steaming in off his full run (except for the batsman facing, of course).
Harry Pearson's latest book is a celebration of bowlers whose heyday came in the age of uncovered wickets, when their command of line and length made them the trickiest of all bowlers. You might get down the track to a flighting spinner and hit him on the full toss. You might get respite from a quick bowler who was errant in line and length, but the trundler would always be at you, making you play and getting available assistance from the ball, wicket and weather.
Those uncovered wickets at times rendered them unplayable and Harry Pearson's book is a cavalcade of the great bowlers through the history of the game whose feats have entered into folklore. Thus the book starts with Edward 'Lumpy' Stevens, whose eighteenth century lobs were of such accuracy that they necessitated the introduction of a third, middle stump, where previously a batsman would not have been out when it passed through the gap. The names of the intervening period are also discussed, but the book really comes into its own with the advent of the golden era of the late nineteenth and early twentieth century.
There's George Hirst, whose inswing was so pronounced that at times it was 'like facing a throw coming in from the covers' and Maurice Tate, that most worthy of bowlers from Sussex, not remotely built like an athlete but a man who would willingly bowl all day and find the right line and length every time. Then there's perhaps the greatest of them all, Sydney Barnes, who played occasionally for Lancashire, for England when they made it worth his while and in the leagues until he was old enough to be less of a problem, but never was.
When one talented young batsman in the Bradford League said that he intended to play him by blocking the good balls and wait for the bad ones, he was quickly told "You'll wait all year, lad"…
Derbyshire's contribution to the world of fast-medium is humorously described as being 'like Cliff Richard is to pop music; not necessarily the best producer of it, but one of the most persistent'.
Such humour abounds in a book that carries the authors trademark bon mots throughout and it is all the better for it. Cliff Gladwin is referred to at some length, 'tiptoeing to the wicket off a short run and bowling feisty in-swing that ninety-nine times in a hundred pitched on a good length" but Les Jackson isn't, on the grounds that he was too quick for consideration in such a book.
Perhaps the greatest post-war exponents were Tom Cartwright and Derek Shackleton, who wheeled away for hundreds of overs every season and snared thousands of victims. They rarely bowled a bad ball and bowled with such economy of effort that each season saw over a thousand overs at an average of two runs per over. All this and little consideration for warm-ups, Shackleton's concession to such things being to comb his hair and smoke a cigarette. Yet in 1962 he bowled 10,303 balls in first-class cricket, the last man to break the five figure barrier and this at the age of 38.
Harry Pearson is an endearing writer and the book is enlivened by his sharp wit and way with words. Anyone who read his affectionate look at league cricket Slipless in Settle will enjoy this one. It does lack a little focus at times and to describe Alan Davidson, among others, as a trundler is stretching a point, while the inclusion of Doug Wright, admittedly a faster than usual leg-spinner, is surprising. There are also factual errors, but if one is reading the book purely for entertainment as opposed to research purposes it does its job.
It didn't win the MCC Book of the Year award for nothing and it is one that I would heartily recommend to anyone who wants to learn more about some of the greats of the game and enjoy a few laughs in doing so.
The Trundlers by Harry Pearson is published by Little, Brown and is currently available on Amazon priced £9.09, as well as from all good book shops.