Numbers behind the jerseys in cricket were first introduced in the World Cup in 1999. At that time, all the captains wore the number 1 jersey and the rest of the squad alternated numbers between 2 to 15.There was only one exception that South African captain Hansie Cronje retained his usual number 5 with opener Gary Kirsten wearing the number 1 which he had also done previously.The 1995-96 World Series Cup in Australia was the first time when shirt numbers were used in international cricket along with the player's name. Most players assigned their numbers and some of them getting to choose their own number. Shane Warne wore 23, Ricky Ponting wore 14 and most notably Sachin Tendulkar wore 10.Since then various players have used different numbers while playing international cricket. We saw Chris Gayle using 333 because of his highest score in Test cricket is 333. Former Indian batsman Virender Sehwag didn't use any shirt number at the end phases of his international career. In the eighth edition of Champions Trophy where India will play their first match against Pakistan, where we will see the Indian team players wearing various shirt numbers. The current Indian team has some players who wear particular numbers due to some interesting reasons. Here is why some current India team players wear particular numbers on field:
#1 Hardik Pandya - No. 228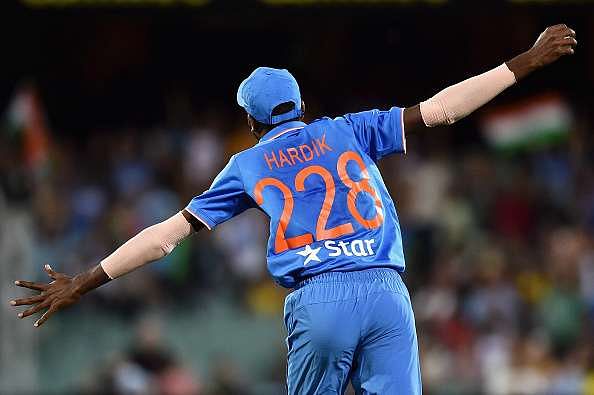 The new sensation of the Indian cricket team is a fast-bowling all-rounder who is also a big-hitter. He came to the fold in 2016 during the tour of Australia where India whitewashed Australia in the T20I series.
The young all-rounder has kept the number 228 since this happens to be his highest score in an Under-16 tournament organized by the BCCI. He was captaining the Baroda Under-16 side in that match where his team was reeling at 23/4, chasing a 350 plus score. He went on to score a massive 228 in that match and helped Baroda win the match on the basis of first innings lead.
#2 Harbhajan Singh - No. 3
The off-spinner from Punjab is one of the veterans of the Indian cricket team right now and has loads of experience under his belt. He is also an occasional big hitter who has a reputation for making important runs.
Harbhajan wears number 3 because his birthday is on 3 July. Interestingly, his Indian T20I cap number is also 3 hence, he wears the number 3 shirt.
The 35-year-old was a part of the Indian World T20 squad in 2016 when India lost out in the semi-final to West Indies.
#3 Ravichandran Ashwin - No. 99
The magician is one of the biggest weapons in MS Dhoni's armory right now. The right-arm off-spinner is currently one of the best spinners in the world as he was the highest wicket-taker in Test cricket last year.
The Chennai-born cricketer chooses to wear number 99 because the number 9 is his favorite number. One other reason is that 9 was his roll number in his school days.
His Twitter handle is also @ashwinravi99. He has become an integral part of the Indian side across all formats.
#4 Ravindra Jadeja - No. 8
The "Sir" has been a very important member of the Indian limited-overs team for some time now. The all-rounder is also one of the best fielders in world cricket right now.
Though Jadeja's lucky number is 12 which he wore for his IPL team Chennai Super Kings. But he cannot wear number 12 for the Indian cricket team because Yuvraj Singh currently holds the number.
His date of birth is 6/12/1988 and the grand total of that is 6+12+1+9+8+8 = 44. 4+4 = 8. He also made his ODI debut for India on 8th February 2009.
#5 Ajinkya Rahane - No. 27
The Mumbai-born cricket is one of the very few textbook batsmen in world cricket right now. His temperament is a very big aspect of his game but it's his adaptability which made him successful in international arena.
The right-handed batsman considers number 9 as his along with some other players in the Indian cricket team. He chose the number 27 as adding 2+7 = 9 and hence uses this number on the back of his shirt.
The 27-year-old is likely to not feature much in the Champions Trophy but is a very important member of the squad.
#6 Shikhar Dhawan - No. 25
The "Gabbar" of the Indian cricket team is one of the most exciting cricketers around. The flamboyant cricketer from Delhi has been a genuine match winner for the Indian team who has a knack of shining in big matches.
Dhawan has kept the number 25 considering it being a lucky family number. The birthday of his daughter is also on the 25th, another reason for him to keep the number.
The left-handed batsman's Twitter handle is also named as @SDhawan25. He will be playing in the Champions Trophy wearing the number 25 shirt for India.
#7 Rohit Sharma - No. 45
The stylish right-hand opening batsman from Mumbai is one of the star performers in this current Indian team. The Mumbai-born cricketer has a particular elegance to batting and is very pleasing to the eye when he is in full flow.
His lucky number as suggested by an astrologer is 9 but he didn't want a single digit number. His mother picked the number 45 for him when he was playing for India in World Under-19 World Cup.
Since then number 45 has been featured on the back of his shirt in international cricket. He will be playing the Champions Trophy in the number 45 shirt as well.
#8 Yuvraj Singh - No. 12
The king of hitting sixes, who won his battle with cancer and then made a huge comeback to international cricket currently wears Number 12. Yuvraj is one of the most experienced players in team India right now and is also a winner of two World titles.
The reason for this is that his birthday is on 12 December and interestingly December is the 12th and last month of the year. The importance of the birth date and time is very much valued in Indian cultures and hence, we see Yuvi roaring in Indian colors wearing number 12.
Another big reason for his obsession with number 12 is because he was born in sector 12 of Chandigarh which is the capital city of the northern Indian states Punjab and Haryana.
#9 Virat Kohli - No.18
The new "Master Blaster", the "Run Machine" and the pillar of the current Indian batting line up and the one who will lead Indian in limited-overs format in the future wears number 18. Kohli is currently one of the best batsmen in the game and he has been wearing the number since his Under-19 days.
The reason behind him choosing number 18 is very personal and also a very emotional one. It was his father Prem Kohli, who sent him for cricket coaching and it was his dream that his son will one day represent his country. Virat was always very close to his father.
On 18 December 2006, his father passed away when he was only 18-years-old. Since then his jersey number is 18. Though his father never got to see Virat play for the Indian team but his memories are with his son who is dominating the world of cricket with his bat right now.
#10 MS Dhoni - No. 7
Arguably he is the most successful Indian captain ever, winning two World titles and a Champions Trophy and he lifted all these trophies while wearing his trademark Number 7 shirt. The number 7 has been a constant throughout his long and successful career.
The Indian captain was a goalkeeper in his school's football team. His jersey number 7, is also inspired by his favorite football team Manchester United and has been worn by the club's talismanic figures from George Best to Cristiano Ronaldo. Though, another big reason for this number is that his birthday is on 7th of July.
Like many other Indian players "Captain. Cool" also believes in astrology and reportedly he had consulted an astrologer and found the number 7 to be a perfect number for him. The number 7 is a neutral number for Dhoni as it doesn't have a very positive or a negative side for him.
Dhoni's affinity with the number he's even launched a range of signature perfumes with that number named "7 by my side".