Cricket's Closest Contests: New Zealand vs Australia, Hamilton, 2007
2.01K //
18 Mar 2013, 01:34 IST
All of New Zealand was buzzing before the coin was tossed at Seddon Park in Hamilton.
Only four days ago, the Kiwis had walked all over a touring Australian side. It was an Australian side that was missing its chief and was, ephemerally, under the watch of a man the world would one day back as top dog during many adversities. However, this was only the beginning of Michael Hussey's legendary career and he was under as much pressure as any Australian who dared set foot into New Zealand during the February of 2007.
And then, New Zealand clinched the first of the three one-dayers emphatically.
In the second game, Ross Taylor and Peter Fulton, who were considered the cream of new-age Kiwi batting, finally hit their top gears on the same day. A fateful day in the history of Eden Park in Auckland, at that. Australia lost the series when Taylor and Fulton were complemented by McMillan and McCullum, a small matter of chasing down 336 Australian runs.
Michael Hussey's dismal record as a captain languished further, even as the Kangaroos struggled to come to terms with the prospects of being whitewashed by their oldest rivals only a few weeks after losing the CB Series to England – and with only a few weeks left before the World Cup.
That's when Matthew Hayden intervened and aimed at setting things straight at Seddon Park. To his advantage were the presence of a flat track and the absence of Shane Bond and Daniel Vettori from the Kiwi attack. And boy, did he make full use.
Australian batsmen do it again
Shane Watson was pushed up to the opening spot to replace Phil Jacques and made an instant impact as he looked completely at ease against the limited resources that Stephen Fleming had at his disposal. Together, Hayden and Watson fended off any minimal danger they were up against and cruised past the hundred run mark. Watson departed after a well-made 68 runs while trying to run down a straighter one from Jeetan Patel.
That paved the way for what would be a crucial partnership in the final outcome of the Australian innings, as makeshift number three Brad Haddin joined Hayden in the middle. He wasted no time to get going and kept the run flow high and steady in a manner so typical of him – with natural strokeplay. On the other end, Hayden continued building upon a start that gave strong vibes of being a monumental knock.
He was in the thick of it all, scoring a run in every over of the innings apart from the third, even if he was doing it at an economical rate rather than his usual, explosive one.
Until the 38th over, that is.
Hayden had just completed a well-paced hundred and when Mark Gillespie decided to fire in two yorkers at his foot – the first one clipping his toe and the second one getting the bat to do so – he might have been a proud paceman salvaging something from a day when the opposition had nine wickets in hand with 12 overs remaining. In fact, it very well looked like he might have enjoyed it, as was evident with the three inswinging yorkers and a full toss that followed. It was as if he was mocking the big bully for limping about squeamishly. He might have even chuckled a bit to his mates in the huddle when Brad Haddin was dismissed the very next over. It was a proud ten minutes for New Zealand's bowlers – the only ten they won that day.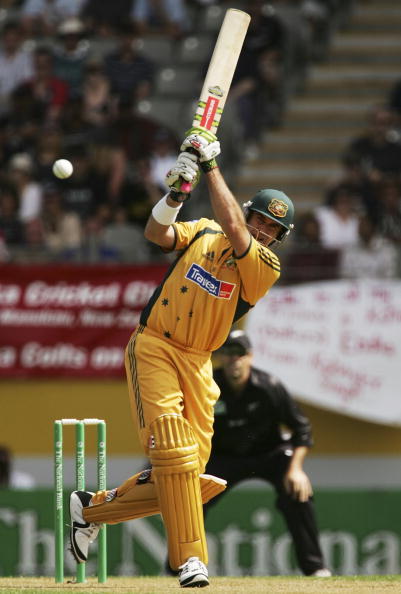 Hayden was joined at the crease by Brad Hodge and Shane Watson – as runner – in the next over. Then, he took charge.
To most people, the 'stand-and-deliver' adage was a delicacy, which is rarely presented. To Matthew Hayden that evening, it was an all-you-can-eat buffet.
It started off with Scott Styris serving him one on the pads that he dismissed from his vicinity quicker than it had come. Then he dismissed another in the same over, followed by another one in the second ball of the next over, and a bit of a finishing touch two balls later that took him to 132 at the end of the 42nd after beginning the 41st on 105.
Not one of the spectators that evening could believe what they were witnessing; a full-fledged dictatorship act. Hayden had everyone – the bowlers, fielders, umpires as well as the spectators themselves – clambering for cover. The New Zealand bowlers cut sorry figures like their teammates on the boundary lines, some of whom were nearly carried over the line by the sheer force at which Hayden was hitting the ball.
By the time the innings ended, Australia had lost three more batsmen. Luckily for them, they were mere details in a Matthew Hayden classic of the most gigantic proportions: 181*(166b, 11×4, 10×6).
The innings ended with Australia forcing 346 runs on the board, 125 of which were scored in the last ten overs thanks to the wounded bully who scored 76 of those in 31 deliveries.
Ironically enough, Mark Gillespie was the most expensive Kiwi bowler in spite of holding the honour of not conceding one of Hayden's ten sixes.
New Zealand had chased 336 in the previous game and it was a mere ten more that they had to get this time around. But how could one recover from a shock of that magnitude in the duration of a mid-innings break?
New Zealand's bad day continues
The answer to that query was visible half an hour into the Kiwi chase. Shaun Tait had only just arrived on the international scene, but his destructive pace made up for any lack of experience that could have hindered his progress. At least in this match, it did. He sent Fleming and Lou Vincent back to the pavilion before they could set up any sort of foundation for the herculean task that lay ahead.
Ross Taylor, the architect of the previous win, walked in and played some confident strokes before he was deceived by a Nathan Bracken trademark off-cutter, that he spooned back to the bowler to leave New Zealand tottering at 39/3 at the end of the 7th over.
Mitchell Johnson then put Scott Styris out of his misery by removing him on the first ball of his spell for a duck.
After an impressive first over by Mitchell Johnson, the tenth of the innings, New Zealand were as good as done for the evening at 44/4, still needing 303 runs off 40 overs. The Australians were visibly pleased, the frustration of walking into a match as underdogs against New Zealand now firmly buried.
And as the cameramen focused on a disappointed Kiwi supporter who had turned up in hopes to witness a whitewash, Craig McMillan walked into the middle to join Peter Fulton.
The prodigy and the elder statesman
Craig McMillan had made a remarkable comeback to international cricket, only a few weeks before this match, after a constant barrage of questioners doubted his ability to represent the Black Caps. His comeback battle was probably the most pointless one in modern day history, as he was clearly one of New Zealand's top all-rounders at every point in his career; his knock of 52(40) in the second ODI, which contributed a large deal in chasing down the target after Taylor's dismissal, endorsed that like nothing else.
He was greeted at the crease with a curt nod by Peter Fulton and then by a Mitchell Johnson delivery that squared him up and could have taken either off or middle stump on another day.
Three deliveries worth of respect later, he stepped down to a Nathan Bracken ball and crunched it to mid-on. It didn't gift him any runs, but the connection with the bat was a sign of things to come. As was his first boundary which came off the very next ball.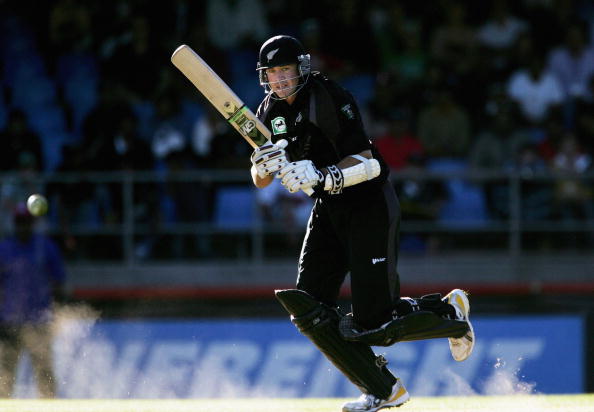 If confidence was ever contagious, then Peter Fulton was diseased when he crunched the very first ball of Mitchell Johnson's next over into the crowd behind the square leg boundary. Then, taking the elder statesman's cue, he hopped down the track and found the gap behind square once again to register four more to the total before handing the strike to McMillan to face the last ball of the over. McMiillan obliged and crashed a pleasant half-volley over Point for a boundary. It was the over that changed the course of the game.
Together, they made the on-side their own; they were also gifted a bit of the off-side by Hussey's entourage, Mitchell Johnson in particular. In the matter of seven overs after McMillan's arrival, the required rate dropped from 7.46 to 6.62, before Fulton creamed a Shane Watson ball straight to Hussey at extra-cover after having belted a four and a six previously in the over.
New Zealand had everything going for them at the end of the 17th over, other than the 'wickets remaining' column of the scoreboard, which now read 116/5.
They would have loved it for Fulton to stay grounded for a while, but his cameo in combination with Craig McMillan could not have come at a better time.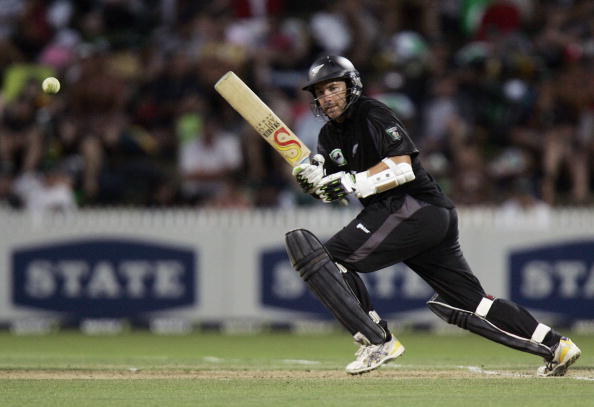 Brendan McCullum's last shot in international cricket, two days prior, had rewritten the history book's "highest run chases" section and firmly planted New Zealand in second place. He only had to score six-an-over in the last four overs of that game, however. This time, he had to be at his very best for a good part of 33 overs. It had to be something special for him to take them over the line this time and it didn't start of particularly well for him.
He only managed to score one boundary by the end of the 31st over – nothing special.
Luckily for him, the lack of 'special' was compensated for by an overwhelming amount of extraordinary strokeplay by McMilllan at the other end who had raced to a 67-ball century!
When Peter Fulton departed, all the sensible ones expected that McMillan would be more cautious in his approach. He proved them entirely wrong as he took a liking to Shane Watson's medium pace and scored 16 runs off the over after Fulton had been dismissed. He bludgeoned some terribly ordinary bowling all around the park. Because that wasn't satisfactory, he converted the half-decent deliveries into ordinary ones and bludgeoned them anyway before getting to his century with a six – his fifth – off Voges that went out of the stadium.
A flustered Australian attack didn't know what had hit them and signs of panic were clearly creeping in. The disciplined way of the World Champions was in jeopardy as five runs were gifted down Haddin's left side, first by Tait and then Hogg, off consecutive overs.
Hussey watched in frustration as the required run rate steadily made a descent and was nearly a run-a-ball affair by the end of the 34th over.
The bowlers then put up a small fight in their own when they realized that McCullum could prove to be a weak link. They did a good job of keeping him on strike for the next few overs and dried the runs up. McCullum deviated a bit too much from his natural game for his own liking as he tried to place emphasis on putting McMillian back on strike as opposed to dispatching the bowlers. The pressure started to build, and the required rate rose. McMillan couldn't get off the blocks either as Australia conceded only one boundary between overs 35 and 40 and reminded the Kiwis that it was a total that couldn't have been chased as easily as they were making it to be.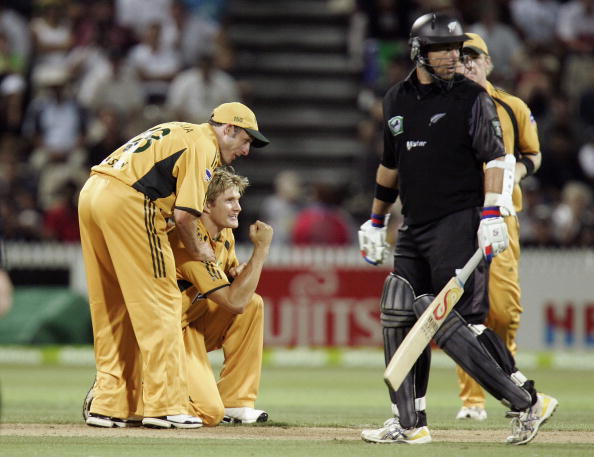 Having done all the work to get the required rate to as low as he had, McMillan was starting to feel some pressure himself. The required rate was within spitting distance of 8 per over and his partner was in all sorts of discomfort, having taken nearly 70 deliveries to reach his half century.
It was probably this, that led to the wild slog that he took at a straight Shane Watson delivery that crashed onto his stumps with New Zealand a fair way away from reaching the target.
With both the architects of this thrilling encounter off the field, it was game on for the lesser mortals who still had everything to play for.
James Franklin, the last of New Zealand's recognized batsmen, made his way to the crease, lasted a few deliveries and was dismissed off the very next over thanks to a stunning catch by Adam Voges at Backward Point. With only the tail to play with and 60 runs still required, McCullum knew his time was drawing an end.
Daryl Tuffey departed soon after without scoring too many and left New Zealand reeling with 44 runs to get off the last five overs.
Mark Gillespie could not have picked a worse time to come out to bat. After his pseudo-heroic moment in the Australian innings, he had been taken to the cleaners; besides encouraging a nagging voice on his left shoulder that probably kept reminding of the broken toe that had left the Kiwis with much woe.
His face didn't give away too much, however, and that might have enticed the gods of fortune to be kind on him; what else could explain three edges that earned New Zealand 8 runs in 3 balls, before he slogged one away to the long-off boundary!
The equation came down to 29 runs off 24 balls, courtesy of Gillespie's inside edge.
Hussey went straight to Shaun Tait, in a bid to finish the game off. It only added to his misery then, when Gillespie managed to get another four off the inside edge in the midst of some fantastic running between the wickets that earned the Kiwis 11 valuable runs. What is it, that they say of brave men and their fortunes?
The partnership was now 31 runs, without a single boundary off McCullum's bat. And there wouldn't be a McCullum boundary till the partnership ended after some more brilliant running between the two was followed by a marginally better piece of fielding by Voges which ran Gillespie out. After a lifesaver of an innings where he scored 28 off just 14 deliveries, Gillespie left the field to a standing ovation from the Seddon Park crowd which was now booming with intensity.
Mark Gillespie's cameo ended with New Zealand still needing seven runs off the last over.
McCullum hadn't played the most fluent innings of his life – only one six to complement the four boundaries that he had managed. But his being on strike, batting on 76, made every single Kiwi soul grateful.
And sure enough, he showed why.
Nathan Bracken had a reputation of being the best finisher of a one-day innings, but he would have wondered long and hard about what went wrong when his first ball of the final over ended up being a juicy full toss on McCullum's pads.
McCullum didn't have any hesitation in dispatching it over fine leg for a six.
They now required one run to cap off a magnificent effort that would see them beating their own record of the second highest run chase in one-day history – a record that was only two days old.
They had to wait one ball, however, as McCullum bunted the next one back to the bowler, before obliging to another full toss and nudging it past backward point for a most memorable victory. The roars of the Seddon Park crowd were justified as New Zealand completed a whitewash of their old rivals from across the channel.
In a complete demonstration of grit, skill, fortune and humility, New Zealand and Australia produced one of the greatest matches of all time.