World Cup Fantasy Guru: Time to go bonkers as Phase 1 nears completion
4.81K //
25 Feb 2015, 23:11 IST
Afghanistan v Scotland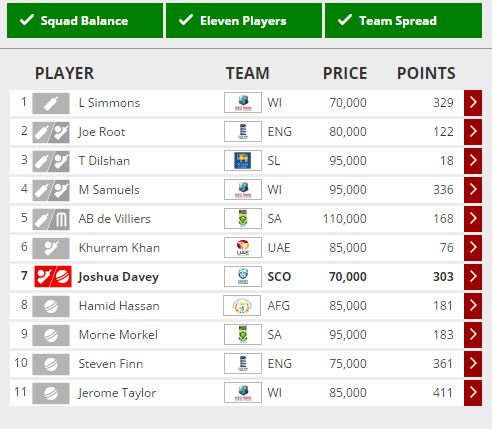 Transfers made – 2; Transfers remaining – 15
Hamid Hassan in – Paul Stirling out
Josh Davey in – Jason Holder out
You have two teams, the batting line-ups of which aren't technically the best and can implode anytime. What do you do? Bring in a pacer from each side into your team, and that will be Hamid Hassan and Josh Davey for me. Hassan has made a living from rolling over associate cricketing nations: he became the fastest associate nation bowler to take 50 wickets in his last game, against Sri Lanka.
Davey, on the other hand, could prove to be a handful with his slower balls and cutters. He bowls at the death too, which guarantees wickets, more so against Afghanistan. In addition to it, he is adept with the bat as well.
Kyle Coetzer and Matt Machan are the only two batsmen who are worth considering. The others aren't capable of big points. I don't see Coetzer escaping the Afghanistan new ball attack, which did this to India and this to Sri Lanka. Machan looks the best option: bats at No.4 and is in some decent form. It is, however, not compulsory to have him, as he will be facing a potent bowling attack. I would leave it to you. Since I slept through the England-Scotland match, I have extra substitutions; therefore, I may bring him in.
Bangladesh v Sri Lanka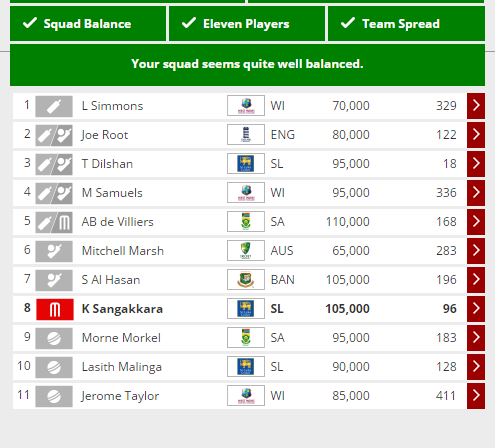 Transfers made – 4; Transfers remaining – 11
Kumar Sangakkara in – Josh Davey out
Lasith Malinga in – Hamid Hassan out
Shakib Al Hasan in – Khurram Khan out (as against the plans to have him till the match vs India)
Mitchell Marsh in - Steven Finn out
Get in Kumar Sangakkara! I will be very surprised if he doesn't make a century in this match. With Tillakaratne Dilshan already in my team, I don't think I would need any other batsman. I see the top 4 including Lahiru Thirimanne batting the majority of the overs. Angelo Mathews and Thisara Perera will have little to do with the bat. Although the Bangladeshis will be used to Lasith Malinga by now, he bowls at the death, which is too tempting to ignore. Inevitably, he will be amongst the wickets.
I don't expect the Tigers to lose wickets to Rangana Herath. Suranga Lakmal provides a bigger threat with the new ball, but he is no Dale Steyn. Coming to Bangladesh batting, I would need Shakib Al Hasan in my team. There is not a single bowler in the Lankan side who is capable of troubling him; he will also bowl 10 overs.
Mushfiqur Rahim bats too low for my liking and, with bigger grounds to clear, will hole out in the deep. For obvious reasons, I can't get in Bangladesh bowlers. Do keep an eye on Taskin Ahmed, though. He will probably end his career as the best fast bowler to have played for his country.
South Africa v West Indies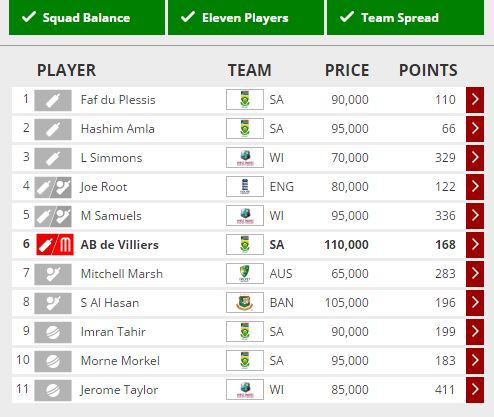 Transfers made – 3; Transfers remaining – 8
Imran Tahir in – Tillakaratne Dilshan out
Faf du Plessis in – Kumar Sangakkara out
Hashim Amla in – Lasith Malinga out
Hashim Amla and AB de Villiers have been disappointing in the tournament so far. But things could be different this time around, as apart from Jerome Taylor and Jason Holder's new ball spells, the Windies don't offer any threat to the opposition's batting unit.
Faf du Plessis hasn't done anything in his ODI career except bullying Zimbabwe and bullying teams in Zimbabwe. He has to make it count, and he wouldn't get a better opportunity than this. David Miller is an equally good option if South Africa bat first; however, if they chase, Miller may not have much to do. Assuming South Africa bat first, I would still go with Du Plessis, as I believe in taking batsmen who have the best chance of facing more number of deliveries.