Top 5 highest scores in T20 Internationals
33.99K //
16 May 2014, 15:36 IST
What is the highest score in T20 International Cricket? It's been almost a decade since the first ever T20 was played and this format has already seen 5 world tournaments.
As expected, the slam bang version has been a hit amongst the masses. There has been a few occasions where we have seen scores which you would probably expect to see only in 50-overs cricket.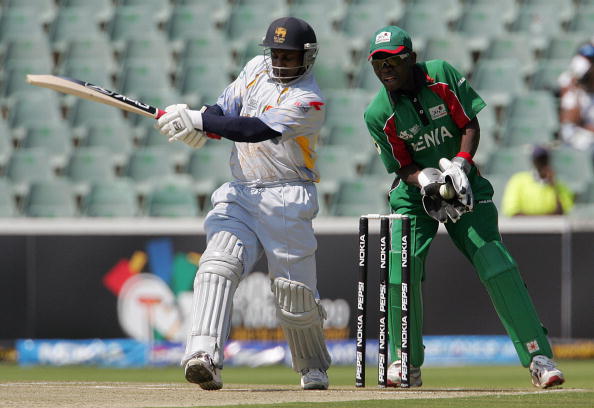 Jayasuriya pulls as he guides Sri Lanka to 260 which till date is the second highest total in T20 cricket
Let's take a look at the top 6 highest scores made in this format:
260 for 6 (Sri Lanka vs Kenya)
No other Test playing nation in the world brushes aside a minnow as easily as Sri Lanka does. This match was one of the prime examples for that. It was the very first T20 world cup in South Africa and batting first, they posted 260 in their allotted overs with major contributions from Jayasuriya (88) and Jayawardene (65). In reply, all Kenya could manage was just 88 gifting the Lankans a mammoth 172-run victory.
248 for 6 (Australia vs England)
The most significant thing about this particular match was, for the first time a batsman crossed the 150 run mark in a T20 international. It was just insane hitting helped by some shorter boundaries. Finch's 156 came off just 63 deliveries and included 14 sixes. Joe Root tried his best by making a rapid 90, but England fell short by 39 runs. And to the fans surprise, Dernbach was the only English bowler to finish with an economy of under 10.
241 for 6 (South Africa vs England)
South Africa won the toss and batted first. At the end of the 13th over, the scorecard read 170 for 0. That's the highest partnership ever in a T20 International. Loots Bosman made 94 and Smith scored 88. Sajid Mahmood was taken for 61 in his four overs and South Africa won comfortably in the end by 84 runs.
225 for 7 (Ireland vs Afghanistan)
The finals of the ICC World T20 Qualifiers was between two of the top associate teams, and it was Ireland's day. Their young sensation, Paul Stirling hammered a 43-ball 76 but the man of the moment was their veteran Trent Johnston. In what was his final limited overs game for Ireland, he came in at 4 to blast his maiden fifty and then took 3 wickets with the ball. Ireland won by 68 runs, thus winning the title.
221 for 5 (Australia vs England)
England expected some relief after the 5-0 drubbing in the Ashes, but they were in for more humiliation as the Aussies had a stroll in the park on that night. None of the Aussie batsman crossed 50, but they all had a hit out in the middle ending up with 221 on the board. England were never in contention and made just 144 runs in return.