If the cricket world was like the Game of Thrones - Part 1
The guns had gone silent, empires in ruins,  heroes laid to rest and legacies, left forever. The entire cricketing world now looks upside down, something new, something amiss even as to think that its finest warrior had called it quits. For many fool hardy fans like me, cricket is never just any other game its something bigger than that.
We had some of our finest moments of our childhood closely associated with it. Whether watching Sachin and Sourav taking the opposition apart or learning to hold the bat from our brothers or to play our first local league match , cricket is a part of our life. We had grown up watching our heroes battling out their greatest opponents, taking on the giants, to beat them in their own backyards.
They are a part of our memories and we will cherish them forever.  All the teams battling out there for glory and mostly for the holy grail of cricket, the World Cup gives us immense pleasure to be a part of those battles. Taking a look back at the cricket my generation had witnessed and it gives me a great pleasure to relive those memories once again.
Taking the World Cup as the Iron Throne and all the teams as possible contenders for sitting upon it I had gone through the last 20 years, 5 World Cups, 7 teams , scores of players, and hundreds of favorite moments. Its just my view of those matches and persons.
Australia, The House of Lions :
Words- The Invincibles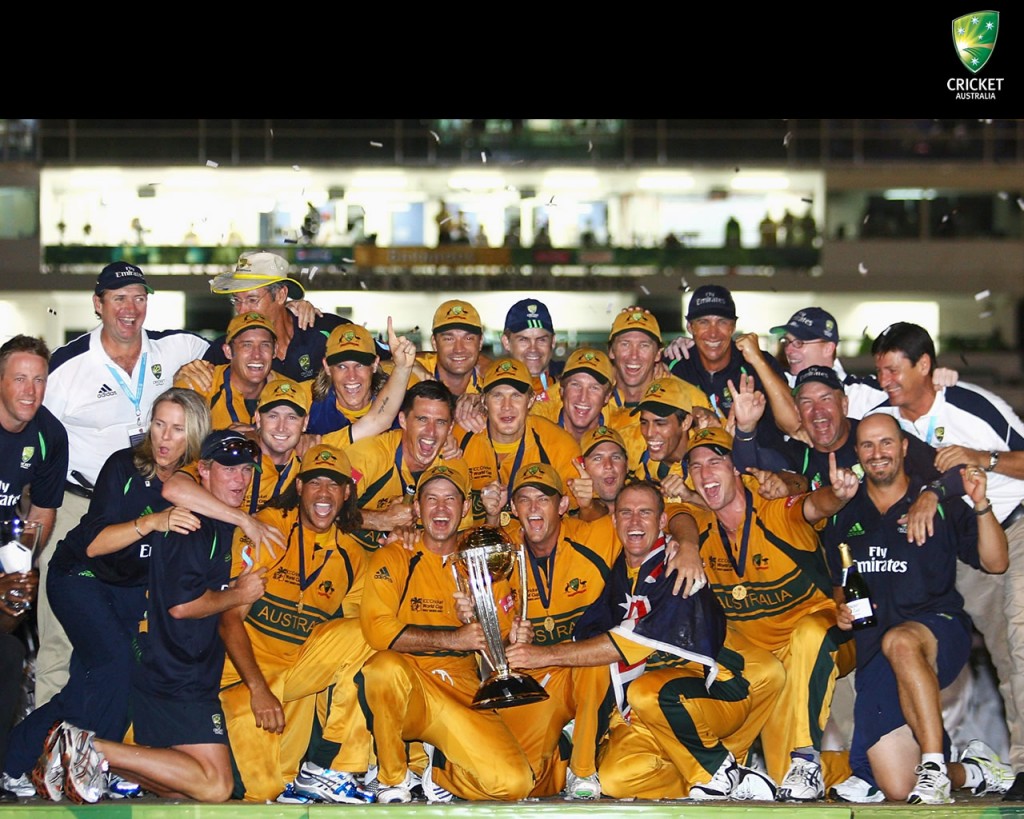 Every story of cricket in its modern form begins with Australia for they had dominated the game throughout the 1990′s and 2000′s. Allan Border's 1987 World Cup winning team had raised the bars for any future Australian team and under the leadership of Steve Waugh they became a force to reckon with. The Australian Cricket Team under Steve Waugh won the 1999 World Cup and defended it in 2003 ,2007 again under Ricky Ponting to become the first team to complete a hat-trick of World Cup wins.
The team was well served by players like Steve Waugh, Shane Warne, Glenn McGrath,Ricky Ponting, Mark Waugh who had proved time and again worth wearing those yellow jerseys. With the arrival of Adam Gilchrist and Micheal Bevan they all the fire power to take out any target and with Warne and McGrath ready to defend any target they became unstoppable. The Australian Cricket Team under Steve Waugh won the 1999 World Cup and that marked the beginning of Aussie domination in World Cricket.
The team was also well served with new inductions of Brett Lee, Gillespie, Mathew Hayden and Justin Langer. They found their perfect playing XI and they made winning a habit. They defended the 2003 World Cup with a few new faces including Brad Hogg, Andrew Symonds and Damien Martyn and the rookie Mr.Cricket. 2007 is just another chance to prove their class once again and to make history by becoming the first team to complete a hat-trick of World Cup wins.
Captain(current) : Michael Clarke, and his Deputy : George Bailey
Former Captains and key Players :  Steve Waugh,Ricky Ponting, Shane Warne, Glenn McGrath, Mark Waugh,Adam Gilchrist, Micheal Bevan,Brett Lee, Gillespie, Mathew Hayden,Andrew Symonds ,Damien Martyn,M.Hussey,Brad Hogg
Famous Battles Won :
1) World Cup of  1999 , beat Pakistan by 8 wickets at Lord's Cricket Ground in London under  Steve Waugh.
2) World Cup of  2003, beat India in the final played in The Wanderers in Johannesburg under Ricky Ponting.
3) World Cup of 2007, beat Srilanka in Kensington Oval, Bridgetown, Barbados.
4) The unbeaten record in Ashes series from 1989-2003
5) The Border-Gavaskar Trophy 2004-05 series.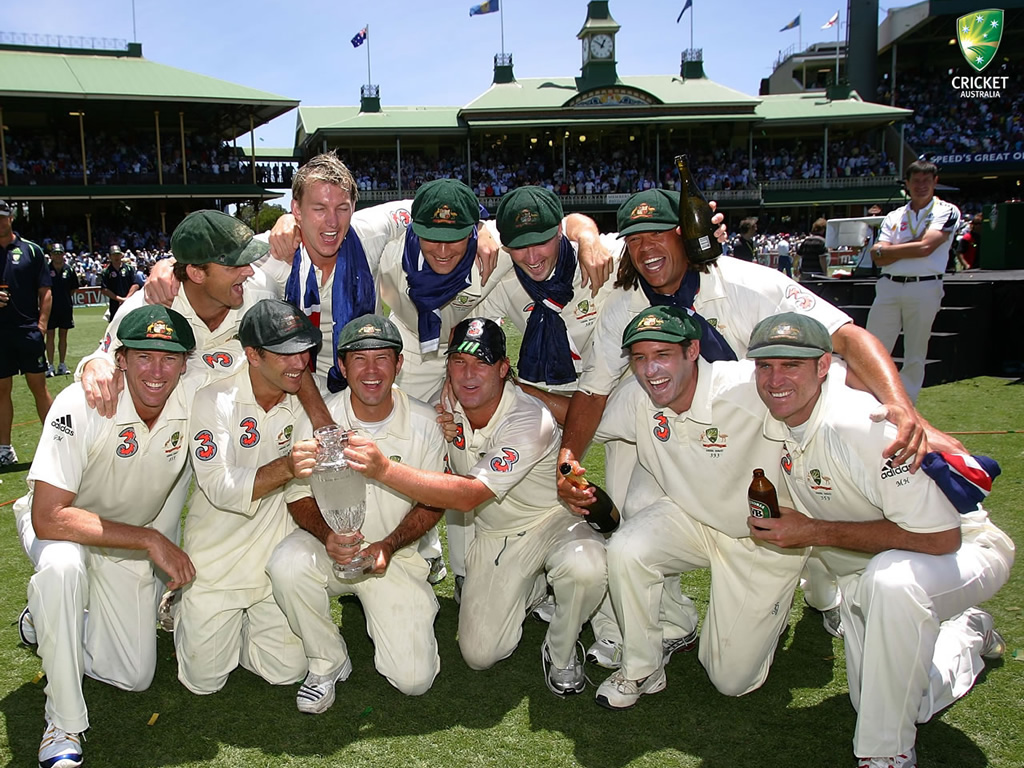 static.sportskeeda.com/wp-content/uploads/2013/10/australia-1982347.jpg">
No tale is perfect and there is always an untold story after every happy ending. One day suddenly the invincible fortress looked bleak as it's shining knights did not report to their duties. One by one the old guard had called it quits and made way for the younger generation to take their place. The young team is not left astray as they too found some talented players. But it is no more invincible and never won over the opposition by sheer dominance and brutal force. They were unable to defend the 2011 World Cup or their Test status. Despite having really good players in Micheal Clarke, Shane Watson and many young players they still got a lot of ground to cover to catch up with their predecessor
Current Ranking:
ICC Test Championship -  5th
ICC ODI Championship- 2nd